05/15/2017
Woman of Achievement: Anita Gray
"If a problem crosses your path, you have the ability to solve it. Nothing should be ignored."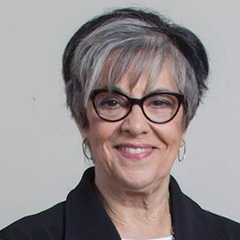 The Jewish Federation of Cleveland is honored to announce Anita Gray has been named a 2017 recipient of the YWCA Greater Cleveland Women of Achievement Award. "Anita lives her life embodying the Jewish concept of tikkun olam (repairing the world)," said Federation President Stephen H. Hoffman, who nominated Anita for this award. As Regional Director of the Anti-Defamation League, she is a leader in the fight against anti-Semitism, but also an unyielding force in the battle against all forms of racism and discrimination.
"To me, this honor represents a culmination of work I have done in our community during my entire lifetime," said Anita. "The YWCA has been advancing the cause of women and girls for many years. It is a very serious organization doing wonderful work in uplifting the lives of many people and advancing the cause of diversity which has been a lifelong effort on my part."
The award is given to a woman who has led and mentored others in the community and exemplify YWCA's mission of eliminating racism and empowering women, which is what Anita has stood for throughout her career. "Anita has championed the civil rights of the individual as well as their inherent worth, said former Board Chair of the Federation, Reneé Chelm. "I was totally inspired from her words and attitude. In my opinion, she embodies everything the YWCA strives to achieve."
Anita shares the award with six other community leaders. She acknowledges it takes more than just one person to make a difference in people's lives. Her philosophy is to never think something is too small to become involved. "My definition of a real leader is one who does what he or she can to help make the world a better place. I have an intrinsic belief that if a problem crosses your path – no matter how big or small – you have the ability to either solve it or ease the burden. Nothing should be ignored."
Anita received the YWCA award May 8th at a ceremony in Downtown Cleveland. For more information on the Federation's awards and honors, contact Naomi Fein at 216-593-2820 or nfein@jcfcleve.org.
---
Related Items