04/06/2015
Women's Orchestra of Auschwitz
The Jewish Federation of Cleveland is thrilled to be partnering with Case Western Reserve University, the Maltz Museum of Jewish Heritage, the Cleveland Orchestra, ideastream, and the Cleveland Institute of Music in the fall for Violins of Hope. This project showcases instruments that survived the Holocaust and were recovered from concentration camps and labor camps at the end of WWII. Israeli violinmaker Amnon Weinstein led the effort to collect and restore the instruments and share their stories. A number of these violins will travel from Israel to be featured at an exhibit at the Maltz Museum of Jewish Heritage. A few instruments will be incorporated in The Cleveland Orchestra's concert planned for Sept. 27, 2015
This article was originally published in The Cleveland Women's Journal.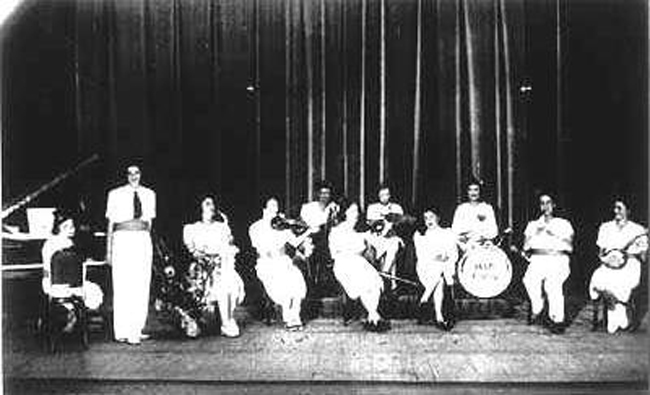 The Formation
Maria Mandel was the SS commander of the women's camp at Auschwitz-Birkenau. She was known for her fanatical admiration of beauty and love of music, but she was also known for her brutality. Her desire to further her own career was the motive behind forming a women's orchestra. However, forming an orchestra demanded a large organizational effort. One had to obtain sheet music, instruments, and other such equipment. Auschwitz proved to be a convenient place to obtain such items. "They agreed to supply us violins and all the necessary instruments in abundance. They had their own, and there were thousands of instruments from all over Europe from deportees who had been encouraged to bring along their most precious movable possessions, unaware that upon arrival everything would be taken away from them. Even the sheet music they brought with them was used by the camp orchestras. Auschwitz by this time was the Fort Knox of Europe, with all the possessions taken from people in the countless transports that arrived at the camps" - Sofia Tchaikowska.
In the spring of 1943, Mandel broached the subject with the staff of the camp office. A survey of the office card files showed that a number of Polish women had some knowledge of music and played instruments. In most central European schools, teachers were required to have musical training, therefore former teachers were good prospects for a women's orchestra. Camp authorities decided to proceed with recruitment. Orders posted in various blocks within the women's camp requested prisoners with musical experience to come forward. They sought out new transports, but most of the time the inmates were found by word of mouth. Fortunately, some inmates had stated they were professional musicians upon arrival. The recruitment process was often haphazard and many were discovered only through chance conversations with SS officers or functionaries.
The women's orchestra was formed in April 1943 under the leadership of the Polish prisoner Sofia Tchaikowska, a violinist who recruited other players from different barracks and new arrivals in the Quarantine Block. Her effort resulted in an ensemble of 15 by May 1943.
Early Stages
By the end of June 1943, there were approximately 20 members in the orchestra. Most of the women were non-Jews from Poland like Tchaikowska. Tchaikowska played from memory and arranged pieces from sheet music for different instruments. She was forced to recruit several copyists to orchestrate music and transpose parts for a combination of instruments. The copyists were forced to use a special kind of orchestration that designed pieces to be played by any combination of musicians. Most of the time, copyists arranged music from piano scores or from memory. In addition, they were required to harmonize and February March 2015 arrange melodies chosen by the SS officers.
With Tchaikowska as conductor, the orchestra was not important at first. However, in June 1943, the orchestra began to play a larger role within the camp. In the beginning, the repertoire was modest and consisted of a few German melodies. Then, the orchestra started to play in the hospital blocks. Eventually, they were ordered to play marches for the morning and evening parades of workers leaving for work and returning to camp for the evening roll call.
Alma Rosé
In August 1943, Alma Rosé, renowned Austrian violinist and professional musician of Jewish descent, became the new conductor of the orchestra. Her father was leader of the Vienna Philharmonic Orchestra for 50 years and her uncle was Gustav Mahler. Under Rosé, the orchestra took a new direction. She was a strict, demanding conductor who worked with almost absurd fervor and energy to produce quality music. Rosé's dedication to her job led her superiors to support her activities in Auschwitz to the extent they did. She had an unprecedented relationship with the SS. They held her in high esteem, but she made sure the women in the orchestra benefited from her power. Players have her to thank for their exceptional status and subsequent survival. She attempted to save as many lives as possible by involving them in her orchestra. She made sure women who failed their auditions for the orchestra were assigned to secondary tasks in the block. Such women and other ousted musicians were kept on as assistants and copyists.
Rosé also had unquestionable control over who could play in the orchestra. Controversy arose when she dismissed many of Tchaikowska's Polish musicians and replaced them with primarily Jewish women. Some condemned Rosé's perceived preference for Jews, but most believed she was more concerned about obtaining qualified musicians. The level of playing improved within a matter of weeks after Rosé took over and the orchestra had a larger and more impressive repertoire than the men's orchestra. The repertoire expanded to include hit German songs, arias, excerpts from symphonies and other large-scale orchestral works for violin and piano. Rosé died in the concentration camp of a sudden illness in April 1944, possibly food poisoning. Rosé's experience in Auschwitz is depicted in the controversial play "Playing for Time" by Fania Fénelon.
As liberation neared, the orchestra dissolved in September, 1944 when the women were evacuated to Bergen-Belsen.
---
Related Items