11/28/2022
YLD Big Event Spotlights Bellefaire JCB, Campaign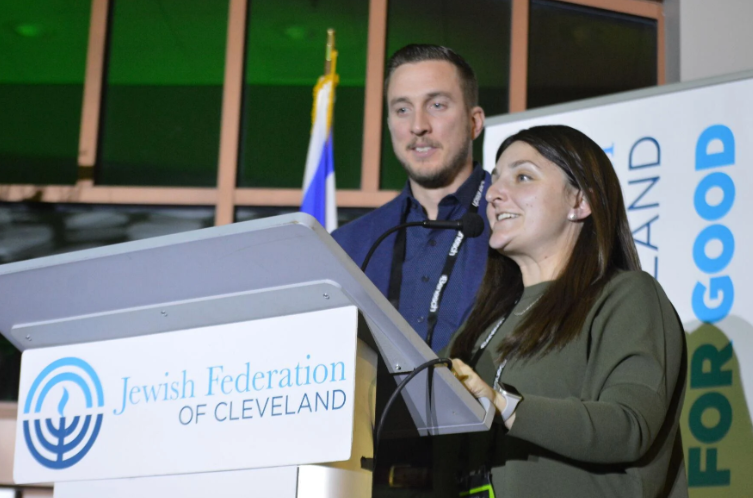 COURTNEY BYRNES | STAFF REPORTER
Article reprinted with permission from Cleveland Jewish News
The Jewish Federation of Cleveland's Young Leadership Division held its Big Event Nov. 17 in support of the Campaign for Jewish Needs as it highlighted Bellefaire JCB through its featured speakers.
The event returned to in person for the first time since before the COVID-19 pandemic and welcomed a crowd of 200 attendees to the reception and sitdown dinner full of speeches and entertainment at Young Israel of Greater Cleveland in Beachwood.
"As a shul rabbi, I really get to see a lot of what the Federation does for the community in terms of security, social services and all the needs that the Federation meets," Rabbi Noah Leavitt, one of the Big Event co-chairs, told the Cleveland Jewish News. "So, it was really an honor to be asked to co-chair and to be able to give back to our community in this way by really contributing and celebrating everything the Federation does."
He delivered the welcoming remarks and hamotzi with his wife, Chaya, whom he married in January 2020. This was their first time attending a Big Event.
"I didn't really get to experience Cleveland before COVID," Chaya Leavitt, also a Big Event co-chair, told the CJN. "So, this is probably one of the first events that I've been to in person and it's great to see so many people out to support the Federation."
Many of the other co-chairs shared remarks on the campaign throughout the evening including Dana and Jacob Attias, Allison Brandon and Levi Halberstam, as well as campaign vice chairs Rachel Glickman and Jonathon Nisenboum, and YLD board chair Ryan Levine.
Jeff Lox, executive director of Bellefaire JCB, spoke about the work of the organization and the impact of the pandemic on child and adolescent services. He highlighted how the beneficiary agency of the Federation which serves 43,000 kids and families every year is able to accomplish its mission through the support of the Federation and Campaign for Jewish Needs.
"There's a second pandemic in the United States right now: adolescent depression and anxiety," Lox said. "The levels of which our kids are experiencing this are nothing short of pandemic level. Kids in this country are faced with incredible challenges in the realms of depression and anxiety."
On top of this, he added there is a national shortage of child and adolescent service providers with not enough psychiatrists, psychologists, social workers and counselors.
While many of the organization's programs are funded through the children's health insurance, some programs such as prevention programs like the Jewish Day School counseling program or the Social Adovocates for Youth program, and specialty programs aimed for special populations are not covered.
"There are programs at Bellefaire that we absolutely could not deliver without the Campaign for Jewish Needs," Lox said. "We use those dollars from the Federation to fund very specific programs."
Lox also spoke about the Jewish Big Brother Big Sister Association program which pairs volunteer mentors with kids to give them the presence of an adult in their lives. The second featured speaker was Danielle Eisenberg as she spoke of her own experience with this program, first as a Big Sister and now as a parent of three children who have been paired with Big Brothers and a Big Sister.
She said the three things she wanted people to takeaway from her speech were: life is so much more circuitous, social workers are amazing people and their work extends beyond their day job, and the Cleveland Jewish community is blessed to have this program here.
"All kids, every single one, deserves a special buddy," Eisenberg said. "Someone who is only there for them, who only cares about what they want to do, what they're interested in learning, how they're feeling, what they are working on in life."