01/14/2021
YLD Names New Board Chair, Adds Nine New Members to its Board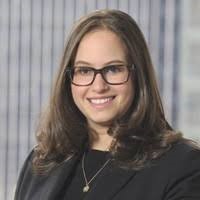 The Jewish Federation of Cleveland's Young Leadership Division (YLD) announced the appointment of Abbie Pappas as board chair, effective January 2021. Pappas served as YLD's board vice chair last year and she succeeds Cameron Orlean in the board chair role. YLD connects Jewish young adults, ages 22 – 45, to each other and the community through social, volunteer, leadership, and philanthropic activities.
Pappas, 32, is an associate at the Cleveland law firm of Singerman, Mills, Desberg and Kauntz Co., L.P.A., where her primary focus is estate planning and the administration of trusts and estates. She is a member of the Fuchs Mizrachi School development committee, involved at Green Road Synagogue and Beachwood Kehilla, and a member of the Menorah Park Associate Board. She is an alumni of Federation's Mandel Symposium, and serves on Federation's Allocations Committee and Professional Advisory Council. She lives in Beachwood with her husband Jeremy and son Yoni (age 4).
"It is an honor to serve the Cleveland Jewish community as YLD board chair and continue the exceptional work of my predecessor, Cameron," Pappas said. "At a time where we must remain physically distant from one another, I am excited to bring new ideas and innovative programming to Jewish Cleveland's young professionals and work with a dedicated team of YLD board members!"
YLD also announced the addition of nine new members to its board, which has 46 total members: Daniel Abramowitz of Beachwood, Rabbi Chase Foster of Solon, Sammy Gross of Beachwood, Avigayil Halberstam of Beachwood, Elana Polster of Beachwood, Jonah Ricanati of Shaker Heights, Elissa Rosner of Chagrin Falls, Avielle Silver of Beachwood, and Rita Ullman of University Heights.
For more information, including how to get involved with YLD, please contact Leah Markowicz at lmarkowicz@jcfcleve.org or 216-593-2905, or visit www.jewishcleveland.org/yld.
---
Related Items