03/30/2021
YLD Yom Hashoah Event to Pair Holocaust Survivors, Attendees
McKENNA CORSON | STAFF REPORTER
Article reprinted with permission from Cleveland Jewish News

The Jewish Federation of Cleveland's Young Leadership Division will digitize its annual Yom Hashoah event that brings Holocaust survivors and small groups of participants together from 8 to 9 p.m. April 5.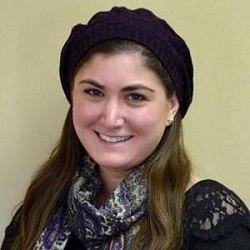 The program, Zikaron BaSalon – which translates to "remembering in the living room," will allow for Jewish Clevelanders in their 20s, 30s and 40s to break into groups of 10 to 12 and speak with one of six to eight Holocaust survivors for an intimate learning opportunity on the survivors' experiences.
"The goal is to create small groups of people paired with the survivor so that they can hear from the survivor themselves – their story, lessons that are important and invaluable for the next generation to learn and internalize in order to ensure that these atrocities don't happen again," said event co-chair Elana Polster.
Participants will enter Zoom breakout rooms to continue YLD's biggest goal for the event: deep, meaningful dialogue between the survivor and participants created through small group sizes.
Among the six to eight survivors will be a Russian speaking survivor to engage Cleveland's Russian speaking community.
Prior to COVID-19, YLD's Yom Hashoah commemoration operated through numerous small group meetings of about 10 to 12 people in a survivor's living room or at a Hillel. Last year was YLD's first adaptation of the in-person Holocaust commemoration into an online format, and the virtual version brought in 80 participants.
Polster said she believes this year's event will draw in another 80 – if not more – participants. She encourages Jewish young adults in Cleveland to attend the free program, especially at this time when the number of Holocaust survivors dwindles each year.
"It's even more crucial now that the young population and the next generation of Jewish leaders are able to bear witness to the atrocities of the Holocaust from the survivors in our communities," said Polster, a member of Green Road Synagogue and Young Israel of Greater Cleveland, both in Beachwood, where Polster also resides. "(The Holocaust) connects our generations to each other, but it also serves as a crucial lesson for what we must be sure to avoid in this world for future generations to come. It's also a charge to be the leaders of tomorrow so that we can make sure we don't see this again in the world."
Those interested in attending can register online at bit.ly/398Cyee.