04/03/2017
Yom Hashoah V'Hagvurah on April 23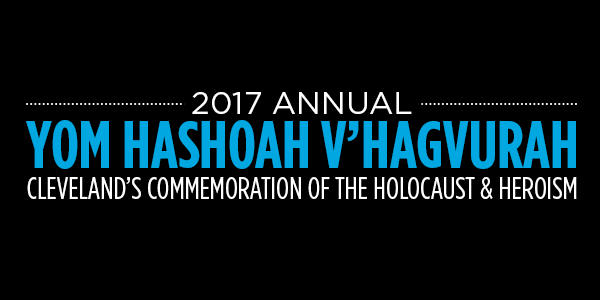 An estimated 1,000 Holocaust survivors live in the Cleveland area. Our community will honor these survivors and remember those who perished during the Holocaust at the Jewish Federation of Cleveland and Kol Israel Foundation's Yom Hashoah V'Hagvurah.
Join us on Sunday, April 23 at 2:00 pm at Anshe Chesed Fairmount Temple, 23737 Fairmount Blvd. in Beachwood. This annual event is free and open to the community.
Rabbis and survivors from six area synagogues will carry Torah scrolls from Europe that survived the Holocaust, and ultimately found homes in Cleveland. The survivors who accompany the Torahs will join their families in lighting candles in memory of the six million Jews who perished in the Holocaust. Children will also participate in a 'March of the Generations' to signify that Jewish life continues after the Holocaust.
Additionally, as part of Holocaust education curriculum, local schools entered the Yom Hashoah V'Hagvurah Creative Arts Contest, where students were invited to create original poems and visual arts pieces to incorporate this year's theme, "Stand Up, Speak Out: Stopping Persecution Then and Now." The 2017 Creative Arts Contest winners are:
Visual Arts
1st Place: Mollie Goldman (Beachwood High School)
1st Place: Abigail Wilkov (The Temple-Tifereth Israel)
2nd Place: Alexander Bell (James A. Garfield High School)
Writing Winners
1st Place: Hannah Plotkin (Mandel Jewish Day School)
1st Place: Jayden Sussman (Gross Schechter Day School)
2nd Place: Jamie Marderstein (Gross Schechter Day School)
3rd Place: Shira Rosenberg (Mandel Jewish Day School)
For more information or to RSVP, please visit http://www.jewishcleveland.org.
---
Related Items