11/15/2017
Young Families: Meet Leah!
Leah Kasmenn is the new Manager of Young Family Engagement at the Jewish Federation of Cleveland. She grew up in Jewish Cleveland and is excited to be part of the community. Leah has two quirky cats, Bert & Auggie, and is getting married in 2018. She's a big fan of all that Cleveland has to offer!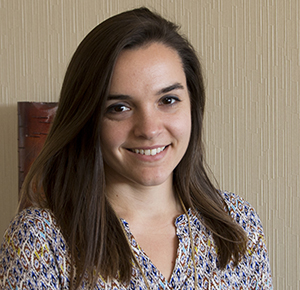 Get to know Leah with this Q&A:
Q – How do PJ Library books and events help Jewish families here in Cleveland?.
A: PJ Library books bring Judaism into Cleveland homes. The books are conversation starters, cuddle-time companions, and meaningful stories to enjoy with your family. Our PJ Library events in Cleveland are opportunities for families to meet, learn something new, and connect to Jewish Cleveland.
Q – What are activities young Jewish families can do together using PJ Library books?
A: In most PJ Library books there are ideas and suggestions of meaningful ways parents can utilize the book in their homes. Often times there are conversation questions, art activities, and extension activities to go one step further. Enjoying the books as a family is what we hope happens in each PJ Library home.
Q – What is new and exciting for Young Families in the coming year?
A: We have so many wonderful events happening this coming year! We are collaborating with the Jewish Education Center of Cleveland and Jewish Cleveland preschools on events for Young Families.

We are beginning Playgroup Matching for families with children ages birth-two years old. That's where a small group of families come together to get to know one another and play!

We also have lots of great programs specifically for Russian-Speaking families. Anna, our Russian-Speaking Jewish Engagement Ambassador would love to connect with Russian-speaking PJ families.

New moms are being welcomed by Ali, our Growing Families Engagement Ambassador to help them feel comfortable in their new role as parents in our Jewish community.

We also have planned PJ Library Parents' Night Out events coming soon and much, much more!
To begin receiving PJ Library books or to learn more about our Young Families programming, contact Leah Kasmenn at 216-593-2853 or lkasmenn@jcfcleve.org.
In partnership with the Jewish Federation of Cleveland and the Harold Grinspoon Foundation, PJ Library® in Cleveland is generously funded by Mort (of blessed memory) and Iris November in celebration of Debra Ann November's life.
---
Related Items