11/10/2016
Young Families: Meet the Novik Family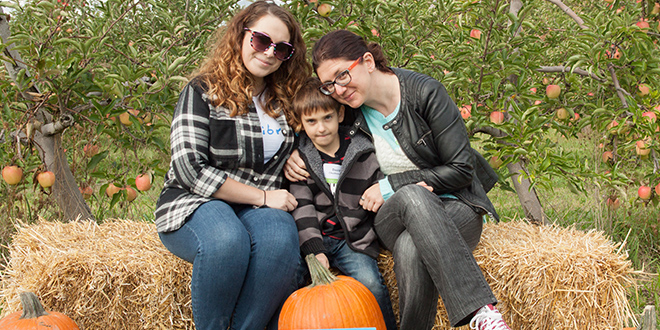 PJ Library is more than receiving Jewish-themed books and attending events for families – it's building a stronger Jewish future. Anna Novik is the Engagement Ambassador for Cleveland's Russian Jewish community; her connection to PJ Library takes on a more meaningful role as she's able to involve her sister, Ella, and two nephews, Michael and David. We spoke to Ella and Anna about how they're rediscovering their own Jewish roots through PJ Library.
Q – What makes you so passionate about PJ Library and the Russian community?
Anna: When we first moved here to Cleveland, we didn't know how to act Jewish; we associated ourselves as more Russian. We celebrated the holidays, but only as family gatherings. Growing up with Ella and her two boys has made me want to learn more Jewishly. Thanks to PJ Library and the Jewish Federation of Cleveland, I'm able to do that.
Ella: Having Anna as an ambassador for PJ Library program gives us an early look and personal insight into bringing Jewishness closer to home. The boys feel personally involved in the PJ Library books and events, which help bring Jewishness to the surface and into discussions.
Q – How does PJ Library help David and Michael strengthen their Jewishness?
Ella: Attending each PJ Library event is like opening the door a little wider into an unknown world, introducing David and Michael to their roots and Jewish traditions. Along with other programs throughout Jewish Cleveland, they share in these new experiences with their friends and have fun finding out how much they have in common with each other.
Anna: Each new PJ Library book and event is a new lesson; Michael and David are learning about their roots without even knowing. I want them to learn more of our Jewish roots and learn the traditions. I want them to know why we light candles on Chanukah, why we fast on Yom Kippur. I want them to go past the Russian part and learn where we come from, learn there's more than what they see in everyday life - it's so important.
Q – How do you engage the entire Russian Jewish community as the PJ Library Russian Family Ambassador?
Anna: The Russian families in Cleveland are such a tight-knit group; they're all friends. The PJ Library events are more than just getting to know each other; they are learning where you come from and connecting to your roots. If one family signs up, three other families are going to sign up, because they know each other and they want to be together.
For more information, contact Anna Novik at 440-465-1426 or annapjcle@gmail.com.
In partnership with the Jewish Federation of Cleveland and the Harold Grinspoon Foundation, PJ Library® in Cleveland is generously funded by Mort (of blessed memory) and Iris November in celebration of Debra Ann November's life.
---
Related Items