09/26/2017
Young Families: Meet the Gabelman Family
Joel and Ashley Gabelman of Cleveland Heights love being a part of Jewish Cleveland. They enjoy spending time around the city, taking walks with their two sons and dog as well as quiet reading time at home. Both Joel and Ashley are also recent alumni of YLD's LEADS program, where they've been able to enhance their leadership skills.!
Q - How do you incorporate PJ Library in your home?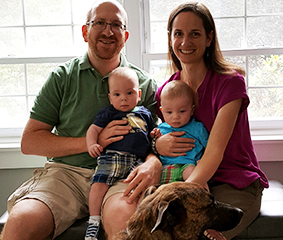 We always enjoy receiving new PJ Library books and reading them to our boys. We still sing songs together that we learned when we attended a music class at PJ Library events. Our favorite part of Judaism is being part of a community. The PJ Library ambassador program really helped us get more involved in the community by telling us about all the different family and baby events going on. This has been a great way to meet new people.
Q - What do you enjoy about living in Jewish Cleveland?
Cleveland has such an active and welcoming Jewish community. The Cleveland Jewish community has the friendly and welcoming atmosphere of a small town where everyone seems to know each other, and at the same time has so many different synagogues and social events that you'd find in a big city.
Q – What are your favorite things to do as a family in the city?
We love being outside. One of our favorite things to do as a family is to take 'family walks' with the boys and our dog, Rupret. We love walking around our neighborhood, going to the bakery or coffee shop, or taking advantage of the many Cleveland MetroParks. We also love going to the farmer's market at Shaker Square.
For more information on PJ Library and the Young Families Engagement Team, please contact Leah Kasmenn at lkasmenn@jcfcleve.org or 216-593-2853.
In partnership with the Jewish Federation of Cleveland and the Harold Grinspoon Foundation, PJ Library® in Cleveland is generously funded by Mort (of blessed memory) and Iris November in celebration of Debra Ann November's life.
---
Related Items