04/24/2017
Young Families: Meet the Sears Family
Genny and Ryan Sears of Chagrin Falls love being a young family in Jewish Cleveland. From ice skating with their daughters to enjoying the Cleveland Metroparks, they love spending time together – especially reading a PJ Library book.
Q - What do you enjoy about being Jewish in Cleveland?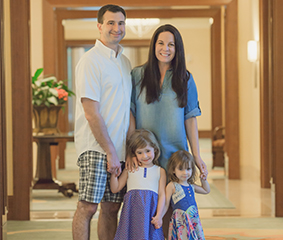 We love the combination of intimacy and opportunity. Our family has lived in communities with both larger and smaller Jewish communities. While the smaller ones were great because of the familiarity with the people, there were limited activities and resources within the Jewish community; the larger Jewish community we lived in was so big, it was harder to develop a sense of community and close connection. Jewish Cleveland has been the perfect mix of events and programs, along with a close-knit community that offers great comfort for newly-arrived families.
Q - How do you incorporate PJ Library in your home?
Our girls love to read books every night at bedtime and PJ Library has become a staple in those nighttime reading rituals. They have already picked out some of their favorites and have them almost memorized. PJ Library has also been a great way to teach our girls about Jewish holidays in a fun and easy-to-learn fashion.
Q - What is your favorite thing to do as a family in the city?
Our daughters would say go for ice cream in Chagrin Falls, but we would say getting together with good friends to take advantage of the area's parks and playgrounds. It is wonderful to watch our children play and have a good time with other young families in such a comfortable environment. Cleveland seems to have no shortage of great restaurants, which we take advantage of. When we aren't with our kids, my husband and I love seeing a show at Playhouse Square, Severance Hall, or taking in a comedy show at Hilarities.
For more information on PJ Library and the Young Family Engagement Team, please contact Aviva Roland at 216-593-2926 or aroland@jcfcleve.org.
In partnership with the Jewish Federation of Cleveland and the Harold Grinspoon Foundation, PJ Library® in Cleveland is generously funded by Mort (of blessed memory) and Iris November in celebration of Debra Ann November's life.
---
Related Items