05/15/2017
Young Families: Meet the Stern Family
After relocating from Israel, Ali and Noam Stern of University Heights enjoy the taking walks in the Metroparks with their son, Ori, and spending time together at the Mandel JCC. Here's why they love Jewish Cleveland:
Q - What do you enjoy about being Jewish in Cleveland?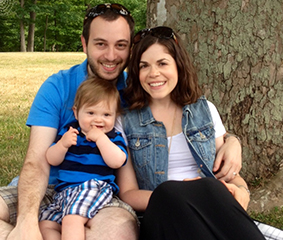 We are a part of this incredibly vibrant community. We moved to Cleveland almost four years ago after spending nearly five years living in Beer Sheva, Israel. We have a wonderful group of friends here, and the community bends over backwards to welcome you. There are rich Jewish cultural events that occur on a regular basis. The Federation keeps its finger on the pulse of the Jewish community and offers programs and services that are engaging and enriching. The Mandel JCC is an incredible resource for Jewish families, as are the Jewish schools in the area which are tremendous in both in their academics and in their dedication to Zionism and Jewish peoplehood. And there are a plethora of synagogues that meet diverse spiritual needs in the community. We truly believe that Cleveland might be the next best thing to living in Israel!
Q - How do you incorporate PJ Library in your home?
Our son, Ori, loves to read; the PJ Library books are some of his favorites. He will happily sit on our laps for over an hour and read books without complaint. We love that PJ Library sends us books that are appropriate for his age level and which help us introduce new concepts relating to upcoming holidays. I know that when we read a PJ Library book together, Ori is learning something of value. We received the book, One, Two, Three Sukkot a few weeks before Sukkot started. When we built our Sukkah and shook the lulav and etrog, I was able to point to the pictures in the book and then point to the lulav and etrog in our hands to show Ori that we were celebrating the holiday that we had been reading about together as a family. It is wonderful that we have access to books that depict holidays, prayers, and Jewish concepts in ways my son will understand.
Q - What is your favorite thing to do as a family in the city?
Ori loves music, so one of our favorite things to do is go to the JCC or B'nai Jeshrun for Tot Shabbat on Friday mornings; we have a great time! When the weather is nice, we go to the JCC's splash park and spray ground, or take little walks around nearby hiking trails or go to the arboretum. Any day that we can spend together as an entire family is a good day.
For more information on PJ Library and the Young Family Engagement Team, please contact Aviva Roland at 216-593-2926 or aroland@jcfcleve.org.
In partnership with the Jewish Federation of Cleveland and the Harold Grinspoon Foundation, PJ Library® in Cleveland is generously funded by Mort (of blessed memory) and Iris November in celebration of Debra Ann November's life.
---
Related Items