03/22/2017
Young Families: Meet the Toths
David and Lindsay Toth of Solon love being a young family in Jewish Cleveland. As Cleveland natives, they're happy to give their son, Samuel, the same kind of warm upbringing they had. David and Lindsay enjoy taking advantage of the culinary explosion happening around the city, as well having family meals at home.
Q – How do you incorporate PJ Library in your home?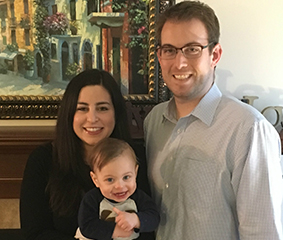 We have always instilled the importance of incorporating Judaism into our home, family and heritage. We love getting a PJ Library book every month and reading it to our son, Sam. We're also able to share our family traditions with him at the same time. Being able to have a foundation through books and reading – something we do every night – reminds us how important Jewish life is and how we need to incorporate it into our children's upbringing.
Q – What do you enjoy about being Jewish in Cleveland?
Lindsay and I both grew up in Beachwood, where Judaism was a big part of daily lives. It's something we probably took advantage of and didn't realize the impact it had on our lives until going to college and returning back to Cleveland. Being Jewish isn't a privilege, it's a part of our heritage, culture and most importantly a part of our family values.
Jewish Cleveland is a rare environment that has allowed us to be part of something bigger. It's a community that exists because families and people like ourselves take advantage of all the opportunities that are out there. Whether it be in a professional environment, creating new friendships or developing family bonds, the opportunities that have been created through organizations like the Federation, synagogues, and PJ Library are truly unique. We love the fact that almost every week there is something we can participate in to keep Jewish Cleveland strong and thriving. What is even more impressive is how proud the community is and how we can easily turn to so many different people for help, advice, or networking and almost any one part of this community will help or be able to point us in the right direction.
It is important that we continue to grow Jewish Cleveland so our children can experience the same connected feeling we have been able to do, by getting involved and helping keep this community strong.
Q – What is your favorite thing to do in the city as a family?
We are very fortunate to have the majority of our family here in Cleveland and we often enjoy Sunday night dinners with either family. On the weekends, we try and find a few hours to just enjoy alone as a family; with both of us working, this is truly special time for us. Whether we are just around the house playing, checking out the thriving restaurant community in Cleveland, or taking advantage of programs that the Federation and Cleveland have to offer, it doesn't matter, as long as we're together.
For more information on PJ Library and the Young Family Engagement Team, please contact Aviva Roland at 216-593-2926 or aroland@jcfcleve.org.
In partnership with the Jewish Federation of Cleveland and the Harold Grinspoon Foundation, PJ Library® in Cleveland is generously funded by Mort (of blessed memory) and Iris November in celebration of Debra Ann November's life.
---
Related Items