11/21/2022
Submit Applications for Young Leadership Division Board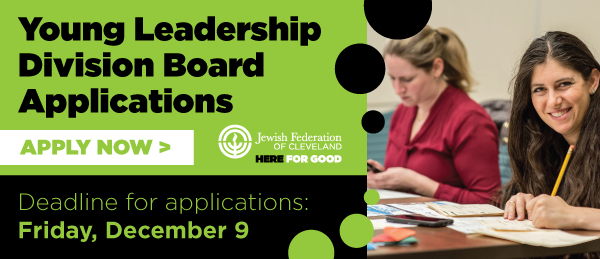 The Jewish Federation of Cleveland's Young Leadership Division (YLD) is seeking outstanding young Jewish Clevelanders to serve on the YLD Board. YLD engages and cultivates future leaders of the Cleveland Jewish Community. YLD Board members, ages 22-45, will have the opportunity to drive YLD activity in its three core areas of focus - engagement, leadership development and philanthropy. The YLD Board is comprised of rising stars who serve in varying capacities professionally and in volunteer service throughout our community.
Expectations / Attributes of Young Leadership Division Board Members
Commitment to and understanding of the Federation's mission.
Regular attendance at board meetings (there are, on average, 10 per year). If you are unable to attend a meeting, communication with YLD staff, board chair or vice chair is expected.
Serve two 3-year terms to the Young Leadership Division Board. Board participation will be reviewed after the first year.
Active participation in the annual Campaign for Jewish Needs: Soliciting prospects and attending major campaign events (Campaign Launch Event, Super Sunday, YLD Big Event, Outreach Hours, Campaign Closing, etc.).
Make a meaningful gift to the annual Campaign that is representative of a leadership commitment to the Federation and among a YLD Board member's top 2-3 philanthropic priorities.
Demonstrate a commitment to YLD and Federation by attending a variety of events and programs throughout the year.
Be the face of Federation by welcoming, educating, connecting, and cultivating emerging young leaders and newcomers to our Jewish community.
Invest in being a leader within Jewish Cleveland by being actively involved and engaged in the Jewish community (via the Federation at large, local Jewish young professional groups, synagogues, etc.).
Represent and promote YLD and the Jewish Federation of Cleveland in the community though the use of personal networks, relationship building, and social media.
Applications are due (by submitting this online form) by Friday, December 9, 2022.