Ben-Gurion Society Dinner
| | |
| --- | --- |
| When: | October 20, 2022 7:00 PM to 9:00 PM |
| Where: | Private Residence |
| Contact: | Jack Fuchsman at jfuchsman@jewishcleveland.org ((216) 593-2844) |
| Summary: | Connect with fellow BGS Donors and Federation leadership over dinner and drinks. Mix, mingle, and celebrate the 2023 Campaign for Jewish Needs. |
Event Details
Description
Connect with fellow BGS Donors and Federation leadership over dinner and drinks. Mix, mingle, and celebrate the 2023 Campaign for Jewish Needs.

Attendees will also have the opportunity to hear from Daniel N. Zelman, Jewish Federation of Cleveland board chair, Beth Wain Brandon, general Campaign chair, and Erika B. Rudin-Luria, president.

At a private residence hosted by
Dan and Ellen Zelman
(Address provided upon registration)

Dinner and drinks
(kosher dietary laws observed)

Complimentary valet parking provided

Kindly RSVP by October 6

Register Here:
https://www.eventbrite.com/e/ben-gurion-society-dinner-tickets-417960128997?aff=websiteevent

In 1948, David Ben-Gurion became the face of a great new generation of Jews. His single-minded passion for the Jewish people is as much a part of his legacy as is the State of Israel itself. Today, the Ben-Gurion Society (BGS) embodies that legacy: young men and women combining their knowledge, passion, and resources to build a strong and responsible Jewish community, at home, in Israel, and around the world. The Ben-Gurion Society includes all donors, ages 22-45, who commit a minimum gift of $1,000 to the annual Campaign for Jewish Needs.
Address
Private Residence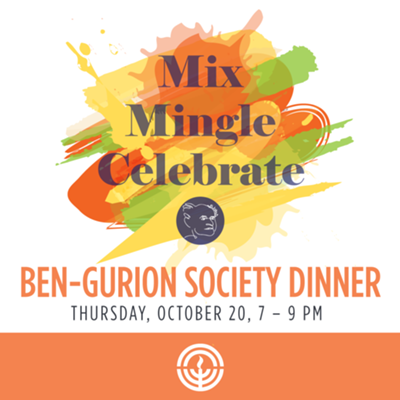 Actions
2022-10-20 19:00:00 2022-10-20 21:00:00 America/New_York Ben-Gurion Society Dinner Connect with fellow BGS Donors and Federation leadership over dinner and drinks. Mix, mingle, and celebrate the 2023 Campaign for Jewish Needs. (http://www.jewishcleveland.org/news/upcoming-events/ben_gurion_society_dinner_2022) Private Residence jfuchsman@jewishcleveland.org