Shining a Light on Antisemitism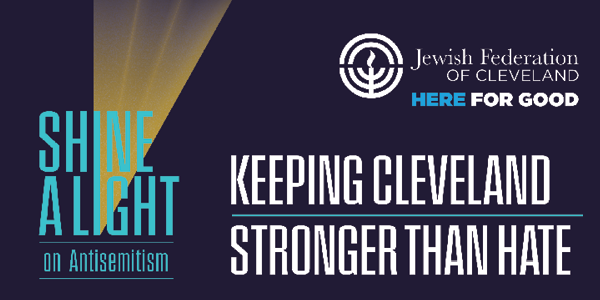 Tonight begins Chanukah – the Jewish festival of lights – which commemorates the Jewish people's survival against oppressors more than 2,000 years ago.
Tonight we join with our Jewish neighbors in Cleveland and across the country to celebrate the miracle of Chanukah. We also stand united with them in the face of growing hatred and violence being directed at Jews today in our country. From stereotyping to scapegoating to physical attacks and worse, Jews are again in the crosshairs of intolerance and ignorance.
Tonight we begin a renewed, collective effort to SHINE A LIGHT on the hate facing the Jewish community. Antisemitism – Jew hatred – can only be eliminated if we work together. If we allow ourselves to be divided, evil wins (and we all lose).
United States Senator Sherrod Brown
United States Senator Rob Portman
United States Senator-Elect JD Vance

Congresswoman Shontel Brown
Congressman Anthony Gonzalez
Congressman Dave Joyce
Congresswoman Marcy Kaptur
Congressman Tim Ryan
Congressman-Elect Max Miller
Congresswoman-Elect Emilia Sykes

Governor Mike Dewine
Lt. Governor Jon Husted
Cuyahoga County Executive Armond Budish
Cuyahoga County Executive-Elect Chris Ronayne

House Speaker Bob Cupp
House Minority Leader Allison Russo
Senate Minority Leader Kenny Yuko
Senate President Matt Huffman
Senator Nickie Antonio
Senator Jerry Cirino
Senator Matt Dolan
Senator Nathan Manning
Senator Dale Martin
Senator Kristina Roegner
Senator Mark Romanchuk

Representative Bishara Addison
Representative Juanita Brent
Representative Jamie Callender
Representative Jeffrey Crossman

Representative Shayla L. Davis
Representative Darrell Kick
Representative Gayle Manning
Representative Joe Miller
Representative Tom Patton
Representative Sharon Ray
Representative Phillip Robinson
Representative Michael Skindell
Representative Kent Smith
Representative Monique Smith
Representative Dick Stein
Representative Bride Rose Sweeney
Representative Daniel Troy
Representative Terrence Upchurch
Representative Casey Weinstein
Representative-Elect Steve Demetriou III
Representative-Elect Elliot Forhan

Mayor Justin Bibb, Cleveland
Mayor Richard Bain, Pepper Pike
Mayor Justin Berns, Beachwood
Mayor Brenda Bodnar, Mayfield Village
Mayor Michael Dylan Brennan, University Heights
Mayor Chuck Brunello Jr, Highland Heights
Mayor Eddy Kraus, Solon
Mayor Bruce Mavec, Hunting Valley
Mayor Kahlil Seren, Cleveland Heights
Mayor Bill Tomko, Chagrin Falls
Mayor Kathy Urdang Mulcahy, Orange Village
Mayor Patrick A. Ward, Lyndhurst
Mayor David E. Weiss, Shaker Heights
Mayor Georgine Welo, South Euclid

AJC Cleveland
Anshe Chesed Fairmount Temple
Anti Defamation League
Asian Services in Action (ASIA)
Beachwood Kehilla
Bellefaire Jewish Children's Bureau
Beth Israel - The West Temple
Birthing Beautiful Communities
B'nai Jeshurun
Case Western Reserve University
Catholic Diocese of Cleveland
Celebrating Jewish Life
Center for Community Solutions
Chagrin Valley Islamic Center
Church of the Covenant
Church of the Saviour, United Methodist
Church of the Western Reserve
City Club of Cleveland
Cleveland Foundation
Cleveland Hillel Foundation
Cleveland Jewish Publication Company
Cleveland Leadership Center
Cleveland Neighborhood Progress
Cleveland Public LIbrary
Cleveland Public Theater
Cleveland Rape Crisis Center
Cleveland State University
Congregation Shaarey Tikvah
Cuyahoga Community College
Diversity Center of Northeast Ohio

Esperanza
Facing History and Ourselves
Forest Hill Church
Fuchs Mizrachi School
GateWay Church – Aurora
Global Cleveland
Goods Bank NEO
Greater Cleveland Board of Rabbis
Greater Cleveland Food Bank
Greater Cleveland Partnership
Green Road Synagogue
Gross Schechter Day School
HarvestNet Ministries
Hebrew Academy
Heights Christian Church
Hillel at Kent State University
Jewish Education Center of Cleveland
Jewish Family Service Association
Jewish Federation of Cleveland
Jewish Secular Community of Cleveland
John Carroll University
Joseph and Florence Mandel Jewish Day School
Kent State University
Kindland
Kol HaLev
Kol Israel Foundation
Lakeland Community College
Legal Aid Society of Cleveland
LGBT Center of Greater Cleveland
Lyndhurst Community of Faith Church (UCC and Presbyterian (USA))

Maltz Museum of Jewish Heritage
Mandel Jewish Community Center of Cleveland
Menorah Park
Mentor Presbyterian Church
National Council of Jewish Women/Cleveland
Northeast Ohio Areawide Coordinating Agency
Northeast Ohio Hispanic Center for Economic Development
Notre Dame College
Oberlin College & Conservatory
Ohio East Episcopal Area of The United Methodist Church
Ohio Jewish Communities
Old Stone Church
ORT America - Ohio Region
Park Synagogue
St. Luke's Foundation
Starting Point
Suburban Temple Kol-Ami
telos institute
Temple Am Shalom, Mentor
Temple B'nai Abraham, Elyria
Temple Emanu El
Temple Tifereth Israel
The Centers
The Shul
Trinity Cathedral
United Way of Greater Cleveland
University Settlement
Values-in-Action
Yeshiva Derech Hatorah
YWCA Greater Cleveland

As of December 21, 2022
Hateful words lead to hateful actions.
Join us and SHINE A LIGHT on antisemitism.