Doing Good Around the World
Together, we do a world of good. Here are some highlights of what is made possible because of your generous donations and our global partnerships with Jewish Agency for Israel (JAFI), Jewish Distribution Committee (JDC), and World ORT.
Let's get started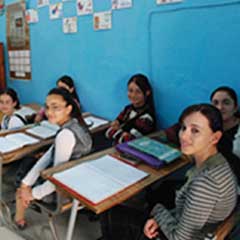 TUNISIA: Educating Youth
Geula is 21, born and raised in Tunisia, to a Jewish family whose roots go back for centuries, but she doesn't spend her time thinking about the past. Instead, she is working toward a brighter future as a teacher. "I think it is very important to be a teacher. I see myself as a leader and a guide to my students," she said. With just a handful of Jews living in Tunisia today, she is taking a lead in helping young people explore their Jewish history and build their Jewish future, teaching Judaism, Torah, Talmud, and Hebrew. "Parents give life; teachers give knowledge," she said. "I take a lot of pride in fulfilling my role."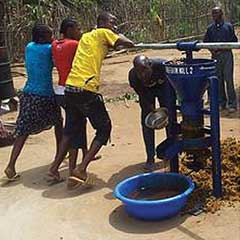 LIBERIA: Changing Young Lives
In a remote village in Liberia, Amos and his colleagues are working on the Freedom Mill (named for its ability to provide freedom from hard, inefficient labor). Their new mill is 10 times more productive than traditional methods of crushing palm oil kernels and will help them build their soap making business. They serve as an example of over 4,500 war-affected young people in Liberia who are benefiting from education and skill building programs. Without these life-changing programs, they would struggle to subsist. "Business is booming," Amos said. "Now I want another machine to extract the oil so that we can increase soap production. And one day I will buy a pick-up truck to help the business grow."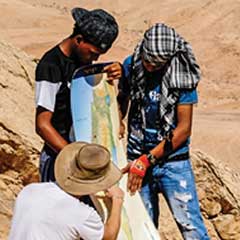 SUDAN: Healing the World
More than 50 youths escaping the horrors of war, torture, and famine in Eritrea and Sudan fled their home countries and crossed the Egyptian Sinai peninsula, in a bid to cross the border into Israel and safe refuge. The 14-17 year old boys now live at Nitzana, a "field-school" style cluster of buildings set among tawny rolling hills, offering both immediate relief and a happier future. "In the face of human evil, we offer a warm, supportive program 365 days a year, which provides counseling and enrichment activities." Center Director Yair Amir said. "We view this as an excellent example, both for us, and for the world, in how to solve the agonizing issue of child refugees - this is really 'Tikkun Olam' (healing the world)," he said.
Asia
Within the vast Asia region are some of the oldest centers of Jewish life still thriving today. Our challenge is to ensure that the small, often widely dispersed Jewish communities in these countries can care for their neediest and remain culturally vibrant and self-sustaining, ensuring a viable Jewish future in the region.
India
4,000 Jews in Mumbai, India were recently invited to participate in the first ever Limmud program, an all-day Jewish learning
Sri Lanka
400 women received vocational training in Sri Lanka to help them provide for their families
Japan
$2.5 million donated to aid tsunami victims in the form of food and first-aid supplies, plus equpment for an IDF field hospital
"As part of the small community in Mumbai, I have come to value the idea of being responsible for others and hope that at the end of Limmud participants value this idea, too."
—Nurith, Limmud organizer
THE CARIBBEAN
CUBA: Women Leading a Jewish Renassaince
Marlen was born in Havana, Cuba, when no one could have predicted her future as a central figure to the small Jewish community of 1,500. Growing up in Castro's era, religion was not to be found in her home but she was always curious. When our partner JDC re-entered Cuba in the 1990s they ignited her passion for Judaism through folk dance; and, she shared that passion with other women which was the beginning of something special. "It is so important to gather these women and maintain a connection with them because they are the ones who bring Judaism into the family," said Marlen of the nearly 500 member women's association. "Women are the ones who guide their children onto a Jewish path," she said.
FRANCE: Feeling Welcome Where You Are
Home to Europe's largest Jewish population of 500,000, France surpassed the United States last year to become the world's second-largest source of Jewish immigration to Israel, with over 3,000 emigrants making aliyah. This year, 5,000 French Jews will emigrate. "I always wanted to come to Israel," said 20-year old Orli, just weeks after making aliyah last summer. Orli is one of 100 young immigrants from around the world at the absorption center, Ulpan Etzion, which attracts young professionals and university graduates. "The place is fantastic, the program is fantastic and everything is fantastic," she said. "In France I felt like a stranger. In Israel, there are many different types of people, but there is solidarity among us. We are all together in this country. It is a dream."
POLAND: Renewing Jewish Life
"That's what Campaign is all about: one Jew asking another Jew to help a third Jew, whether around the corner or around the globe. We are all connected."
―J. David Heller, 2014 Campaign Chair
UKRAINE: Surviving Violence
After violence erupted in the Ukraine, the Endeberrya family's home was bombed. "We were not home, we were fortunate," said 68 year-old, Viktor whose 3-year-old grandson lives with him. The explosion killed their dog, destroyed the house, and crushed their belongings. "That was it. We left the city, dressed as we were," he said. They traveled to a densely populated city where our Jewish community provided for their basic needs. During a time of violence, these services are paramount, but with an estimated 70,000 Jews living through the Ukraine, most living well below the poverty level, support is vital year-round. We give both help and hope to families like Viktor's.
HUNGARY: Meet the people of Camp Szarvas
For about 1,300 children and teens every summer, Szarvas — the pioneering international Jewish summer camp operated in rural Hungary by JDC and the Ronald S. Lauder Foundation, and supported by your campaign dollars — is a chance to connect to Judaism and meet friends from around the world. A second home for participants, Szarvas is a dynamic and vital part of the global Jewish revival.
GERMANY: Transforming Young Lives
Seventy-five years after Kristallnacht transformed Germany's streets into a terrifying mosaic of broken glass, the country of about 250,000 Jews - the world's eighth-largest Jewish population - has rebounded to become a haven for Jewish innovation and education. Our partner JDC has a signature program there called Bambinim-Berlin, a project for Jewish families with small children that emphasizes Jewish culture and tradition. "Jewish life is becoming increasingly spiritual and interesting, especially in big communities with a lot of multiculturalism and diversity," Germany's program director, Lili Furman, said. "The local Jewish communities are doing a great and not easy job working with a very diverse population and in supporting Jewish education and religious education."
THE MIDDLE EAST
ISRAEL: Writing Your Own Story
"I was born and raised in Sderot, Israel which has been under rocket attack from Gaza for more than a decade. It's an interesting life we have here, a frightening one, with routines built around dealing with a complex situation," said Tamar, a 28 year old victim of terror in who is now helping others. After a rocket exploded her childhood home, our community's support changed Tamar's young life. "The Fund for Victims of Terror helped me pay for Elbaum treatments – it's an alternative therapy. It was so helpful, I decided to learn how to become an Elbaum therapist myself. I work with children and adults who have learning disabilities or difficulty functioning," she said. "I'm proud to be giving back!"
URUGUAY: Caring for the Elderly
"When I was no longer able to fend for myself, it was very important to me to live in a Jewish home. I couldn't have family nearby so I wanted to have community," shared Rebecca, an elderly widow who is one of an estimated 25,000 Jews living in Uruguay. She lives in a Jewish eldercare facility where she now feels at home. "I am almost blind, but people here know I love literature so they read to me. It's wonderful! The kindness and the compassion of the staff—I couldn't get that anywhere else."
BRAZIL: Learning About Ourselves
As thousands of Jews traveled to Brazil for the World Cup, our partners were working on the ground to learn more about the Jews living there. "We wanted to better know what Brazilian Jews thought about their identity. So we commissioned a comprehensive study," said Gabriel Milevsky, who heads the Sao Paulo JCC – Sao Paulo is home to the about 900 Jews, the largest community in the country. "Over the past 10 years the number of religious members of the community has grown," he said this was just one of the interesting findings.
---