12/09/2021
More Than $34 Million Raised in the 2022 Campaign for Jewish Needs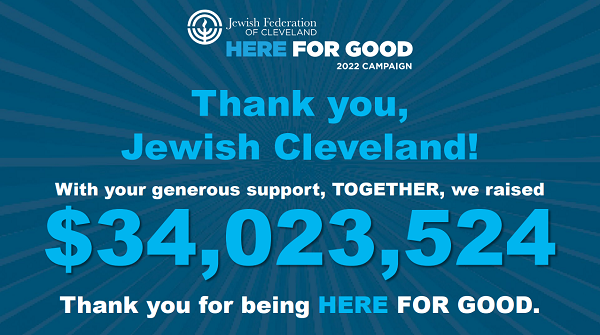 The community raised $34,023,524 from 11,379 donors representing 8,398 gifts to help care for one another, prepare for the future, share our perspectives, and repair our world. Thanks to the generous support of our donors and dedicated volunteers, we are – and will continue to be – HERE FOR GOOD! These totals were shared at the virtual Campaign Closing Celebration on December 8.
"The Campaign for Jewish Needs is the time of the year when Jewish Clevelanders come together to fund all the programs and services that make our community a special place," said Bradley A. Sherman, outgoing general chair of the 2022 Campaign for Jewish Needs. "We've been through a lot in the past two years, and the reason why we will come out of the pandemic stronger is because of the generous community support of the annual campaign. It is amazing what we can do when we work together!"
2022 Campaign for Jewish Needs Totals:
Total Dollars: $34,023,524
Total Donors: 11,379 donors representing 8,398 gifts
New Gifts: 976
Young Leadership Division raised $645,220 from 1,198 donors.
Women IN Philanthropy raised $4,670,211 from 2,741 donors.
High School/College/Juniors raised $46,653 from 613 donors.
Additionally, 151 donors increased their gift to a new giving society level to take advantage of the "Brunswick Bonus" by Brunswick Companies, which made a $1,000 gift to the Campaign for Jewish Needs for every donor who made a gift that moves them into a new giving society, up to $75,000.
Thank you to all of our Campaign leadership, campaigners, and community members for your dedication and support. When we work together, we can achieve anything!
---
Related Items