03/31/2016
400+ Celebrate Our Partnership!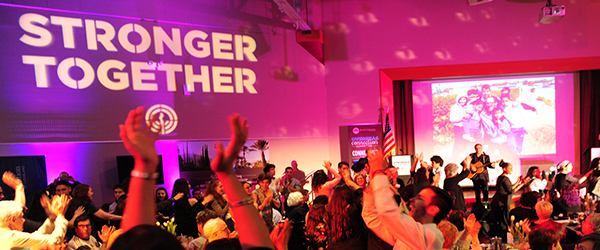 Cleveland loves Beit Shean! The energy was electric at our Celebrate our Partnership event, where 400+ people gathered to celebrate the 20-year anniversary of the partnership between Cleveland and our sister city of Beit Shean and Valley of Springs, Israel.
We welcomed our largest-ever Israeli delegation in history, with more than 40 friends from Beit Shean joining us to dance, sing, and celebrate. The connection we've built with our sister city is inspiring! "Our lives are much richer because of the relationships we have built," said Federation President Stephen H. Hoffman, who was at the helm when the partnership was created.
View All Photos From the Event
Watch a video about the partnership now
Thank you to HaZamir: The International Jewish High School Choir, Playmakers Youth Theatre, all of our amazing guest speakers, our talented local photographers, and our inspiring past chairs. And of course, thank you to Israeli musicians Habanim Shel Shimon, who had everyone up on their feet, dancing and clapping to their favorite Israeli tunes.
Thank you to all of our community members who made this event one we'll never forget!
Here's to another 20 years! We are Stronger Together!
Can't get enough of Beit Shean? Become a Masa Israel Teaching Fellow!
---
Related Items