02/22/2016
A day out with Lil and Hugo
Lil and Hugo love going ballroom dancing. At 90, they dance whenever they can, though Hugo admits it's getting harder as they grow older. "We'd like to go more often, but we can't. Lil can't stand that long these days," he said.
Aging can be especially hard on seniors like Lil and Hugo who love socializing and continue to volunteer in the community to keep themselves busy. An ailing health often means they are stuck indoors and require outside assistance.
Community Options, a program supported by the Jewish Federation of Cleveland, helps elderly residents stay active and engaged as they age in place at Naturally Occurring Retirement Communities (NORCs) like Deville in Beachwood and Sherri Park in Lyndhurst.
Seniors in the Community Options programs participate in a range of social and health programming on issues that interest them such as short trips to Cleveland landmarks, talks on current events, breakfast hour, health checks, and more, that they plan and organize with the help of Federation's resource coordinator.
Recently, Lil and Hugo took a trip to the new Heinen's in Downtown Cleveland with their neighbors from Deville on the Community Options bus. Visiting downtown was extra special for these seniors who hadn't been to that side of town in years. Walking around the store, they were amazed at how the historic bank building had been wonderfully restored for this new use.
"Did you know that rotunda was made of Tiffany glass?" asked Lil. "It's simply fabulous what they have done to the building. It brings back a lot of good memories," she said.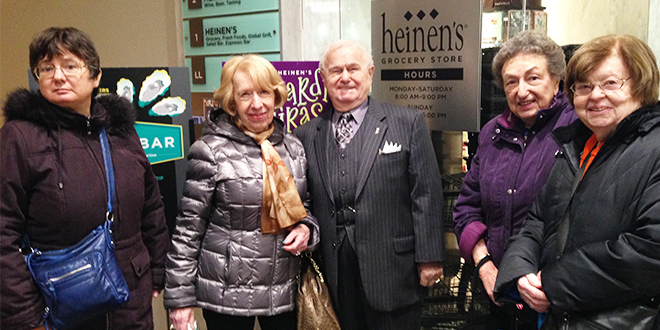 This is only one of the many trips the Community Options group has planned out for the year. "Next, we are hoping to go that tea shop on the east side," said Lil.
Thanks to the Federation and the Community Options program, our seniors have many exciting things to look forward to year-round.
To learn more about the Community Options program, contact Melanie Halvorson at mhalvorson@jcfcleve.org or 216-593-2868.
---
Related Items