01/29/2015
Affordable Overnight Camp for All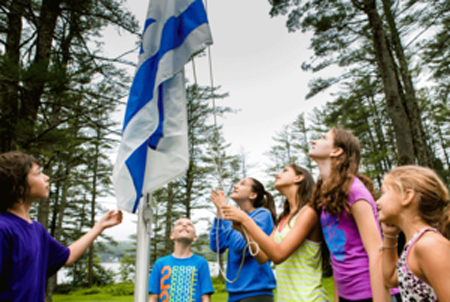 Published with permission from the Cleveland Jewish News
By Ed Wittenberg, CJN Staff Reporter
The Jewish Federation of Cleveland is committed to making Jewish overnight camp affordable for all families through the Michael and Anita Siegal One Happy Camper Program.
The program was launched by the Federation last spring, in partnership with the Jewish Education Center of Cleveland and the New York-based Foundation for Jewish Camp. Michael and Anita Siegal, philanthropists from Gates Mills, established a $1.25 million endowment through the Federation aimed at recruiting Jewish children to overnight camps who otherwise would be unable to attend.
The David & Inez Myers Foundation, a charitable foundation based in Beachwood, also offers scholarships to children from low-income Jewish families so they can attend summer camp. Jewish Family Service Association of Cleveland operates this program, and the JECC is the fiscal agent for it.
Erika Rudin-Luria, vice president of organizational and community development for the Federation, provides counsel to the Myers Foundation for its scholarship program, and she also works with the Siegal One Happy Camper Program.
Rudin-Luria said the Siegal program offers incentive grants of up to $1,000 for first-time campers, as well as incentive grants for second-time campers to attend denominationally based camps, or those that are run by the Reform, Conservative, Orthodox and Reconstructionist movements.
"We work through the Jewish Education Center of Cleveland to incentivize participation in Jewish overnight camp," she said. "There's a long list of Jewish overnight camps that a child can attend to qualify."
Summer camps from which families can choose for their children include Camp Ramah, a camp affiliated with the Conservative movement in Ontario, Canada; Camp JRF, a Reconstructionist camp in South Sterling, Pa.; the URJ Goldman Union Camp Institute, a Reform camp in Zionsville, Ind.; URJ Camp George, a Reform camp in Ontario, Canada; URJ 6 Points Sports Academy, a Reform camp in Greensboro, N.C.; and URJ 6 Points Sci-Tech Academy, a Reform camp in Byfield, Mass.
Research clearly indicates that Jewish overnight camps have a highly positive impact on Jewish children, Rudin-Luria said.
"Children and teens who spend summers at Jewish overnight camps are more likely to become future leaders of the Jewish community," she said. "They are more engaged in Jewish causes, and they are more connected to Israel as adults. Camp is a sound investment in our leaders of tomorrow."
There are other benefits to Jewish camp, in terms of developing leadership skills and building independence and self-confidence, Rudin-Luria said.
"Camp by definition is a warm community; it's a microcosm of a larger Jewish community," she said. "Kids experience how their participation in ruach (spirit), singing, cheering, sports and other activities impacts the whole camp community. We know that kids who go to camp are inspired to participate in the Cleveland Jewish community upon their return."
Rudin-Luria said when Jeremy Fingerman, CEO of the Foundation for Jewish Camp in New York, spoke in Beachwood recently at the JECC's annual meeting, he talked about how Jewish camp promotes "joyous Judaism."
"Through our partnership with the Jewish Federation of Cleveland, we have doubled the number of children attending Jewish camp from the Cleveland area," Fingerman said on the Foundation for Jewish Camp's website. "The leadership gift from the Siegal family will ensure that many more children will be able to experience joyous Judaism at Jewish camp for years to come."
Last summer, 323 children attended Jewish camps through the Michael and Anita Siegal One Happy Camper Program, Rudin-Luria said. This number also includes children who attended as part of the Myers Foundation scholarship program, a partner in the Siegal program.
Michael Siegal, chair of the board of directors of the Jewish Federations of North America, said Stephen H. Hoffman, president of the Jewish Federation of Cleveland, approached him and his wife about a year ago with the idea that resulted in the Siegal One Happy Camper Program.
"My wife and I are very committed to the vibrancy of the American Jewish narrative," Siegal said. "We look at camping – Jewish camping particularly – as probably the best value for the dollar to connect young Jewish boys and girls to each other and to a fun narrative of their Jewish life.
"We look at the life spectrum of connectivity to being Jewish. We know the younger you can connect, the more your feeling of the broad collective community will be there."
Siegal said he and his wife decided about 90 percent of the scholarships from the program would go to children in Greater Cleveland who have not participated in Jewish camping previously, and the remaining 10 percent would go to children from "small Jewish communities that probably don't have the resources of the larger cities."
"There are more applicants than scholarships available," he said. "This is an opportunity for families who don't have the financial resources to take advantage of sending kids to camp, so hopefully other philanthropists will take note and help other families participate in the program."
Lee Kohrman, president of the Myers Foundation, said the foundation has been providing camp scholarships to low-income and unaffiliated Jewish families for the past three years.
"The Myers Foundation is very much interested in the continuity of Jewish life in America," he said. "We believe summer camping is one of the most effective ways to engage young Jewish people to participate in Jewish life throughout their young and adult lives.
"Without assistance from scholarships, children from unaffiliated families that have little or no Jewish community connection can be lost to the Jewish people. It's very difficult to find these children because of the lack of any Jewish community affiliation by their parents."
Kohrman said the Myers Foundation has been able to identify such families through contact with schools, agencies, counselors and word of mouth.
"We look for Jewish-sponsored overnight camps that are within a day's travel of Cleveland, such as Camp Wise (in Chardon), GUCI, Camp Stone (in Sugar Grove, Pa.) and the (Emma) Kaufmann Camp in (Morgantown) West Virginia," he said.
More than 80 children received camp scholarships through the foundation last year, Kohrman said.
"This year we hope to reach 100," he said.
To qualify for a scholarship, children must have a Jewish parent, and their family income must be such that without the scholarship, they would be unable to attend camp, Kohrman said.
Camp scholarships
For more information about the Siegal One Happy Camper Program, call Helen Wolf at the JECC at 216-371-0449. Philanthropists who wish to donate to the program can contact the Jewish Federation of Cleveland at 216-593-2900.
For more information about the Myers Foundation program or to request an application, contact Lorna Chernomorets, camp outreach coordinator at the JFSA, at 216-378-3478.
---
Learn More: