03/29/2022
Good Deeds Day 2022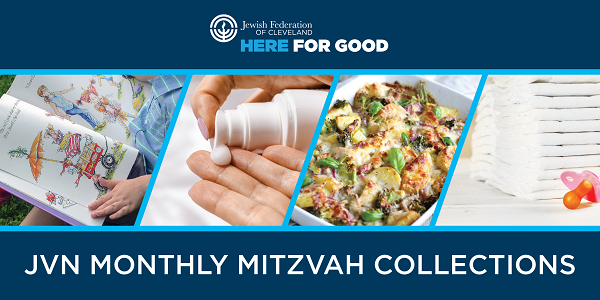 April: Casserole Collection

Good Deeds Day 2022
A great opportunity for individuals and families of all ages to do a mitzvah together.
Registration is required.
Sunday, April 10
10 am – 1 pm

Drop off:
Federation back parking lot
25701 Science Park Drive
Beachwood, OH 44122
Based on last year's success, JVN is pleased to sponsor a Casserole Collection to address hunger relief in our local community. This effort is part of Good Deeds Day, a global day of good deeds which began in Israel and is now taking place around the world.

Three ways to get involved: 

MAKE a casserole to be delivered to families at-risk of hunger
- A casserole is a one pan meal that can be frozen such as baked ziti, mac & cheese, lasagna, tuna casserole, etc. 
- Instructions and a label will be provided upon registration.
- Recipe ideas 
DONATE non-perishable items or dollars to Harvest for Hunger
ADVOCATE for policies to eradicate food insecurity in our country through Mazon: A Jewish Response to Hunger. Go to: https://mazon.org/take-action/
Who are we helping:
 Various agencies that assist those in need
New Drop-Off Procedure: Our volunteers' safety is our #1 concern. For added security at drop-off, our Federation security guard will check off your name from our registration list prior to dropping off your donation at the garage in the back of our building.

All ages are welcome.
For more information, contact Susan Hyman at 216-593-2887 or shyman@jcfcleve.org or Jessica Semel at 216-593-2874 or jsemel@jcfcleve.org.