09/24/2019
Beth Wain Brandon Receives Prestigious Gries Family Award
Award recognizes individual's impact on Cleveland communities
The Jewish Federation of Cleveland announced that Beth Wain Brandon is the 2019 recipient of the Gries Family Award in recognition of her lasting impact on Cleveland's Jewish and general communities. The Gries awardee each year is someone who has demonstrated extensive top leadership in Federation and other local Jewish organization activities, as well as significant leadership in Greater Cleveland's general community. Brandon, a dedicated community volunteer, was presented the award at the Jewish Federation of Cleveland Board of Trustees meeting on September 23.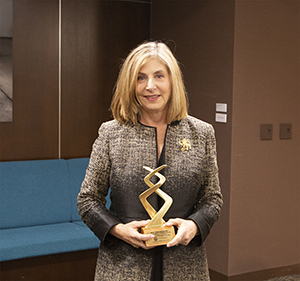 "I consider it a privilege to volunteer in the community, and I'm so honored to receive the Gries Award and follow in the footsteps of my mentors," Brandon said. "My parents believed in helping those in the Jewish community and the general community. Growing up, I got the message to get involved; if you're capable, then lend a hand."
Brandon currently serves as a Federation Board of Trustees vice chair and Allocations Committee chair. She has previously served as the Federation's Government Relations Committee chair and Women's Philanthropy chair.
In addition to her involvement with the Federation, Brandon has served on numerous Jewish organization boards. She is currently a director of the Mount Sinai Health Care Foundation, and previously served as assistant treasurer for Bellefaire JCB, secretary for Maltz Museum of Jewish Heritage, and president of the Ohio Jewish Communities Board.
In the general community, Brandon was named a Woman of Achievement by YWCA of Greater Cleveland in 2014, where she helps formerly homeless individuals and families reach their highest level of self-sufficiency through the Circle of Women program. She is involved at Planned Parenthood, where she lobbies, helps raise awareness, and raise funds to keep the organization's mission alive in Cleveland. She is also a past board chair of Recovery Resources.
"Beth's steadfast commitment to the Jewish and general community of Northeast Ohio is evident and inspiring," said Enid Rosenberg, Gries Award Selection Committee chair and a past Gries Family Award recipient, who presented Brandon with the award. "She is a leader with accomplishments exemplified through her career success as an attorney, community service leadership, mentorship, and notable achievements throughout the Cleveland community."
The Gries family was one of the first Jewish families to settle in Cleveland. The Gries Family Award includes a donation to a charitable cause chosen by the recipient. Brandon designated a donation to Bellefaire JCB and YWCA, and together with her husband, Bob, matched these gifts.
---
Related Items