03/06/2019
Travel Blog: 2019 Weinberg Mission to Israel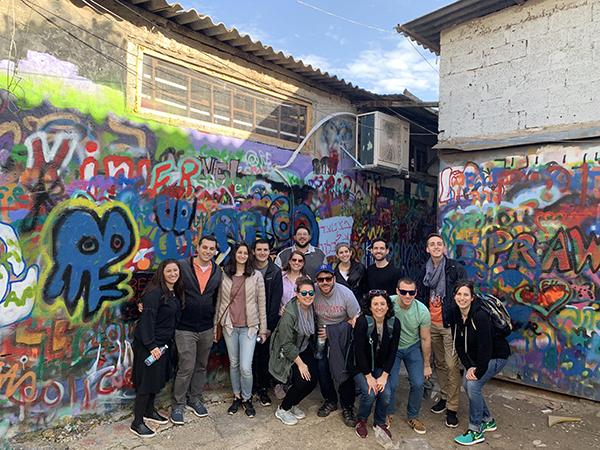 Twelve Jewish Cleveland young leaders are having the adventure of a lifetime on the Young Leadership Division (YLD) Weinberg Mission to Israel! Participants are experiencing Israel's vibrant arts and culture scene, learning about innovative technology, networking with leaders in the nation's up and coming industries, tasting the flavors of the country, and finding their own connection to Israel. Check out their Mission blog below!
The Young Leadership Division's Weinberg Mission to Israel is generously supported by Penni and Steve Weinberg.
March 4
by Dayna Orlean, YLD Board Chair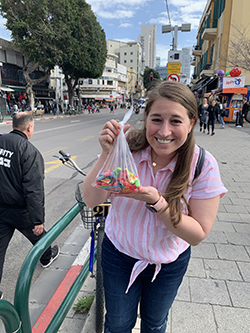 It has been nine years since I was last in Israel and I feel like I'm seeing it with new eyes. Wow! How things have changed not only in Israel, but in my own life since the last time I was here in 2010.
I have a new appreciation and understanding for everything I'm experiencing and doing on this Weinberg Mission. Our first stop of on our first full day of the trip was at the Rabin Center, a new library/museum dedicated to the life and legacy of former Prime Minister Yitzhak Rabin. Learning more about his legacy and his help in brokering peace took us through a deep dive into the history of Israel.
We also visited the Volcani Center, a highly innovative agriculture institute. The Volcani Center is not only changing the way things are grown and cultivated with new technology, but they also have a program that encourages collaboration between neighboring countries. Palestinians, Jordanians, and Israelis come together at the Volcani Center to study olives and how to cultivate and create the best olive oil. It was really inspiring to hear about people of all different faiths coming together to share ideas and enhance the way they grow olives and make olive oil. It's a funny coincidence that people of these countries are all coming together to work on a project via an olive branch.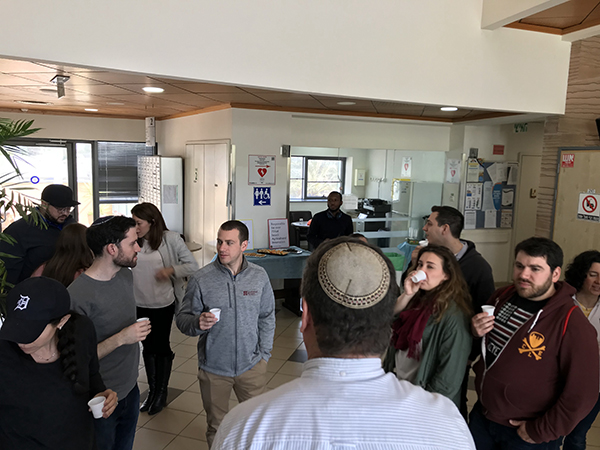 Our last stop of the day was at the Shanti House, a home for at risk youth ages 14-21. The first thing you see when you walk in is a wall filled with kids from the Shanti house hugging. It immediately made me feel at home and emotional. So often we take for granted our warm homes and loving families and quickly forget about those struggling or less fortunate than us. It was an important end to our first day, learning about how the Shanti House gives kids on the streets a warm and loving home, truly fulfilling one of the main missions of the state of Israel.
Seeing Israel from a new perspective has been really special so far, especially experiencing it with my husband who is in Israel for the first time. Traveling with a really smart and fun group doesn't hurt either!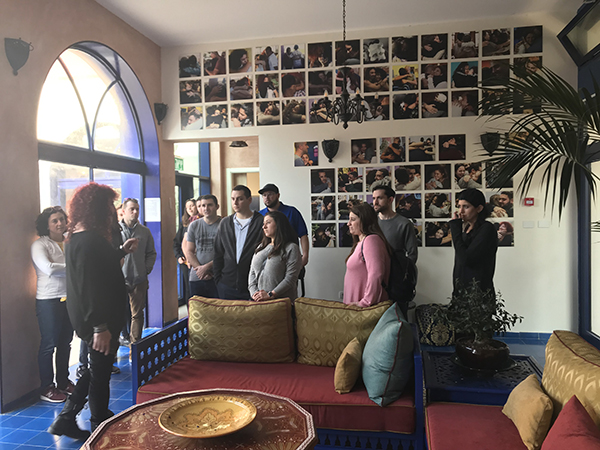 March 5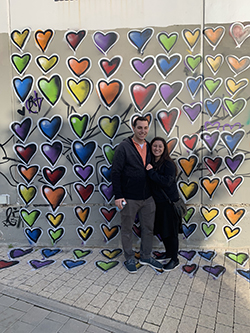 by Ari Feiger
Today was an amazing and fulfilling day in Tel Aviv. We first stopped at 365 Scores – an Israeli start-up that has a cross-platform app which enables users to create their own personalized sports channels. At their headquarters we had the privilege to hear from Dina Roemer who is the Senior Vice President and Managing Director of Israel and Global Philanthropy for the Jewish Agency for Israel. Dina shared her story how she started her career with the Cleveland Jewish Federation and then made Aliyah, where she continued her work and collaboration with the Cleveland Federation. It was inspiring to hear her experiences and how she works closely with Cleveland Federation. We also heard from the director of Masa Israel Programs, and learned about the wide range of programs they offer and the strategies they utilize to bring young people on Israel programs.
We then spent early afternoon visiting Havat HaShomer which is an army base designed to help at-risk soldiers. It was inspiring to speak with the soldiers about their basic training experience at Havat HaShomer and learn about their army goals. We enjoyed a delicious lunch with the female officers of the army base and had the opportunity to interact with them in a fun, informal setting.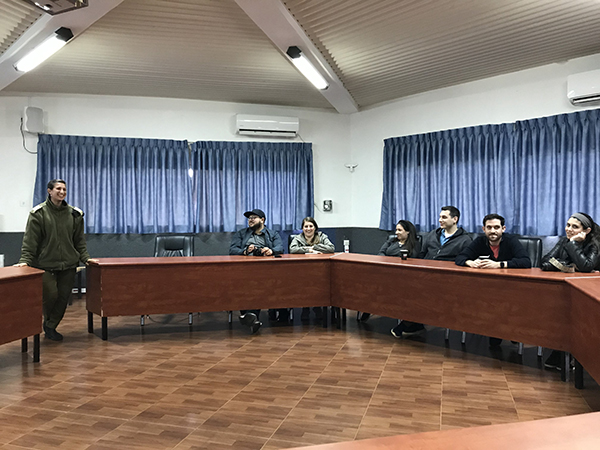 We ended the day by traveling to Haifa. We took in a breathtaking view at the Bahai Temple and arrived at the Dan Panorama hotel. We enjoyed a delicious dinner with Michal Raikin, Senior Leader for Wexner, who spoke to us about leadership. You'll have to stay tuned to the blog to hear more about the trip!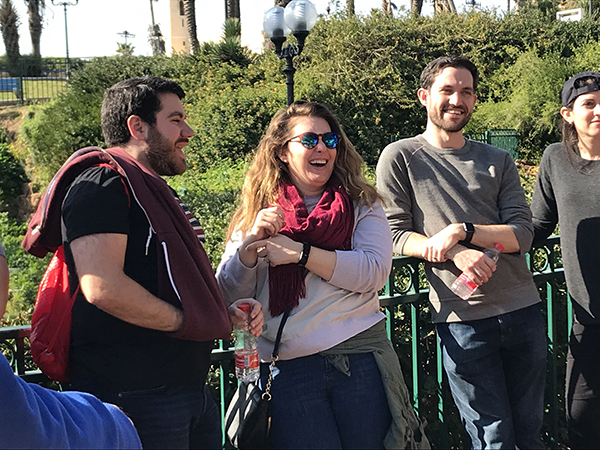 March 6
by Hannah Milgrom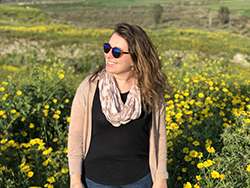 Today we went to Cleveland's sister city, Beit Shean. Like everyone in Cleveland, we had heard so much about this city and were excited for the opportunity to see it with our own eyes. We began the day at a local middle school and sat in with an 8th grade class that is partnered with Gross Schechter Day School. The students there are receiving experiential STEM education being developed in partnership with the Federation. I was excited for this opportunity because my job at Cleveland State University is to promote STEM education to local schools. We sat with the students as they presented an experiment to us called "toothpaste for elephants" and were very impressed by their poise and passion for science.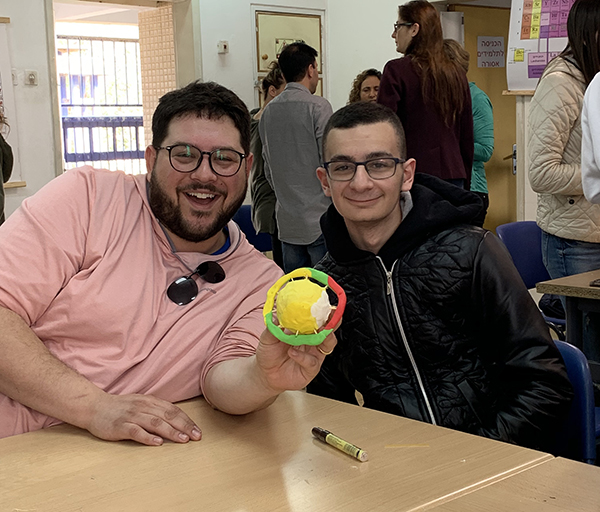 In the afternoon, we drove to the Valley of Springs for a tour of Eden Farm. The farm does Research and Development for the region to ensure the health and vitality of local agriculture. We learned from the director about the cooperation between Israel and Jordan to combat the Red Weevil, a beetle that has been destroying local palm trees. We then explored the farms' many greenhouses and sampled some delicious peppers and tomatoes.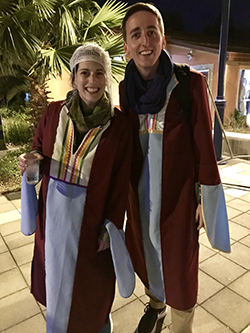 In the evening, we went to the Kurdish Village to eat and drink with our young adult counterparts in Beit Shean and the Valley of Springs. We discussed our common challenges and opportunities, and connected with each other in a way we could only do face-to-face. Many of the people we met will be traveling to Cleveland again in the coming months and we look forward to seeing them then.
We concluded the day with a drive back to our hotel in Haifa and reflected on the day's events. In attention to what I already described, we also toured the Beit Shean National Park and got to meet with one of the developers of the forthcoming free trade zone with Jordan. The beauty of Beit Shean and the hospitality of the people will stay with us for a long time.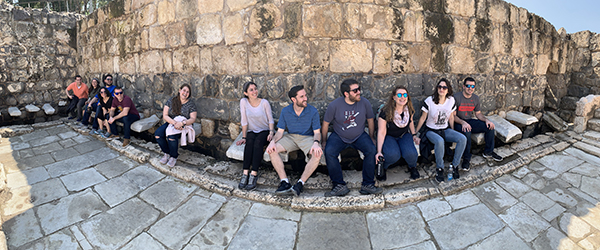 March 9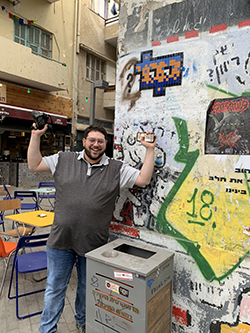 by Cameron Orlean, YLD Board Vice Chair
"What was your 'aha moment' during your trip to Israel," asked Rena Quint, as we sat around her dinner table for Shabbat. This question puzzled me as I asked myself, "What will stick with me after this trip? What was the point where I felt an emotional connection to Israel or a specific program or person?" There were 24 of us around the table and as the only first-time visitor to Israel in the room, I wanted to find something profound and meaningful from our incredible week in Israel to share with the group. What I didn't realize in this moment is that my 'aha moment' was about to happen and would come a bit later that evening when Rena shared her gut-wrenching story as a young girl in Poland who was separated from her family and sent to Bergen Belson at the age of six – the last time she would ever see any of them.
"Today I have a family consisting of four children, 22 grandchildren, and 28 great-grandchildren and counting," Rena shared. Her incredible story included many people protecting her along the way She describes herself as 'a daughter of many mothers' throughout her journey, which ultimately resulted in her being freed by the allied forces and being adopted by an American family where she was raised in New York from the age of 10, until making Aliyah to Israel in the late 1960's.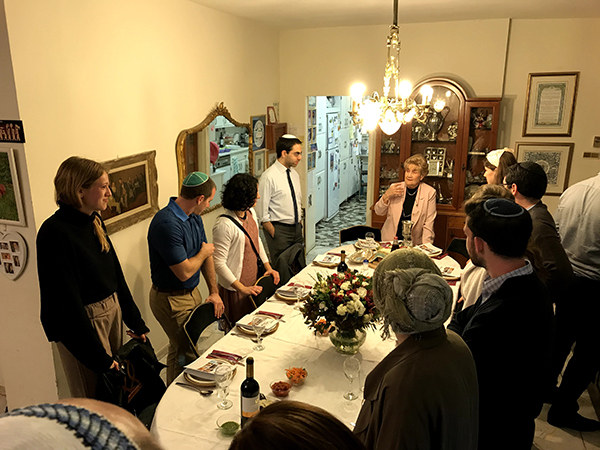 I never really understood the deep connection that so many of my peers have to Israel. I did not take advantage of going on a Birthright trip, I did not study in Israel, and I have not even visited. After spending a jam-packed week here learning from people like Rena, I am not ready to head back home and I'm already asking when can I come back to Israel?
The Weinberg Mission exposed us to so many different parts of daily life in Israel, history, culture, religion, and of course the incredible food! We had the opportunity to see the various ways our work in Cleveland benefits programs throughout Israel. We began the trip at the Carmel Market and had a graffiti tour of Tel Aviv where I spotted a space invader (one of my favorite street artists). We toured the Yitzhak Rabin Center in Tel Aviv, and learned not only about his incredible life and journey, but interwoven was the history behind Israel and its formation up until today. Our group went to Shanti House, an incredible home that takes in at-risk youth, providing a warm, loving home for more than 55,000 different young people since its formation. We saw the work that the Volcani Center is doing to put Israel at the forefront of agriculture technology and efficiency, followed by a trip to Eden Farms in the Valley of Springs to see the research in action. We saw the Baha'i gardens in Haifa and visited Havat Hashomer, which our Federation supports.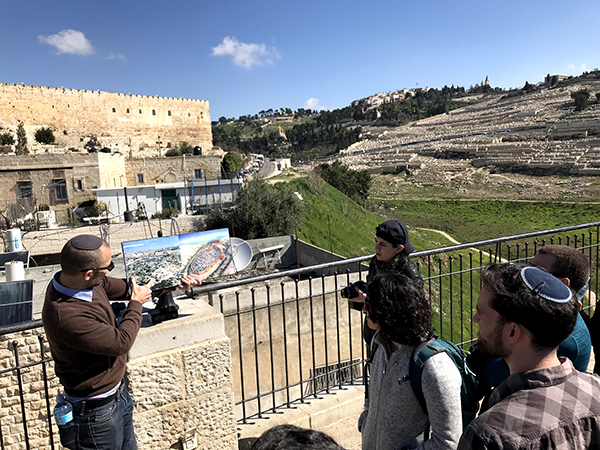 During the second half of the trip, we visited our sister city of Beit Shean and were able to connect with young professionals who are doing similar projects that we do in YLD over a traditional Kurdish dinner. One thing that was really incredible is going to ORT Amarim school and working on STEM projects with the 8th grade students. I couldn't believe how similar they were to us and enjoyed spending an afternoon with them! The Beit Shean National Park was incredible, and being able to walk through the old ruins of the city painted a picture of a bustling metropolis from ancient times. We also had a behind the scenes walk through of an archaeological dig that is drawing conclusive proof that the stories in the Bible and Jews claim to Jerusalem are well founded. The narrow passageways took us under the city of David to the foundation of the Western Wall – blocks of the wall most people have never had the opportunity to see. I also experienced a Kabbalah Shabbat service Friday night at the Wall, where we joined various minyans and prayed with Jews of all different religious levels.
Above all else, I made strong connections with our homeland and walked away from this trip with strong bonds and friendships with my 13 co-travelers that I am confident will last forever. The people of Israel made us feel like family – I can now conclusively say I have a second home and that is the land of our people, Israel.
For more information on how to get involved with the Federation's Young Leadership Division, email yld@jcfcleve.org.
---
Related Items