08/19/2015
Breaking Barriers with Larry Doby
Uniting Communities Through the Celebration of Baseball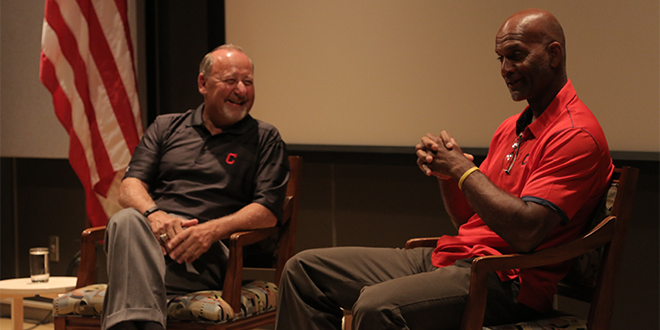 Let's flashback to October 9, 1948. Game 4 of the World Series is on between the Cleveland Indians and the Boston Braves. 82,000 people cheer from the stands—one of the largest ever in World Series History. The Indians have a slim one run lead, but somebody needs to step up.
A confident looking Larry Doby steps up to the plate. On the second pitch, he lifts the ball 420 feet high over the right field wall; he creates history. Doby becomes the first African-American player to hit a home run in the World Series.
This is the legacy of Larry Doby; as great as his achievements were in baseball, his accomplishments in breaking barriers were far greater. That is why the Jewish Federation of Cleveland's Community Relations Committee (CRC) partnered with the African-American community to honor his legacy at the Maltz Museum of Jewish Heritage's latest exhibit, "Chasing Dreams: Baseball and Becoming American."
"Our goal is to build strong relationships between the Jewish community and other communities," said Gregg Levine, a member of the CRC. Guided by Jewish values, the CRC works with people of all faiths and ethnicities to build a more just and civil society.
On this summer evening, the CRC brought both communities together under one roof to recognize their similar histories of encountering and overcoming prejudice.
Larry Doby was the second African-American player in the history of baseball to be signed by a major league team. What should have been the happiest time of his life opened up new challenges. According to guest, Ike Brooks, a local expert on African-American baseball players, Doby's teammates refused to talk to him on his first day at camp. Some would not shake his hand. He received hate-mail and death threats. But he couldn't react. "The only way he could strike back was to hit the ball," said Brooks.
And he did. In one year, he hit the first ever home run by an African-American in a World Series; he helped the Cleveland Indians win the title that year with his .318 batting average. For the first time in history, two athletes, one black and one white (Doby and teammate Steve Gromek) embraced each other openly in a picture that captured national headlines. And later in his career, Doby became the second African-American ever to manage a Major League Baseball team.
"Baseball is a unifying sport that brings people together no matter where they come from. We recognize Doby, and others, who have helped shape the world we live in today," said Levine.
Former Cleveland Indians Player, Al Rosen nicknamed "The Hebrew Hammer" once famously said: There's a time that you let it be known enough is enough. Like Doby, Rosen stood up to hate speech and slurs, fighting anti-Semitism during his career. He would eventually become the only former MVP to also earn baseball's Executive of the Year award.
Justine Siegal, a Cleveland-native, wanted to play baseball since she was a little girl but was told girls couldn't play baseball. But, she did. When she said she wanted to coach, she was told no man would ever listen to a woman. But, they did. Siegal became the first female ever to coach a men's professional baseball team, and has since gone on to found the non-profit organization, Baseball-for-All, mentoring young girls in an almost exclusively male-dominated field.
The challenges Doby faced in his career resonate strongly among the Jewish community. If athletes like Doby, Rosen, and Siegal individually combated racism, anti-Semitism, and sexism to open up opportunities for African-Americans, Jews, women, and others, then together our communities have changed the world for the better.
And this is the goal of the CRC: to bridge cultural divides, foster mutual respect, and forge connections with other communities to collectively affect change. It is as Doby's son, Larry Doby, Jr. said that evening: "Anytime people of different faiths and colors come together, it's good because talking and exchanging ideas can only help us solve our problems."
Thank you to event chairs Gregg Levine and Jill Miller Zimon of the CRC. For more information about the work of the CRC or to get involved, please contact Jessica Cohen at jcohen@jcfcleve.org.
---
Related Items