08/24/2017
Campaign Launches with International-Inspired Event Sept. 6
Article reprinted with permission from Cleveland Jewish News.
By Amanda Koehn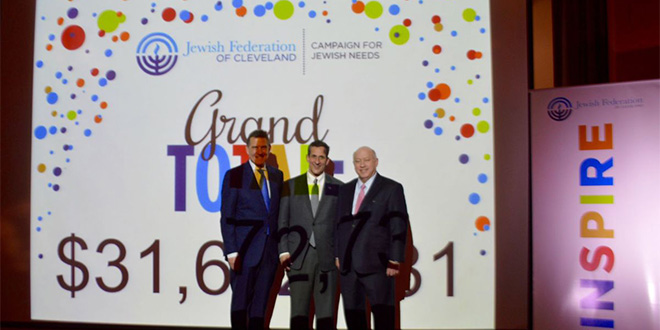 The Jewish Federation of Cleveland will kick off its 2018 Campaign for Jewish Needs at 7 p.m. Sept. 6 at Anshe Chesed Fairmount Temple's Penni and Stephen Weinberg Social Hall in Beachwood with a focus on speakers who witnessed firsthand the effect of federation dollars around the world.
The Campaign for Jewish Needs is the Jewish Federation of Cleveland's major annual fundraising initiative.
David F. Adler, general chair for the campaign, said like last year they will ask community members to think about "what inspires you?" when considering donations, however with an increased focus for the launch on international efforts.
"We have here in Cleveland a diverse Jewish community," said Adler, who is on the second year of his two-year term as chair, and does it in addition to his job as a partner at Jones Day in Cleveland. "Whatever inspires you is happening through the campaign and this gives us an opportunity to talk about some of that inspiration that's going on around the world."
Adler said he expects about 350 people to attend the launch and be motivated by stories told by speakers, all of whom visited or live in countries around the world that receive support from Federation campaigns. Featured speakers are Northeast Ohio residents Ben Becker, Rachel Heiser and Kevin Margolis, and Danielle Katz of Beit Shean, Israel – Cleveland's "sister city."
Heiser, a Pepper Pike resident who is involved with several Federation committees, will talk about a Jewish Federations of North America young leadership trip to India, where she saw the effect of Federation funding in communities. Heiser said she met with young adults there who were trying to re-energize their local Jewish community.
"It was my opportunity to share a personal experience, seeing what the Federation dollars can do," Heiser said.
Adler said while the community has diverse interests for where they want their money to go within Jewish communities both at home and abroad, in recent years people have been increasingly concerned with funding security efforts in the Cleveland area.
"That's not just because of the recent events – Charlottesville in particular – but that of course will play into it, but also incidents in some other cities," Adler said. "With that weighing on our mind, that's true today, but that consciousness of our own security is something we've seen over the last few years."
Adler said his goal for this year is to both raise more money than last year – $31.7 million – and to raise it from a larger number of donors. One way in which they aim to do that is by launching a monthly giving initiative, where donors can sign up automatically to give on a regular basis.
The campaign also aims to bring community members together for the "common purpose," for which Aer said the launch event is a good start.
"Community members love connecting with each other, and that occurs at the campaign launch event," Adler said.
---
Jewish Federation of Cleveland's 2018 Campaign for Jewish Needs Launch Event
WHEN: 7 p.m. Sept. 6
WHERE: Anshe Chesed Fairmount Temple's Penni and Stephen Weinberg Social Hall, 23737 Fairmount Blvd., Beachwood
INFO: $15 per person, includes dessert reception. For more information or to register visit jewishcleveland.org, email campaign@jcfcleve.org or call 216-593-2900 x740.
---
Related Items