08/24/2018
2019 Campaign Theme - Social Change, Relief
Article reprinted with permission from Cleveland Jewish News.
By Alyssa Schmitt
When the Jewish Federation of Cleveland kicks off its 2019 Campaign for Jewish Needs next week, the launch event will feature new components aimed at amplifying this year's theme, the impact of togetherness.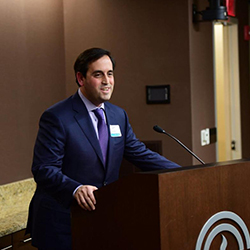 Jeff Wild, the campaign chair, said the theme reflects what the Federation hopes to accomplish as it seeks to exceed the record $32.7 million raised during last year's campaign.
"(Our theme) speaks to the collective power we have to make meaningful social change and provide relief in times of crisis in ways no one person or organization can do alone," said Wild, who is a member of Green Road Synagogue in Beachwood.
The launch event, which is scheduled to begin at 7 p.m. Aug. 29 at the Mandel Jewish Community Center of Cleveland's Stonehill Auditorium in Beachwood, will differ from previous years in that it will have multiple interactive displays that both celebrate the diversity of Cleveland and provide insight into the programs Northeast Ohio's Jewish community supports locally and around the world.
Also, for the first time, the event will feature live interviews with active community members who are keeping Jewish Cleveland vibrant.
"They're going to share their story of how the Federation has helped their lives, helped their families, and (how it has) been that safety net or the reason why they're able to be who they are today," said Michelle Hirsch, who is the campaign vice chair and attends B'nai Jeshurun Congregation in Pepper Pike.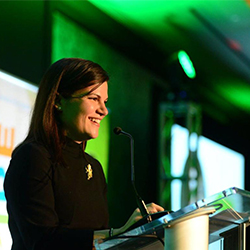 Engagement is key to having a successful campaign, which is the Federation's major annual fundraiser. If the community isn't engaged with the work being done, then it's difficult to understand why giving can be so important.
"I think what people need to understand is our community is unique," Wild said. "We're one of the largest campaigns in the entire federation system and that's because the people in Cleveland are philanthropic, they're caring and they understand the power of collective giving. We can accomplish far more together than we can individually, and people in Cleveland understand that."
Once the campaign is finished, the allocations committee will spend nine months determining how the money is distributed. Wild, who has previously served as chair of the allocations committee and was president of Fuchs Mizrachi School in Beachwood, understands the challenge of allocating funds as well as the importance each dollar has for an agency.
"There's so much work, such heavy lifting by both the professional and lay staff at the Federation to really understand the challenges and needs of our community so we can do everything we can to really help our partner agencies – not only in Cleveland but around the world – deal with those challenges and address the opportunities so we can really grow together," he said.
---
Jewish Federation of Cleveland's 2019 Campaign for Jewish Needs
WHEN: 7 p.m., Aug. 29
WHERE: Mandel Jewish Community Center Stonehill Auditorium, 26001 S. Woodland Road in Beachwood
INFO: Tickets are $15 per person. Dessert reception, kosher dietary laws observed. To register, visit jewishcleveland.org.
---
Related Items