12/08/2016
Children Learn Value of Giving Tzedakah
Children learn value of giving tzedakah to Campaign for Jewish Needs
Article reprinted with permission from Cleveland Jewish News.
By Amanda Koehn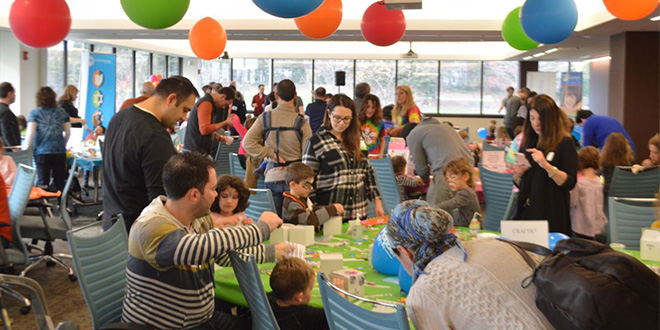 More than 300 children and their families came to the Jewish Federation of Cleveland in Beachwood on Dec. 4 for the Young Families Tzedakah Party, where children under 5 were encouraged to participate in arts and crafts and donate money from their piggy banks and unwrapped toys to the Federation's 2017 Campaign for Jewish Needs.
One of the purposes of the party was to teach children under 5 early lessons about giving.
"I think it's important because the earlier they start the more it becomes kind of a lifetime thing for them," said Aaron Schwartz, a member of the event's host committee.
Schwartz, a Lyndhurst resident with two children, Eden, 3, and Ivy, 7 months, said although children in the under-5 age group may be too young to understand exactly what they are giving to, they can begin to learn that there are people less fortunate than them and they can help.
"I think Eden certainly understands that not everyone is as fortunate as us and as fortunate as our family, so she was certainly excited to give some of the money that her grandparents always give her, I think she was excited to give it away. I don't think she understands really where it goes yet, but she understands that people need it more than her. She's obviously too young now to differentiate between causes, but there is one cause that is always a good cause and that's the Jewish community."
The Campaign for Jewish Needs is the Federation's major annual fundraising initiative. The party was hosted by the Federation and PJ Library, which is a program that allows local children to receive Jewish books and music.
Local Jewish day schools had craft projects at different tables. For example, Gross Schechter Day School in Pepper Pike had a recycled dreidel craft, made with CDs and crayons. The Joseph and Florence Mandel Jewish Day School in Beachwood had cardboard tzedakah box making, which was meant to inspire children to give to both local and Israeli causes.
Julie Sukert, a Solon resident who was on the event's host committee, said her children, Lila, 7, and Dalia, 5, enjoyed seeing their friends at the event, but also the tzedakah obstacle course, where kids ran through the course and slam dunked their donations into a basketball hoop at the end.
"They feel like they've given back, they get a ticket that says 'I gave' and they are very proud of themselves for giving tzedakah to the Jewish Federation of Cleveland," she said.
Sukert, a member of B'nai Jeshurun Congregation in Pepper Pike, said for adults, the event was nice for meeting new people.
"As adults, I think the best part of the event is getting to meet other young families in the community that you may not get to see all the time. There is a wide range of families here from the unaffiliated to Orthodox."
---
Related Items