07/09/2019
Civic Leaders Bring Lessons from Israel Back to Cleveland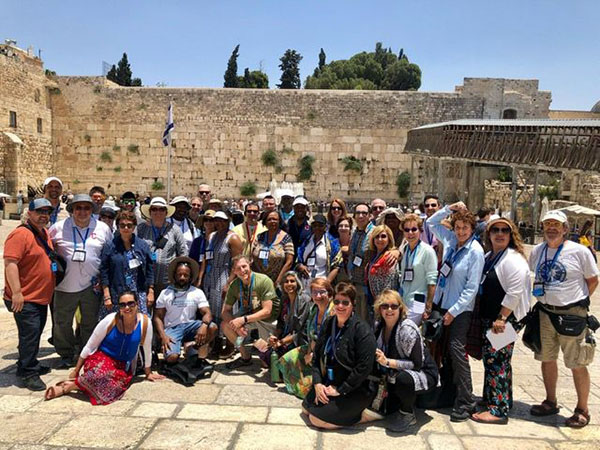 Republished with permission from Cleveland Jewish News.
by Gil Hoffman
BEIT SHEAN, Israel – Israel may not have too many natural resources to provide power to its people.
But it has learned to empower its children, who are its true natural resource, as participants in the Jewish Federation of Cleveland's biennial Thomas and Joann Adler Civic Leaders Israel Mission recently discovered.
Some 40 Jewish and non-Jewish civic movers and shakers came to Israel from Cleveland on the mission, toured the country and learned from their Israeli counterparts how to empower their own neighbors in their community.
The participants visited Beit Shean, a northern development town that is Cleveland's sister city, and learned how its youth have been empowered by special programs supported by the Federation.
They were inspired by the Beit Shean Public Library, where local teens help run the facility, draft its budget and mentor younger children. The teens spoke to the visitors from Cleveland about how the library has become a second home and how much it has improved their lives.
"The kids who came to a program I organized told me that it was the first time they felt they were doing something meaningful and important, and that felt so good," 14-year-old Tomer Blaise told the group.
Tania Menesse, the director of community development for the city of Cleveland, told the Cleveland Jewish News she learned valuable lessons at the library from meeting with the teens.
"I was surprised to see how much of what is done here is civil driven and how much people feel their future is in their own hands, as opposed to depending on government to do it for them," Menesse said. "It's really what I would like to take back to our residents – to make them feel that they're more in control of their future and that they should get involved and engaged in their communities."
The mission started two years ago with a goal of enabling local civic leaders to learn from Israel's economic, educational and community development, and creating partnership opportunities. It was endowed by Thomas and Joann Adler of Shaker Heights after they returned from a Federation business leadership trip to Israel and thought nonprofit leaders would benefit from the same opportunity.
One program the delegation learned about was Youth Futures, in which children facing challenges are mentored in an effort to get them to believe in themselves and dream for the future. The mentors work with the children's family, teachers and social circles.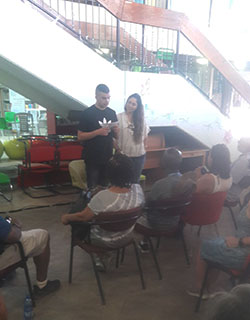 "Before the program, I was violent and didn't have much of a future," a young man named Tamir told the mission. "We did fun activities, and little by little, I became calmer and less violent. Now I believe in my future and have ambitions."
Oren Baratz, senior vice president of external affairs for the Federation, called Tamir a hero. When he asked Tamir in front of the crowd what he wants to be when he grows up, he answered "rich."
Baratz recounted how the Youth Futures was started by former Federation President Stephen H. Hoffman in 2005 and its criteria for kids at risk was set in the airport at 1 a.m. over coffee. The Federation still funds 20 mentors for 246 children, and the program has since spread to 38 communities in Israel.
"Fourteen years later, every time I see the holy work the mentors and kids are doing, it still makes me cry," Baratz said.
The delegation also met participants in women's clubs that help the women reclaim their identity and pride. Six groups of 30 women meet once a week for two hours and volunteer in kindergartens, senior citizens centers and medical clinics and assist the handicapped and needy families.
"Our purpose is to empower women to take responsibility," organizer Malka Haddad said of their high-profile volunteering.
The women's groups also encourage women to enter politics. They are planning a festival in July that will start with a panel of women who broke the glass ceiling.
"We want women to believe everything is possible and there is no ceiling," Haddad told the group at the Beit Shean Museum. "The program has been so successful that now the men want to create their own club."
RPM International public affairs vice president Randy McShepard, who co-chaired the mission, said he was very impressed by the women. He said they reminded him of the Margaret Mead quote "Never doubt that a small group of thoughtful, committed citizens can change the world; indeed, it's the only thing that ever has."
McShepard said he wished his local community had a library that empowered children like Beit Shean's because he believes kids need constant reinforcement.
"This library shows children are not the leaders of tomorrow, they're the leaders of today," he said. "They are part of the solution, part of a team that can change a kid's life. Too many Cleveland urban kids have challenges because they don't have a support network. A program like this gives troubled kids responsibility to give back, learn critical skills and share talents."
Menesse said she appreciated that the mission promoted honest dialogue and understanding about how to help their community. "I see things here that I will definitely try to replicate," she said. "We really strive for the idea of a shared society in Cleveland, and the dialogue we need to get there is already happening here in Israel."
Gil Hoffman is a freelance writer in Israel.
---
Related Items