04/24/2017
Cleveland Commemorates Holocaust
Article reprinted with permission from the Cleveland Jewish News.
By Amanda Koehn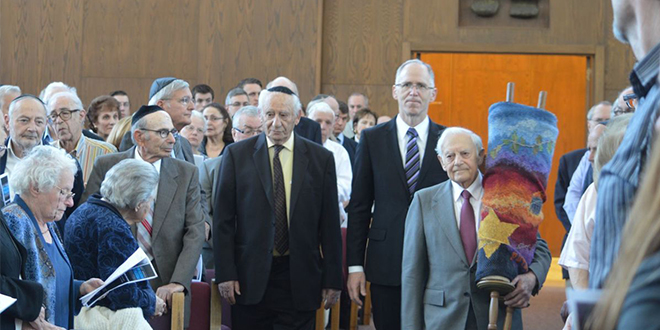 Anshe Chesed Fairmount Temple in Beachwood had a full house April 23 for the Cleveland area's Yom Hashoah V'Hagvurah, or Holocaust Remembrance Day, to remember the 6 million Jews who died in the Holocaust and to honor those still living in the community.
During the ceremony, Holocaust survivors were escorted into the sanctuary with rabbis from their synagogues and Torah scrolls preserved from Europe during the Holocaust era- a first for Cleveland's Yom Hashoah ceremony.
Rabbi Robert Nosanchuk, senior rabbi at Fairmount Temple, delivered the keynote address, where he focused on the significance of the preserved Torah scrolls.
"Imagine how these scrolls might have been buried beneath homes, smuggled in bags that would disguise them as garbage, protected from the Nazis who stole them from our people, only for them to be lifted and read again in celebration of our most precious Jewish traditions," he said.
Nosanchuk said the Torah scrolls should symbolize to Jews that they must advocate against injustice today.
"We will never stop demonstrating that no one in this world is to be forgotten or written off- each of the scrolls that marched into this sanctuary came to tell us that no on this planet, not one of us, has permission to treat another like garbage," he said, noting the local community and places in today's world where oppression and persecution are rampant. "Not in Syria, Chechnya, not in Kabul, nor in Cleveland. Not at 93rd and Kinsman, nor at Richmond and Fairmount."
Six survivors, along with a U.S. veteran who liberated the concentration camps and relatives of Holocaust survivors Sam and Ida Zelwin, then lit memorial candles. The Zelwins battled Nazis in the forest of Belarus during World War II.
The six survivors who lit candles were Pearl Goldstein, Bob Schubach, Valerie Weitz, Henrik Sperling, Erika Gold and Marguerite Morris. The liberator candle was lit by Maurice "Bud" Weidenthal. The final candle was lit by the grandchildren and great-grandchildren of the Zelwins, in memory of children who died in the Holocaust.
The program was put on by the Kol Israel Foundation and the Jewish Federation of Cleveland.
Near the end of the ceremony, Louise Gips told her story of being in a labor camp during the Holocaust. She said after she was liberated her "biggest fear" then became that people would forget the Holocaust happened and "history will repeat itself again and again."
She said she is less fearful now about the Holocaust being forgotten, however left the audience with the reminder that as survivors age and die, remembering the Holocaust will be left to younger generations.
"My fear has been lessened because people like you will tell our stories," she said.
---
Related Items