03/06/2023
Confronting Antisemitism On College Campuses

College campuses have unfortunately become breeding grounds for antisemitism. According to the Anti-Defamation League (ADL), there were nearly 400 anti-Israel/antisemitic incidents during the 2021-2022 academic year across American universities. Those included one physical assault; 11 instances of vandalism; 19 instances of harassment; 143 on-campus demonstrations; 165 protests/actions; and 20 Boycott, Divestment and Sanctions (BDS) resolutions and referenda. With Jew hatred continuing to increase at an alarming rate, our college-age kids need to combat antisemitism on a much higher scale.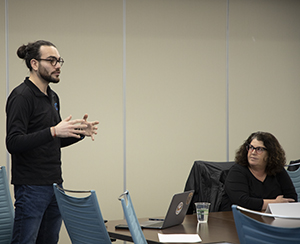 That is why the Jewish Federation of Cleveland provides specialized tools and training to empower college students to speak out against antisemitism. "Our kids are now facing hatred on campus that we've not seen in decades," said Susan R. Borison, Federation's Community Relations Committee (CRC) chair. "They need a much different kind of support from the community today in order to live Jewishly as they choose on campus."
Together with the Cleveland Hillel Foundation and Hillel at Kent State University, CRC created the Campus Partner Fellow internship program designed to help students forge more meaningful coalitions between Hillels and other minority groups on their campuses that also face hate and discrimination. "We want to build long-lasting relationships with other campus communities and work together on different events," said Maira Ligo-Pineda, a Kent State University student and Campus Partner Fellow. "A lot of these organizations didn't even know we existed on campus, so being able to show we're a thriving community on campus is a way to raise awareness of our shared values, our common challenges, and bring these topics to the table."
Recently, CRC brought Project Shema to speak with local college students. Project Shema is an organization that helps train and support Jews to address antisemitism. The discussion focused on how to feel more confident in speaking with other students about antisemitism, as well as topics that can quickly lead to antisemitic rhetoric such as criticism of Israel. "College students need to learn how to engage in these conversations with as many people as they can," said Zach Schaffer, Project Shema co-founder and vice president of community engagement. "It can be difficult not to know how to respond or feel like you're the only one. And hopefully with these conversations, they'll have the tools and they'll know how to respond."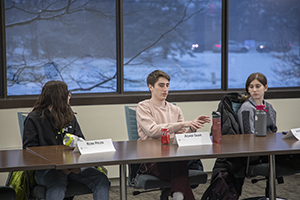 That's exactly why Adam Saar, a member of the Jewish Student Union at Case Western Reserve University attended the training session. "Learning through programs like this will help me establish the framework with which I and other students on the Case campus will move forward with trying to educate others about antisemitism and broaden the conversation from where it's been previously."
"We need to talk about these topics and help facilitate open conversations that are based on respect, not rhetoric," said Camden Miller, student vice president of engagement for Hillel at Kent State. "It's important because we have these voices, and we need to speak up. Because if we don't, who else will?"
To learn more about the Campus Partner Fellowship program, contact Aviva Roland at aroland@jewishcleveland.org or 216-593-2926.