12/06/2015
8 Days of "Why I Give"
Jewish Clevelanders are spreading the light this Chanukah season. Read here about why they give to the 2016 Campaign for Jewish Needs.
1. Meet Barry Guttman
I heard some sobering facts this morning at a meeting for Jewish Cleveland's 2016 Campaign for Jewish Needs. Our concerns for security at our synagogues, schools, community service institutions, and other Jewish organizations are so acute that Federation has to spend upwards of $750,000 per year just to do what we can to make sure all of our community members – including children, the elderly, the infirm, and everyone else – are safe. No other organization in our city is equipped to undertake such a huge endeavor.
Federation has had to hire an ex-FBI agent to coordinate all of our community's security endeavors and may bring on another staff member because the undertaking is becoming too much for one person. Even in Cleveland, that is the world in which we live: a world where life-threatening attacks constantly lingering in the backs of our minds is the new normal.
A few years ago, none of these efforts or these dollars were necessary. Sadly, today they are. While Cleveland is presently very much on the cutting edge of communal security, without more funding, there's no guarantee of that continuing. The Federation needs every dollar you can spare in order to keep protecting all the members of our community – be they young or old, religious or secular, men or women, sick or healthy, native or immigrant.
If you haven't already donated to the Federation's 2016 Campaign for Jewish Needs, please do so today. If you have already donated, please consider increasing your gift. The Campaign closes in only 10 days, and every dollar matters. Please contact me if you would like to discuss a donation.
2. Meet Cari Marderstein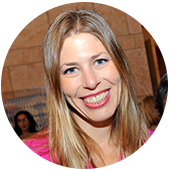 I realized as a young gifter that I don't have to be rich to make a difference. Anyone can make our Jewish community a stronger and better place, one dollar at a time.
I give to the Campaign year after year because it simply feels good to do something for others as everyone in our community benefits from the Campaign for Jewish Needs.
In addition to helping the Jewish Federation of Cleveland strengthen our community with my contribution, another motivation for me to support the Campaign is returning the favor to those who have helped my family. My four kids attend school at Gross Schechter Day School in which the Federation supports very generously. By donating and showing my support for the Federation, I am also supporting local Jewish nonprofit organizations and positively impacting my life and my family's lives every day.
I hope you will join me in celebrating the spirit of generosity during this Hanukkah season by making a significant and heartfelt impact on each of the lives touched by the hard-working nonprofit organizations associated with the Jewish Federation of Cleveland.
3. Meet Beth Cohen Pollack
I only recently began supporting the Campaign for Jewish Needs in a meaningful way. That is an odd statement, really, since Federation has been by my side my entire life. Federation has been there while I raised my family, cared for aging parents, and pursued my profession.
Both of my sons attended preschool at the Mandel JCC, spent summers at JCC day and overnight camps, and my mother spent her last years being cared for at Menorah Park. My children are fourth generation at The Temple-Tifereth Israel.
For the past five years I have had the privilege of working for a Federation partner agency that provides high quality behavioral health and educational services to at-risk youth. But that is not all. In recent years I have participated in two Federation-sponsored missions that granted me unprecedented access to understanding Israel and how Cleveland is working hard to partner with a very determined people as they build their democracy. Missions that have introduced me to impressive Jewish woman I might never have known and now consider my "go to" network both personally and professionally, my sisters.
Each of the above agencies has been essential to my life and served as my partner in forming my Jewish identify and that of my children. Each is supported by the Campaign for Jewish Needs. Support from Federation enables these agencies to endure and be accessible to all families, not just mine. So the question is not "Why I Give," the question is, "What took me so long?" Don't wait. Join me today.
4. Meet Michelle Hirsch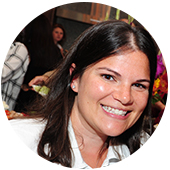 I grew up in a "Federation family" – JCC Preschool, Jewish day school and summer camp, BBYO, Hillel, great-grandparents at Menorah Park. I was one of the kids running around Super Sunday collecting cards.
My parents gave a gift in my name since birth and I assumed that responsibility at my bat mitzvah. I intend to continue giving to the Federation for as long as I can – because that's just what we do.
Even with all the years of involvement, it was not until I met Howard that I realized exactly why I give to the Federation. One Sunday afternoon, my husband and I volunteered with the Federation's Young Leadership Division's "YLDay of Caring." Our assignment was to plant flowers and build Adirondack chairs for the front porch of a new JFSA group home on Cedar Road. Upon arriving at the house, the residents warmly welcomed the group and invited us in for a tour – they were so proud of their new home. The residents then joined us outside to help us plant flowers and build the chairs. I was immediately drawn to Howard, a very shy and quiet resident. Howard and I bonded as we worked together on our project.
At the end of the afternoon, Howard and I sat down in the newly built chairs to take a break and admire our work. After a moment of reflecting, Howard turned to me, grabbed my hand, looked me in the eye and said, "Thank you Michelle. I love our new chairs and every day I will sit in a chair and think of how special you made us feel today." His first and only words of the day brought tears to my eyes and the warmest feeling in my heart.
For so long I gave to the Federation to take care of the needy and make sure future generations had the same experiences I had growing up in a strong, vibrant Jewish community; I never had a face or a name attached to where the money goes. Now I know that my gift is for people like Howard, individual human beings.
Even the littlest things can change someone's life forever. Howard did that for me.
5. Meet Ben Becker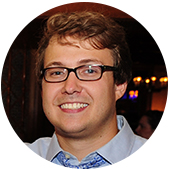 In 2010 I spent a year in Turkey, volunteering with the American Joint Distribution Committee (JDC), one of the Federation's international partners. I worked with Sunday School teachers, high school youth group members, and lay leaders to develop programming for their community. On a broader level, I was exposed to the holy work the JDC performs on a global scale.
I grew up at Camp Wise, so going to Szarvas Camp in Hungary was absolutely a highlight from my year with the JDC. Szarvas is funded by the Campaign for Jewish Needs. It is unique for bringing together campers from over twenty countries around the world. A summer at Szarvas is a foundational Jewish experience for many children, especially those from the former Soviet Union who may celebrate their first Shabbat ever at camp. Just like in the US, these summer camp experiences have a transformational impact on Jewish identities and communities.
I remain connected with the global Jewish community as a member of the Federation's Overseas Connections Committee. The Overseas Connections Committee works in partnership with the JDC, the Jewish Agency for Israel, and other local organizations on the ground to build and strengthen the Jewish community in Israel and in the former Soviet Union by forging innovative programs that create sustainable change and improves Jewish life. Whether it's critical medical assistance or leadership training or scholarships or summer camp, these programs are strengthening Jewish identities, growing Jewish communities, and saving Jewish lives around the world.
Just as we have an obligation to support our local agencies in Cleveland, we are also responsible for the Jewish community on a global level. I give to the campaign because we have an obligation to provide for others when they cannot provide for themselves, no matter where they live.
6. Meet Suellen Kadis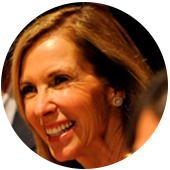 As we light candles on Hanukkah, there are many reasons why I commit my time and money to the Federation.
We are part of a thriving, compassionate Jewish community. Through our generous donations, we take care of each other. In Cleveland, I have seen how we provide a safe and nurturing home for community members with mental health and developmental disabilities, grant college loans and scholarships to those in need, and educate our children through first-rate Jewish camps, schools and synagogues.
I have personally seen our overseas dollars at work through Missions to Israel, Poland, Berlin, and Russia. We provide essential services to Jews in countries throughout the world. We foster Jewish renewal in communities where Jewish life nearly ceased to exist during the Holocaust, and then went underground through decades of communism. How thrilling it is to hear teens in Berlin perform a skit in Hebrew, and share a Shabbat meal with young families and Holocaust survivors in Krakow.
Hanukkah is the festival where we celebrate victory in the fight for religious freedom more than two thousand years ago – a fight that is still important. By becoming involved, each of us can help people who are still struggling against persecution and violence because of their faith. As an activist, advocate and philanthropist, I have grown by choosing to give. It feels good!
Join me in making a meaningful contribution. With your support, we can ensure that our community does all it can to provide a safe, warm, and Happy Hanukkah for Jews in Cleveland and around the world.
7. Meet Michael Siegal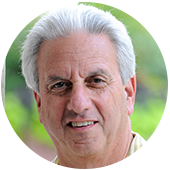 I give because it helps fulfill my responsibility to humanity, to repair the world. I give because my love of being Jewish is more than rituals and practices. It is a legacy of one people's journey through time and space. I believe we Jews are connected in a physical journey but also a metaphysical one, as well Yom Kippur, at the moment when the Cohan Gadol goes before the holy of holies for us all, connects me to my family's past and my future that will be. I believe we are all connected as one family, one tribe, one people. I give because I want to teach the importance of caring for those who have no voice, to those less fortunate, to those that are lost on their journey through life. I give because it makes me feel that I am making a difference and that makes me joyful and strong. I give because I am and I am Jewish. That is enough for me.
8. Why Do YOU Give?
It is not one of us, but all of us who can make a difference. Together, we are feeding the hungry, comforting the sick, caring for the elderly, educating youth, ensuring a Jewish future, bridging cultural divides and supporting Israel. Together, we do all of these things and more. Your donation change and save lives in Cleveland, Israel, and 70 countries around the globe.
Join Barry, Cari, Beth, Michelle, Ben, Suellen, Michael, and thousands of other community members as we aspire to leave no community member behind. Donate now.
---
Related Items