08/10/2017
Federation to Launch Annual Campaign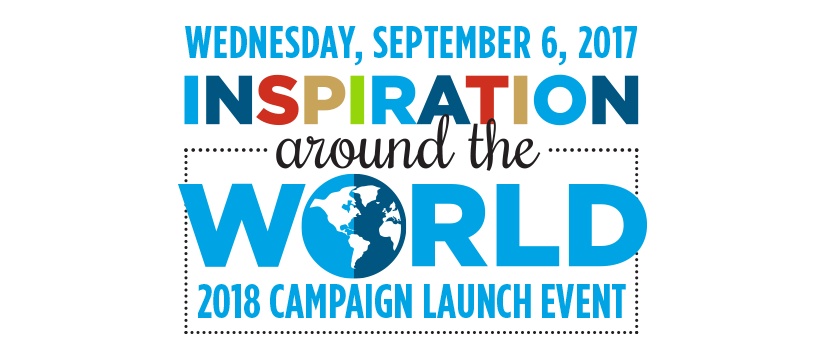 Wednesday, September 6, 2017 marks the launch of the Jewish Federation of Cleveland's 2018 Campaign for Jewish Needs, which is the annual fundraising Campaign that supports our community's vitality and vibrancy in the year ahead. The Campaign Launch Event is open to the public on September 6 at 7:00 pm at Anshe Chesed Fairmount Temple's Penni & Stephen Weinberg Social Hall (23737 Fairmount Blvd in Beachwood).
Hundreds are expected to kick off the three-month-long Campaign and show their community support. This year's theme is Inspiration Around the World. The Federation invites the community to ask themselves "What Inspires You?"
Featured speakers are Ben Becker, Rachel Heiser, and Kevin Margolis, plus Danielle Katz of Beit Shean, Israel, Cleveland's sister city. They will share their personal and powerful stories of how support of the Campaign is changing and saving lives at home and around the globe in places like Israel, Russia, Poland, India, and more. Their stories of inspiration are not to be missed!
"The success of past Campaigns is a testament to the resilience and commitment of our community. But this year, as needs continue to grow, we need to do more," said David F. Adler, General Campaign Chair. "One of our priorities this year is 'We Aspire to Leave No One Behind.' We are a strong community yet there are people who live next door to us who are suffering. We provide a safety net for Jews in need, no matter who they are or where we live."
The Cleveland Jewish community is comprised of 80,000 people, and the national and international reach of the Federation encompasses tens of thousands more. Through the Campaign for Jewish Needs, people's lives are changed for the better in Cleveland, Israel, and 70 countries around the globe. 91 cents of each dollar donated goes directly to the community for programs and services.
Registration cost is $15/person. For more information or to register for the Campaign Launch Event, visit www.jewishcleveland.org, email campaign@jcfcleve.org, or call 216-593-2900 x740.
---
Related Items