06/21/2016
Greetings from Israel!
Updates from the Summer 2016 Cleveland Community Birthright Trip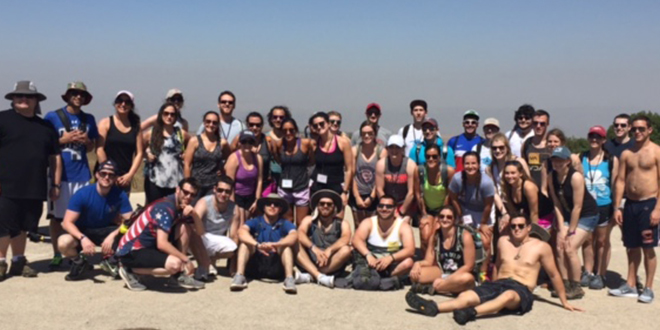 Check out what the Cleveland Community Birthright trip has been doing during their trip to Israel this summer!
June 21, 2016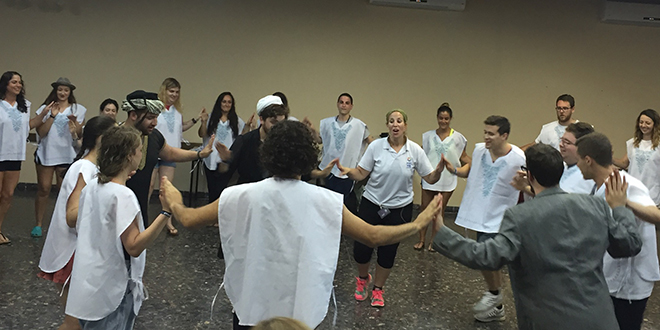 "Although not all from Cleveland, the energy from the Cavs victory has continued to follow us as we explore Israel. Today we explored the northern parts of Israel. We took a scenic hike through the Golan Heights weaving paths overlooking magnificent waterfalls. In addition, we had the opportunity to tour a bunker and have a glimpse of what life is like as a soldier in the IDF. On this peak we overlooked all countries bordering Israel. To finish off our time in the sun, we rafted through the Jordan river. Our night concluded with spirited Israeli dancing. We are looking forward to visiting the mystic city of Tzfat as well as our sister city Beit Shean tomorrow." – Matt and Melissa, Birthright Trip Leaders
"Our Birthright experience could not have gotten off to a better start than when our trip gathered together to watch the Cavs win a championship." – Alex Freedman, Birthright Participant
"I'm so excited to be back in Israel. Even though this isn't my first visit, this trip has already been so unique. We all had a blast today hiking and rafting in the north." – Risa Katz, Birthright Participant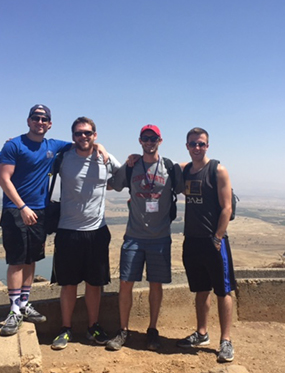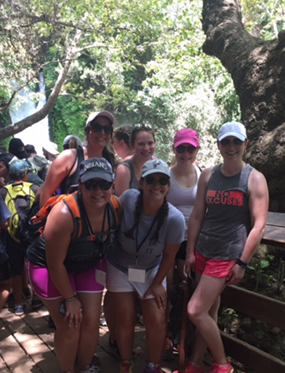 June 23, 2016
"Yesterday began with exploring the mystical city of Tzfat. We explored ancient synagogues and enjoyed the authentic shop and cobblestone roads. Afterwards, we traveled to our sister city of Beit Shean where we learned about our amazing partnership. Beit Shean community members welcomed us in their homes to teach us about Persian and Tunisian cuisine while also sharing their personal stories of how their families traveled to Israel. Today we welcomed eight Israeli peers who will be joining us for the next five days! To wrap up our time in Beit Shean, we went on a refreshing water hike at Nachal Hakibutzim. We drove towards Jerusalem, where we saw a magnificent view of the city from Mount Scopus while also reciting the shehecheyanu (a common Jewish prayer said to celebrate special occasions- it is said to be thankful for new and unusual experiences). We are looking forward to welcoming in Shabbat in the holy city of Jerusalem." – Matt and Melissa, Birthright Trip Leaders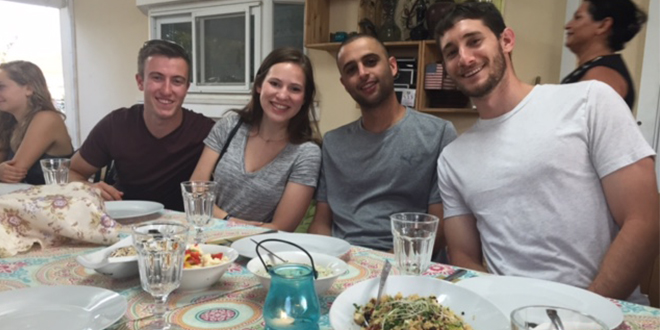 "The thing that stands out most to me is how quickly our group has bonded together. While we've only spent three nights together, it feels like I'm on a trip with 40 of my closest friends. It was surreal walking through the winding streets of Tzfat, which had a European feel but a palpable Jewish energy that was like nothing I've ever experienced." – Joe Littman, Birthright Participant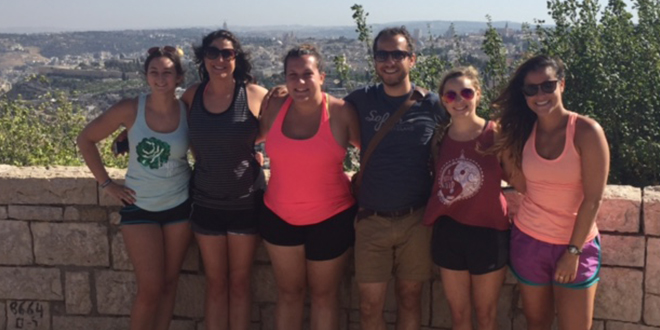 June 28, 2016
"We woke up Friday morning excited to explore the rich history of the Jewish Quarter in the Old City of Jerusalem. Visiting the Kotel (Western Wall) was a highlight for many as it was their first time seeing the holiest site in Judaism. Many participants were overcome with emotion and eager to place their notes in the wall. We continued to Mahane Yehuda (marketplace) where we were able to witness everyone preparing for Shabbat as well as purchasing popular Israeli foods, including delicious Babka from Marzapan. As we arrived back to our hotel, we welcomed in Shabbat as a community, holding our own Kabbalat Shabbat service and playing common Israeli games. We enjoyed a true Shabbat experience, relaxing and getting refreshed for our days ahead. The participants also were given the opportunity to reflect on their Jewish values as we engaged in a meaningful discussion.
Sunday was an impactful day as we spent the morning and afternoon at Har Herzl (Israel's version of Arlington National Cemetery) and Yad Vashem (Israel's Holocaust Memorial Museum). We visited graves of lone soldiers and heard the personal stories of our Israeli Soldiers, which for some, was their first time speaking about their time in the IDF. Even though the mood was sad, it was still great to learn about how far the Jewish people have come in 70 years. We then drove South, where we had the opportunity to ride camels, eat a traditional Bedouin meal and sleep in a Bedouin tent. Upon waking up from the Bedouin village, we traveled to Ein Ovdat where we enjoyed magnificent views and had powerful discussions. We are looking forward to seeing the Israeli sunrise atop Masada." – Matt and Melissa, Birthright Trip Leaders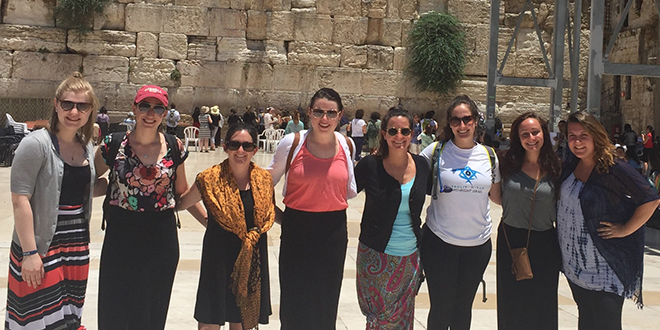 "Birthright has been an absolutely amazing eye-opening experience. From riding camels in the Negev desert, to hearing personal experiences from our new Israeli friends, to being challenged in a variety of workshops about Judaism, I could not imagine a more fulfilling trip. Even though I am not from Cleveland, I have been able to connect with many interesting people with varying backgrounds, experiences and opinions. I look forward to taking what I've learned on Birthright and applying it to my life back in USA. I already can't wait to come back to Israel soon! " – Amanda Kravitz, Birthright Participant
"Yesterday was June 26th, the day I turned 23 years young. It was an absolute pleasure to spend my birthday in this beautiful country. Although it was a somber day since we spent the morning at Har Herzl and Yad Vashem, these places both really hit home for me. At Har Herzl, many of our IDF soldiers shared their personal stories, and travesties that they had to overcome. This was emotional for us as the Israelis are our age. Many graves that we visited were of soldiers who were 19-23 years old, which hurts, because they had so much life to live.
Yad Vashem really impacted me, I shed tears but realized not to be mad and to learn from the history. I am saying this not only so something so catastrophic would never happen again, but also because my grandparents survived the Holocaust. Seeing my name on the wall really made me lose it emotionally. The somber mood turned completely turned upside down when we arrived at the Bedouin tents. I was able to ride a camel with an IDF soldier and eat a delicious traditional Bedouin meal. Overall, the day was the best birthday I have ever had and I would like to thank the Birthright sponsors for making this possible." – Joseph Rosen, Birthright Participant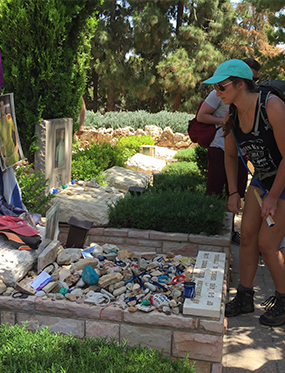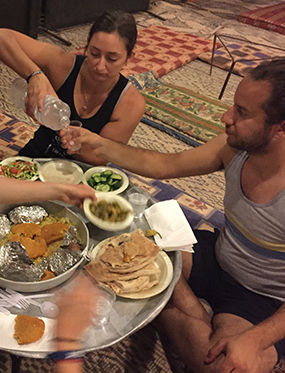 June 30, 2016
"We awoke at 3:30 am on Tuesday, excited to watch the sunrise atop Masada. We hiked up the winding Roman Pat reaching the top at 5:30 am just in time to watch the sunrise. The rich history that exists atop this mountain was amazing to learn about. We then traveled to the Dead Sea where we got lathered up in mud and floated at the lowest point in the world. Exhausted from the long morning, we were excited to rest up prior to arriving in Tel Aviv. Our group enjoyed an evening out on Dizengoff Street (popular area in Tel Aviv), soaking in the Israeli culture.
Our group woke up Wednesday excited to visit Independence Hall and hear the story of how the dream of an Israeli state became a reality. We then traveled to Startup Nation where we learned about many Israeli inventions and innovations that are commonly used worldwide. We spent our afternoon at the Tel Aviv shuk (marketplace), really enjoying all that this urban city has to offer. Our time in Israel is sadly wrapping up, and we are spending our last hours on the sandy beaches of Tel-Aviv. Although our trip is coming to an end, we are excited to reconnect in the United States." – Matt and Melissa, Birthright Trip Leaders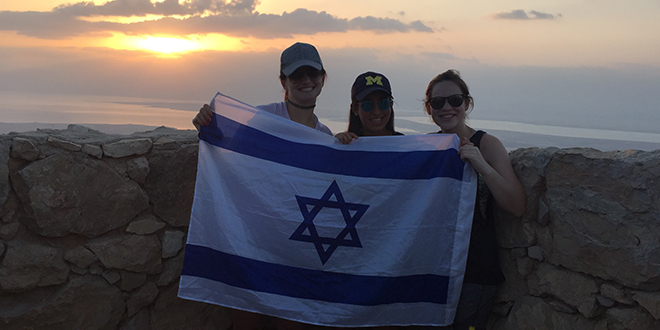 "My biggest takeaway from Israel is a sense of Jewish pride." – Corey Sonkin, Birthright Participant
"The Birthright experience has surprised me in so many ways – the trip has not only taught me about Israel, but about myself and my peers. It has shown me that Judaism isn't just about going to synagogue, but about being part of a proud people. Taglit (Birthright) really has helped me discover a part of my identity that hadn't been tapped in to, and that's a gift no one else could have given me." – Sarah Mandel, Birthright Participant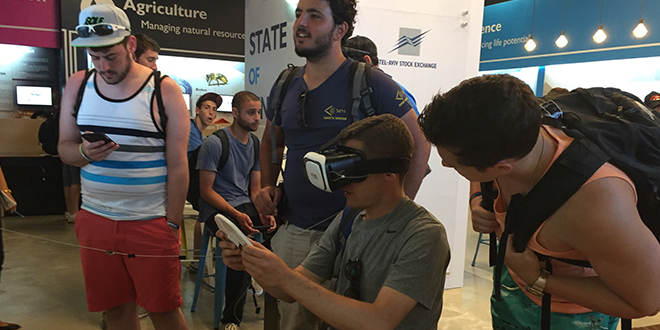 ---
Related Items