10/15/2015
A Helping Hand for Ethiopian-Israelis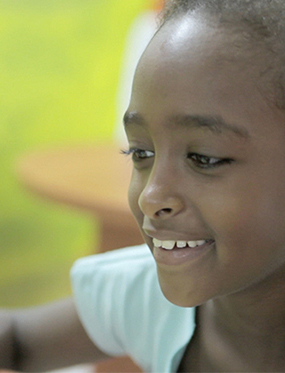 Brancha, an Ethiopian-Israeli girl, was in ninth grade when her mother died. She was suddenly alone, and her grades plummeted. She was placed in a low-performing vocational high school where she did not belong.
Fortunately, Brancha had advocates by her side. Thanks to the Jewish Federation of Cleveland's international partner, Ethiopian National Project (ENP), Brancha was able to get the emotional support she needed, refocus on academics and get placed in a new school where she made friends.
Such stories of triumph are increasing in the Ethiopian-Israeli community. Our Cleveland community plays a role in this success. The funds raised during the Campaign for Jewish Needs help support the ENP, students like Brancha, and Ethiopians who have made aliyah to Israel.
In the past decade, our Federation has helped over 20,000 Ethiopians make aliyah to Israel and assimilate into a new culture. We started wraparound programming to support these families. Without intensive support, their children were at-risk for becoming part of the permanent underclass.
We were the first to help innovate and fund a program with the Joint Distribution Committee (JDC), our international partner, called Parents and Children Together (PACT),  a literacy program aimed at Ethiopian-Israeli children ages 6 months to 12 years. 
Since its inception, PACT has reduced the kindergarten repeat rate among Ethiopian-Israeli children from 48% to 2%. Part of this success is due to the wraparound approach, involving parents and families in school-based meetings and workshops that help advance communication and relationship skills.
"The evidence-based intervention through the PACT program is preparing every Ethiopian-Israeli child–and family– to learn and succeed in modern day Israeli society," said Lynne M. Cohen, Chair of the Parents and Children Together (PACT) Subcommittee and member of the Federation's Overseas Connections Committee (OCC).
Today, Brancha is a high school graduate, and serves as a police officer in an elite Israel Defense Force (IDF) unit.
Success stories in the Ethiopian-Israeli community are made possible because of generous donors like you. Please join us, as we aspire to leave  no community member behind, in Cleveland, Israel, and 70 countries around the globe. Donate today.
---
Related Items