05/29/2015
IDF strengthens partnership with Bellefaire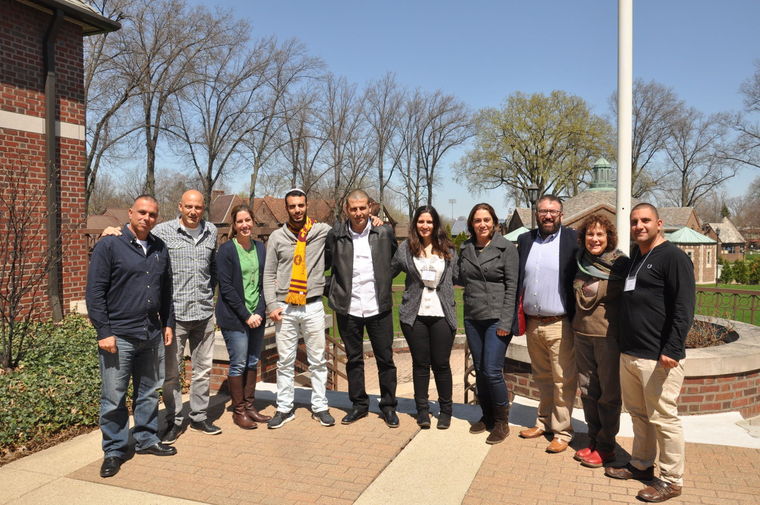 Article Reprinted with permission from Cleveland Jewish News
By Jacqueline Mitchell
Soldiers from the Israel Defense Forces uncovered similarities in their work with troubled youth during a visit to Bellefaire JCB in University Heights on April 24. The soldiers, who were visiting Cleveland for a week to participate in Yom Hazikaron and Yom Ha'atzmaut ceremonies in the area, engaged in a professional exchange of ideas with Bellefaire employees and mental health professionals during their time at the facility.
"Bellefaire has had a professional relationship with the IDF going back about 15 years that when a delegation from the IDF comes to Cleveland, one of their stops is always at Bellefaire to share the work that we do," said Jeffrey Lox, Bellefaire JCB chief clinical officer and chair of the Havat HaShomer Commanders Workgroup of Jewish Federation of Cleveland's Overseas Connections Committee, which provides mental health seminars and ongoing consultation to Israeli commanders and senior staff at Havat HaShomer, Mechve Alon and other bases.
"The Makam soldiers, the soldiers with special needs and youth at risk that they work with, are very similar to the youth in many of the programs at Bellefaire. One of the things we're most proud of here at Bellefaire is the colleagueships that have happened over the years with our partners in Israel. Even though we only see them once or twice a year, it's like seeing old friends and coming together to talk about the work that we share."
Makam is an acronym for Center of the Advancement of Special Populations. Many of the Makam soldiers have experienced difficulties with the law in Israel and enter the army in an attempt to turn their lives around.
Julie Auerbach, the Jewish Federation of Cleveland's director of overseas missions, said the Federation realized there was much it could do to help these at-risk youth, especially ones who work with Makam.
"The commanders are young men and women, and they have no background in psychology, social work or anything like that," said Auerbach. "They're sometimes younger than the soldiers they're training. And we said, let's get together a group of some of our best mental health professionals. Let's put them together as a workgroup and let's see what we can do for these commanders. That's where Bellefaire entered."
Auerbach said the program is unique to Cleveland.
"We're the only Jewish Federation and Jewish community that has a relationship with the IDF," said Auerbach. "We are looked upon with great respect by the IDF precisely because of that. Because we have not just the money that we're giving, but the professional advice on mental health issues that brings them here to Bellefaire."
This year, seven IDF soldiers participated in the workgroup, including Warrant Officer "O, a fire station commander in the IDF air force whose full name cannot be disclosed because of military policy.
This year marked his first Yom Hazikaron outside of Israel. In 1995, O's close friend, a fellow firefighter, was killed while dealing with a bomber aircraft.
"Every year, I am with his family on this day," said O. "So this year, it's my first time that I'm out of Israel, and it's very hard for me. When I talked to his family (and told them) I was coming here to Cleveland, they were very upset. I've been with them through all the years, and I have a very good connection with them, but I told them that when I come here, it's also important because I want to tell his story here also."
O, 41, has served in the IDF since 1992 and lives with his wife and four children inside the air force base where he works. The base is about 15 miles from the Gaza Strip.
"We live inside the base because I need to be ready all the time," he said. "I'm the commander of the fire station and we have a lot of operations that we cannot speak about, but we need to be ready all the time."
Their duties include extinguishing and rescuing from aircraft and buildings, handling hazardous materials and responding to automobile accidents. Out of the 55 firefighters in his station, 10 are Makam soldiers.
"The Makam soldiers come to my station with big baggage and a lot of problems," said O. "They have low self-confidence and their environment is a problem."
The soldiers work in shifts – one week at home, and one week at the base.
"When they are at the base, there is no problem. They work very well. But when they go home, they meet up again with their friends, and it makes them a little bit confused… How we handle these guys, we tell them all the time how important it is what they're doing. It is very important to give them good words. We give them tasks with very clear objectives and allow them to command. Before they get to the army, they have low confidence, and they would never believe they could command somebody."
O said one of his Makam soldiers now commands a team of 16 firefighters.
"I'm very proud of them," O said. "Some of them come with 10 years of schooling – they didn't finish high school. I send them to civilian courses. Some of them come without a driver's license, so I send them to a course to get their driver's license so they can drive a fire truck. It helps them a lot. It gives them a drive."
The Federation provides some of the funding to send the Makam soldiers to classes.
"We give them personal attention," said O. "They need a lot of attention and big hugs, you know. Why are we doing this? We're doing this because we believe in people."
O said he has countless stories of soldiers who have changed their lives in the IDF.
"Before they got to the army, they lived like criminals," he said. "They were in jail, got into problems with the police, didn't finish high school or had problems with family. And when they get to the army, they make basic training, and then they get to the fire station, where we send them to the basic course of firefighters. Then they start the service. And not only the service; they start to have life, I think. They change their lives and change the way they're thinking. I think I'm very lucky that I can change the lives of those people."
"It's very important to me that they finish the three years, because if you finish three years, you can take out a mortgage to buy a home, and you can get a job after you finish the army," said O. "If you don't finish the three years, every place you go, they look at you like a problematic guy. If you finish the army, it's like giving you credit to have a good job and a good life."
Major Rushdi Bader, who served in combat units of the IDF for sixteen years before he switched units and began working with Makam soldiers, also participated in the workgroup.
"At this point, it was the first time that I had met Makam soldiers," said Bader. "In the beginning, I led the soldiers in a tough way because I'm a tough commander. I came from tough units. My commander said to me, 'Hey, relax. You are wrong. They aren't combat soldiers. You can't break them.' So I decided to begin learning about these soldiers."
After looking past his initial judgment of the soldiers' unkempt uniforms and resistance to following orders, Bader said he began to relate to them on a deeper level.
"I remembered myself when I was a kid," said Bader. "When I was a kid, my family was poor. Until age 15, it was a difficult childhood for me because of financial situations. I remembered that I was in a hard situation at this period, and I decided that I really must relax and become more human with these soldiers. So I began to help the soldiers, understand them and advance them. I made a switch in my head."
O, Bader and the other IDF soldiers shared their stories of work with Makam soldiers with employees at Bellefaire. Lox said the soldiers' main goals for the week were to talk about transitioning young people out of the army back into society and motivating people to strive for better lives.
"The themes of working with youth at risk that both Bellefaire and IDF work on are really universal," said Lox. "One of the things that's so amazing is that they come here and they learn from us, we learn from them, and at the end of the day what we realize is that when working with kids with challenges, we're working on the same stuff."
---
Related Items