09/06/2018
Impact Rings Through Federation Campaign for Jewish Needs Launch
Article reprinted with permission from Cleveland Jewish News.
By Alyssa Schmitt
Interviews focused on finding Jewish identity, the impact of a Jewish education and the benefits of having resources available for those in need were the focal points of the Jewish Federation of Cleveland's 2019 Campaign for Jewish Needs launch.
Nearly 300 people attended the program and learned of the benefits the Federation can provide through various view points in the Jewish community. The interviews echoed the night's theme, "The Impact of Together," illustrating the impact of various programs the Federation supports through its campaign both locally and around the world. The event was held Aug. 29 at the Mandel Jewish Community Center of Cleveland in Beachwood.
When Jeff Wild, the campaign chair, thinks about "The Impact of Together," a lot goes through his mind, like the impact of agencies "doing God's work" on a daily basis or the Federation securing the community and lobbying on the community's behalf in Columbus and Washington, D.C.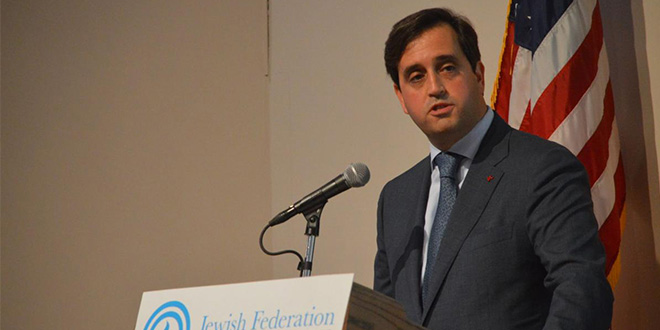 "When I take a look at that phrase, the part that gets me most excited is 'together,'" said Wild, who is a member of Green Road Synagogue in Beachwood. "When I look around this room and see the diversity of this community, the diversity of the Jewish community that comes together for this cause, for this federation – the one agency, the one organization that is looking out for the entire community – that's what excites me the most. To be able to raise this money together, to work together as a team as one community is, I think, incredibly powerful and what energizes me."
Last year, the Federation raised a record amount of $32.7 million and hopes to exceed that amount this year.
For the first time, the event featured live interviews with active community members who have benefited from Jewish agencies and the Federation and in turn, are keeping Jewish Cleveland vibrant.
First to step on stage was Alejandra Fishman, a student at Kent State University, who was interviewed by Victor Ruiz, executive director of Esperanza in Cleveland, an after-school organization designed to improve the academic achievements of Hispanic students in the Greater Cleveland area. Fishman, who grew up in Puerto Rico, belongs to Hillel at Kent State University which allowed her to make Jewish connections she said she would not have been able to before.
"My college experience most definitely would have been so drastically different had I never walked through (Hillel's) doors," she said. "I think the community welcomed me with open arms and never really questioned how Jewish I was or anything of the sort. They were just like, 'Yes you're Jewish. Welcome home.' That was an amazing feeling to have getting to Kent and not really knowing anybody, (Hillel) was my first experience making friends at Kent."
The one-year anniversary of Hurricane Maria devastating Puerto Rico is approaching, said Ruiz, whose father died in the aftermath of the hurricane.He asked Fishman, whose grandfather also lost his mother in the aftermath of the hurricane, how the community helped her adjusted.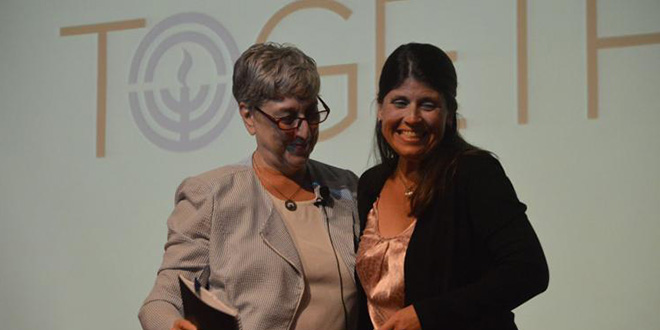 "I was abroad in Florence (Italy) when it happened, so I was even farther away from my family than normal," she explained. "The connection to contact them was sparse at first, I didn't hear from my mom for about a week or a week and a half, and immediately my Hillel reached out. ... I wasn't able to talk to my family, but I had that family in Ohio that reached out to me and it just felt like I wasn't lost and alone."
Next on stage was Mariah Ornstein, an educator in the early childhood field, who was interviewed by Nachama Moskowitz, the director of curriculum resources and early childhood at Jewish Education Center of Cleveland in Cleveland Heights. Ornstein converted about 20 years ago and got her first taste of Judaism working at the local Jewish community center when she lived in Arizona. She felt a sense of belonging immediately upon moving to Cleveland and became involved in the then-Mayfield Jewish Community Center, and nine years ago started teaching at Ganon Gil preschool at The Temple-Tifereth Israel in Beachwood.
At the preschool, Ornstein has benefited from the Jewish Education Center of Cleveland, which offers state- required continuing education classes but through a Jewish lens.
"I'm taking these classes and am able to implement them in a Jewish way in my classrooms which makes a deeper connection," Ornstein said.
In addition to her teaching role, Ornstein also is a Jewish parent who sends her children to Jewish day schools. When one of her sons was diagnosed with dyslexia in third grade, she was worried it would affect his Jewish learning but due to a partnership with the Mandel JCC and the Joseph and Florence Mandel Jewish Day School, it didn't.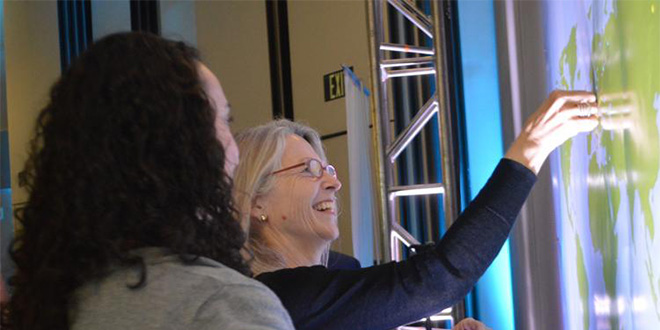 "We were fortunate enough to have an aid for Samuel, which meant he could stay in his Jewish day school, which was very important to us," she said. "He was getting both this rich Jewish identity and a strong education, so I know that he is the kid today, graduation because of his connection."
Last on stage were Nadav Pecha, forward focus specialist at Jewish Family Services Association of Cleveland, and Yolana Posta, comprehensive community advocate at JFSA, who interviewed each other. The pair met in high school through JFSA when they worked as advisers in a peer-to-peer abuse education program focused on healthy relationships.
Both Pecha and Posta were introduced to Jewish Cleveland from a young age, which has helped them create their own Jewish identities. Now working at JFSA, both have seen the impact the Federation has on those they help through their roles at JFSA.
"When I think about what I'm able to do now and also the Federation's campaign theme this year, 'The Impact of Together,' Jewish Family Service really has a diverse array of programs that we do and we are all able to combine and help address each individual issue," Pecha said. "It's really fulfilling to be able to see someone who's coming in their moment of need and we're really able to step up and fulfill each issue that needs to be addressed."
---
Related Items