11/13/2017
JFNA GA: LA Mayor Grabs Spotlight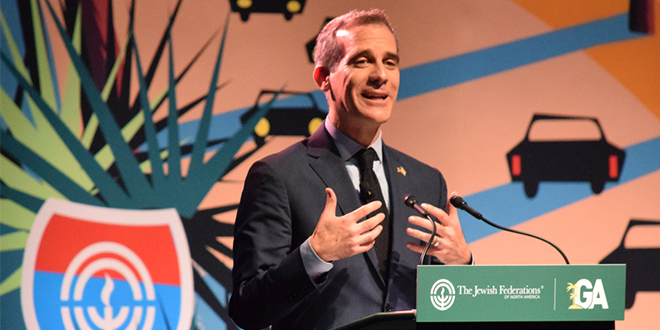 Article reprinted with permission from Cleveland Jewish News.
By Bob Jacob
LOS ANGELES – As a former chair of the board of trustees of United Jewish Communities, renamed in 2009 the Jewish Federations of North America, Joe Kanfer of Richfield has seen his share of General Assemblies – and has been impressed with them.
That was again the case Nov. 12 as Day One kicked off the three-day annual gathering of more than 140 Jewish federations and about 300 independent Jewish communities at the JW Marriott Los Angeles L.A. LIVE.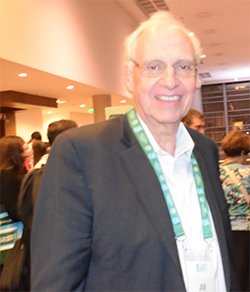 "It was an engaging plenary," said Kanfer, who served as UJC board chair from 2006 to 2009. "The L.A. mayor was spectacular and so interesting. He was great."
Eric Garcetti is the 42nd mayor of Los Angeles and the first Jew to be elected to the position. Los Angeles is estimated to have nearly 4 million people, according the the U.S. Census Bureau, including more than 650,000 Jews – the second largest Jewish community in America.
He spoke about the Jewish roots of the City of Angels.
"All of us share common threads," said Garcett, who took office July 1, 2013, and was re-elected July 1, 2017, with more than 81 percent of the vote.
"For me, the story of Los Angeles and our Jewish community starts quite far back in our history. You look in the 19th century ... at a time when this pueblo only had 1,500 people.
"The first nonprofit organization founded it in the city was a Jewish one – the Hebrew Benevolent Association. And when you look at the first chamber of commerce president, he was a Jew. When you looked at the city council president in the 19th century, I'm actually not the first Jewish mayor in Los Angeles' history because Bernard Cohn was the city council president in the 1880s. When the mayor died, because that's what charter said, a Jew became mayor, for exactly two weeks until they realized a Jew was the mayor and they held an election."
After the laughter from the more than 2,000 people in attendance subsided, Garcetti clarified, "I'm the first elected Jewish mayor."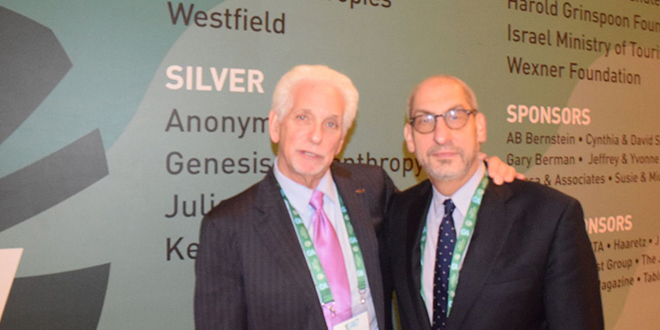 HIRSCH IN SPOTLIGHT: Michelle Hirsch of Orange, who was named chair of the JFNA's National Young Leadership Cabinet at its annual retreat Aug. 9-12, was thrust into the spotlight when Hurricane Harvey struck Texas about a week later.
She told of how the Jewish Federation of Cleveland and elsewhere quickly mobilized to help those in Houston's Jewish community.
DAROFF LEADS PANEL: Former Clevelander William Daroff, senior vice president for public policy and director of the Washington Office of JFNA, moderated a panel discussion, "New Washington, New Politics: Emerging Domestic Policies and Federation's Work."
DAY TWO: Israeli President Reuven Rivlin will make his first major speech to a Jewish group in North America.
Hedy Milgrom, senior vice president and chief development officer of the Jewish Federation of Cleveland, will be a participating panelist in "Opening Doors: Deploying Donors, Board Members, and Professional Advisors to Source Endowment Gifts."
JEWISH JOURNALISTS IN TOWN: More than 60 members of the American Jewish Press Association are here for their annual conference.
---
Related Items