10/30/2019
JFNA's Mark Wilf Talks Values, Vikings Ahead of Cleveland Visit
Article reprinted with permission from Cleveland Jewish News.
By Jane Kaufman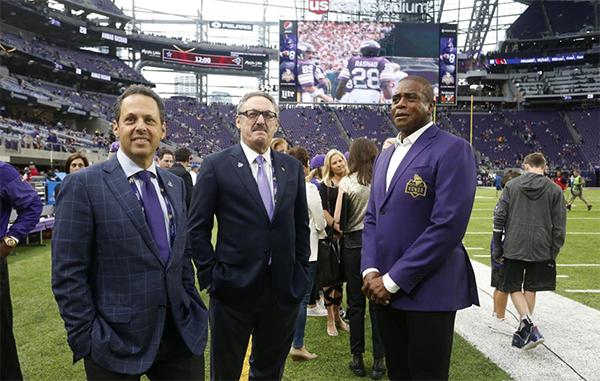 Mark Wilf, president and owner of the Minnesota Vikings, will speak on "the power of the collective to change the world" Nov. 6 at Red Space in Cleveland, in a Jewish Federation of Cleveland program.
Wilf was elected chairman of the Jewish Federations of North America in October 2018. In advance of his Cleveland talk, "Real Estate, Football & Philanthropy," he discussed via email his parents, involvement with the JFNA, values and decision to buy the Vikings.
According to the Vikings website, Wilf has held numerous leadership positions within JFNA, including national campaign chair, National Young Leadership Cabinet co-chair and Jewish Federation of Central New Jersey president. As co-chair of JFNA's National Holocaust Survivors Initiative, he helped raise millions of dollars to help Holocaust survivors live more comfortably in their homes and communities. He serves on a variety of educational and philanthropic boards, including Jewish Federation of Greater MetroWest NJ, American Society for Yad Vashem, Anti-Defamation League, New York University School of Law (his alma mater), Princeton University President's Advisory Council, Yeshiva University and Vanderbilt University.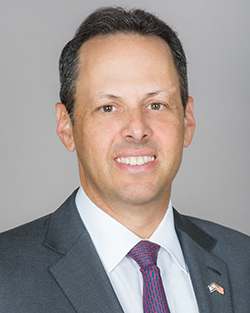 CJN: Can you share something about your family and any important lessons your parents taught you?
Wilf: My parents and my grandparents, who are my role models, were all Holocaust survivors. They had a harrowing experience early in life that shaped everything that was to come. But it wasn't just about surviving; they came to this country and they rebuilt a life, and they made family, Israel and helping others the cornerstones of that life.
The lesson was that in order to lead a productive and meaningful life, you needed to make supporting the Jewish community and helping people in need paramount in everything you do – whether in business or in your personal life. These values flow into every area of your life. Another lesson was that we are not allowed to sit idly by when we have the ability to make a difference. It is not enough to be personally successful – many people are successful – what distinguishes you as a productive member of society is not what you have, but what you do with what you have. Or, as the quote often goes, "You make a living by what you get, but you make a life by what you give."
CJN: How did you get involved in federation?
Wilf: My involvement in federation is something that has been a priority in my family since they came to the U.S. In fact, the Jewish community of Birmingham welcomed them from Europe. My father was heavily active and an officer in UJA. My dad used to take me to Super Sunday when I was a teenager.
National Young Leadership Cabinet was a transformative experience for me as well as for my wife, Jane. The ties to community and the ideal of federation as embodiment of that community are deeply rooted for me and my family.
CJN: Do you have a vision for the future of Jewish life in North America?
Wilf: I stand on the shoulders of those who came before me, and I see it as my personal and communal obligation – and privilege – to build on that legacy.
I want to see a community with a reinvigorated mission and spirit, where we secure the community – both literally and figuratively – for generations to come. This is a common quest for communal leaders, but times are different and the world is different, and there is an urgency that I have not felt as strongly as now.
Our federation system has identified areas of particular focus, and I agree on all fronts and have made it my business to work together with a very broad coalition across the continent to see to it that we have what we need to ensure success.
There are three critical goals that I wish to accomplish.
One: The transformational and magnetic engagement of the next generation in our work. We need to do this with excellence, and in profoundly Jewish ways that resonate for them. So many times I hear about the lack of engagement, and I say millennials want straight talk; I am convinced that as young people are exposed to and learn about our sacred work, they will want to be engaged and take their place alongside us in determining its future. We need to deputize the next generation as leadership and we must love and trust our next generation enough to give them the opportunity to help design and build our Jewish future.
Two: Security. There can be no doubt that the most pressing issue facing our community today is finding ways to defend against hate and anti-Semitism, and protecting our community from physical attacks.
And three: Remember what unites and inspires us: our core values. This has been and always will be our clarion call to action. Time and again, we have seen that the greatest challenges and opportunities of Jewish life can only be met when we work together.
CJN: How are your personal values reflected in your Jewish communal work?
Wilf: My personal values are my communal values, my family values, my business values. They are all one and the same. I believe that no matter what generation or era you come from, people still seek two basic things: meaning and community. The only thing that changes over time is how people view their own personal definition of community – and though it may differ from generation to generation, the basic need is the same.
I also think we need to get back to basics – we have to be true to who and what we are. Young people want authenticity, not gimmicks. The authentic nature of what Federation does is magnetic and inspiring in itself.
Helping millions of people in need is not a catchphrase – it is the core of what we do. Building community that is resonant and increases kindness in the world is what we do. Ensuring that the social safety net is there for future generations is what we do.
We have to be much more vocal about what we stand for and what occupies our work day in and day out. If we provide that kind of meaning and community – and make it clear that this is who we are – people will come out for us in greater numbers than ever before.
CJN: What motivated you to buy the Vikings?
Wilf: A dream of a lifetime! Actually, there came a point when my brother Zygi and I realized that we were never going to make it in the NFL as players, so we did the next best thing – we bought a team.
It is significant to me because I try to bring to the team the same values that I bring to my work on behalf of the Jewish community. As a team, we give back to the community, we provide services to people who need a helping hand. We say that you need to be a mensch on and off the field, otherwise, there is no true victory.
It is the fulfillment of a long-standing dream, and I am enjoying it immensely. But it is part of all my fondest hopes and wishes for my family, my community and the global Jewish people – to be the best one can be, and to do the most good that one can do, no matter where you are in your life's journey.
---
WHAT: Real Estate, Football & Philanthropy
WHO: Mark Wilf, president and owner of the Minnesota Vikings and JFNA chairman
WHEN: 7 to 9 p.m. Nov. 6
WHERE: Red Space, 2400 Superior Ave., Cleveland
TICKETS AND INFO: Tickets $36 at bit.ly/2pXxnKy
---
Related Items