05/16/2019
Judith Wolkoff to Receive Prestigious Irene Zehman Award
Recognized for "Highest Ideals and Practices of Volunteer Service"
The Jewish Federation of Cleveland announced today that Judith Wolkoff, an active volunteer with the Transplant House of Cleveland, is the 2019 recipient of the Irene Zehman Award. Each year, the Federation recognizes an unsung Jewish woman or group of women who demonstrate the highest ideals and practices of volunteer service on behalf of the Jewish and/or general community. Wolkoff, a Pepper Pike resident, will be honored at the Federation's Women's Philanthropy Spring Brunch on June 2 at 11:45 am at Landerhaven (6111 Landerhaven Drive, Mayfield Heights).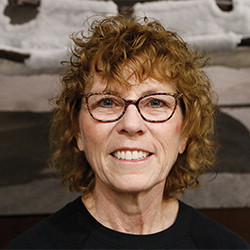 "Judith's work with the Transplant House exemplifies the Jewish value of caring for one another," said Danielle Wild, chair of the Federation's Women's Philanthropy. "She makes the Transplant House feel like a home for those who are waiting for transplants and helps them feel comfortable in their time of need."
"Judith has set the standard for other volunteers here at the Transplant House," said Elaine Turley, executive director of the Transplant House. "We are thrilled to see her honored by the Jewish Federation of Cleveland with this prestigious award."
The Irene Zehman Award was established in 1980 by Roslyn Z. Wolf and Judith Z. Sherman, both of blessed memory, in honor of their mother, Irene Zehman, who devoted much of her life to giving back to the community through volunteering. Recent recipients of this award include Judi Kovach, Co-Founder and Chair of the Cleveland Kids' Book Bank, Gayle Horwitz, an active volunteer with US Together, and Mary Ellen Saltzman z"l, founder of the former Treasures Gift Shop at the Mandel JCC.
"I always feel accomplished when I leave the Transplant House. I feel good that I delivered homemade baked goods, cleaned the floors, and stocked the tissues," said Wolkoff. "I volunteer out of the goodness of my heart and with good Jewish values. I'm giving my time to help people in need, which to me is the greatest joy."
In addition to the presentation of the Irene Zehman Award, the Women's Philanthropy Spring Brunch will feature New York City Criminal Court Judge Rachel Freier, the first Chassidic woman elected to public office. Attendees will have the opportunity to support the Transplant House by donating new household items such as paper products, liquid hand soap, and liquid laundry detergent. The brunch is an annual event for Federation Women's Philanthropy that attracts hundreds of women from across the Jewish Cleveland community.
For more information or to register for the Women's Philanthropy Spring Brunch, please visit www.jewishcleveland.org or contact Rebecca Sattin at rsattin@jcfcleve.org or 216-593-2873.