04/20/2016
Meet Madeline: A Saltzman Youth Panelist
Blogs from the 2015-2016 Saltzman Youth Panel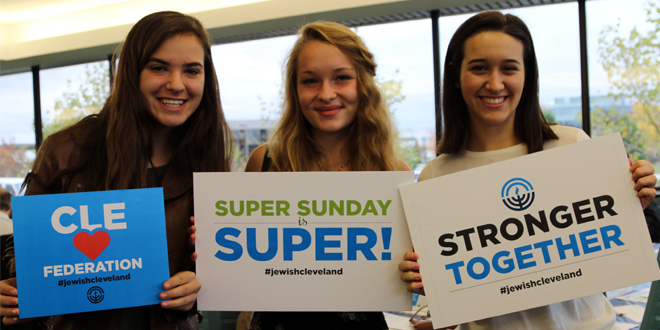 On Sunday, April 10th, the 2015-2016 Saltzman Youth Panel had its last session. Although a meeting of reflection, from the moment we cracked open the first box of pizza to the final minutes sharing our take-aways, the panel was collectively passionate, driving to achieve a common goal. Throughout the meeting, I was constantly reminded of the high quality of leadership on the Saltzman Youth Panel. With complete confidence I can say I learned something new every time a fellow panelist spoke. This was exciting, as well as something that speaks volumes about who and what make up the Saltzman Youth Panel.
The meeting opened with a presentation by Jewish Federation of Cleveland's Allocations Committee chair Dara Yanowitz. Ms. Yanowitz shared her experiences and knowledge through an engaging conversation about the true value of thoughtful dialogue. She stressed some key ideas that we have toyed with for the entirety of our time as a panel, reminding us that every dollar is an important dollar with the potential to make an impact. One of the big questions we have to answer as a group is where and how we want to make that impact. Obviously, this isn't easy. "Consensus means a group of people come together and decide that this is the best decision for right now," Ms. Yanowitz shared. In hindsight, this seems the most important lesson SYP has taught me.
We then split into a final small group discussion. Small group discussions, ranging anywhere from allocations to personal philosophies, were a highlight of my Saltzman experience. The small group atmosphere allows for ideas to combine and clash, paving way for collaboration, compromise, and eventually the success of the group.
I'm pretty sure the entire room felt a sense of this success when we reconvened for our final full group discussion. As the session wrapped up, I felt empowered. Saltzman Youth Panel serves as a reminder that the opinions of the youth in our community are important and necessary. My favorite part about being a member of the Saltzman Youth Panel is that I was granted the opportunity to share a unique Jewish experience with other Jewish teens. The emerging young leaders I got to know throughout this experience will continue to be active in our Cleveland Jewish community. We are here to serve today and will continue to serve tomorrow because both our work and our voices are vital now and in the future.
---
Madeline Turner is a junior at Crestwood High School is Garrettsville, and a member of The Temple-Tifereth Israel. She is a member of Klezmer U, the Temple's popular teen klezmer band. Growing up on a farm, Madeline believes community "defines and create you," and, "They encourage growth and provide not only a safety-net, but a home, that if you are lucky, will travel with you wherever you go."
---
Related Items