09/08/2015
Meet the New Moishe House CLE Residents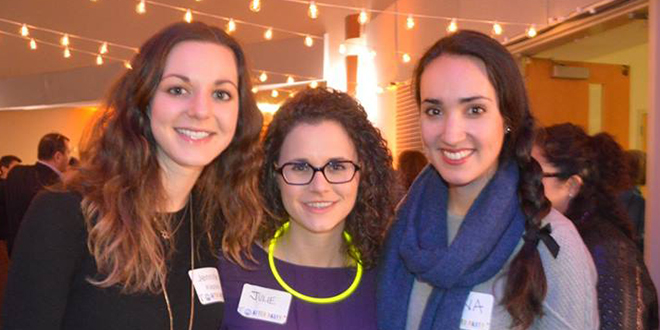 Meet the new residents of Moishe House (MoHo) Cleveland: Julie Bock, Lena Kelly, and Jen Kaplan. The Jewish Federation of Cleveland is proud to sponsor Moishe House Cleveland, one of 63 houses across the country that cultivates young leaders to create a Jewish community – on their own terms – for their peers, in ways that are meaningful and relevant. Learn more about Moishe House Cleveland and other opportunities for Young Adults at http://www.jewishcleveland.org/involved/yld/. Get to know the three new residents with their bios below:
Meet Julie
I'm Julie Bock, born and raised in Oklahoma City, the middle of three girls. Growing up my core Jewish involvement was spending summers at Greene Family Camp in Bruceville, Texas. In high school I was very active in NFTY (serving as president of the Oklahoma City chapter as a Junior and president of the Texas-Oklahoma Region my senior year). In college I studied Industrial and Systems Engineering at the University of Oklahoma (the other OU). Outside of the classroom, I spent most of my time working to commercialize OU-developed technologies and was on the leadership team of OU's official day of community service, with over 5000 student and faculty volunteering in the OKC community on one day. In August 2014, I arrived in Cleveland to work at North Coast Angel Fund in conjunction with Venture for America – an organization seeking to create jobs and impact our economy by growing the entrepreneurial ecosystem of select U.S. cities. I've enjoyed Moishe House events since my arrival and look forward to attending and planning more of them!
Meet Lena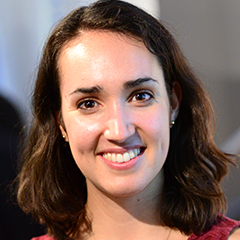 I'm Lena Kelly, a Los Angeles native who moved to Cleveland last year. Currently, I'm part of a fellowship called Venture for America – a program that connects recent grads with startups around the country to help build local economies and contribute to the communities.
Before moving to Cleveland, I spent four years studying at Washington University in St. Louis. It was an amazing experience, both inside and outside of the classroom. I double majored in International Studies and Spanish, with a minor in Psychology. I put these studies to good use when I spent 6 months in Santiago, Chile, living with a host family and studying at the local university. For a year, I served as president of my campus' Alpha Epsilon Phi Sorority. It was an absolutely wonderful experience and gave me a taste of what I think Moishe House could be like – creating fun and social Jewish events to bring a community closer together.
In my free time, I love spending time outdoors, playing basketball, and looking for random events throughout the city. There's so much to uncover in Cleveland and I feel like I'm just starting to scratch the surface. I'd love to help spread my recent love of Cleveland and my much more deeply-rooted love of Judaism with other young individuals in the community.
Meet Jen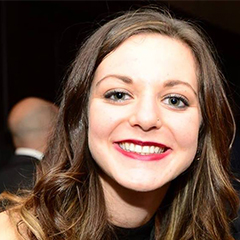 I'm Jen and I spent most of my life living in the Cleveland area (the unknown place of Elyria that is - which is approximately as close to downtown as Beachwood, I promise you)! Growing up in Elyria on the west side of Cleveland, my temple appeared deserted when my three siblings and I missed Hebrew or Sunday school. I only knew of a small Jewish community until college. I attended The Ohio State University where I studied business and minored in entrepreneurship and economics. At Ohio State, I became heavily involved in the Jewish community, from Hillel to Chabad, and two trips to Israel. During one of those trips to Israel, I had the opportunity to intern for an entrepreneurship center at Tel Aviv University called StarTAU. My experiences led me towards my mindset and passion for creativity and innovation.
Upon moving back to Cleveland, I was able to churn that mentality into something tangible by becoming a resident of MoHo. At MoHo, I've had the opportunity to create meaningful experiences that have engaged an enthusiastic community in something much bigger than themselves. (It's kind of like running a part-time event-planning business for the three of us, in addition to our normal jobs.) Some of my hobbies include cooking, yoga, running, and socializing (of course) – almost all of which I've been able to incorporate into MoHo events. I'm so excited to have discovered a whole new world of Jewish Cleveland and I'm eager to share my love for this city with all of you!
---
Related Items