04/13/2016
Moss, Chelm Praised at Annual Meeting
Rev. Dr. Otis Moss, Jr., Reneé Chelm Praised at Jewish Federation of Cleveland's Annual Meeting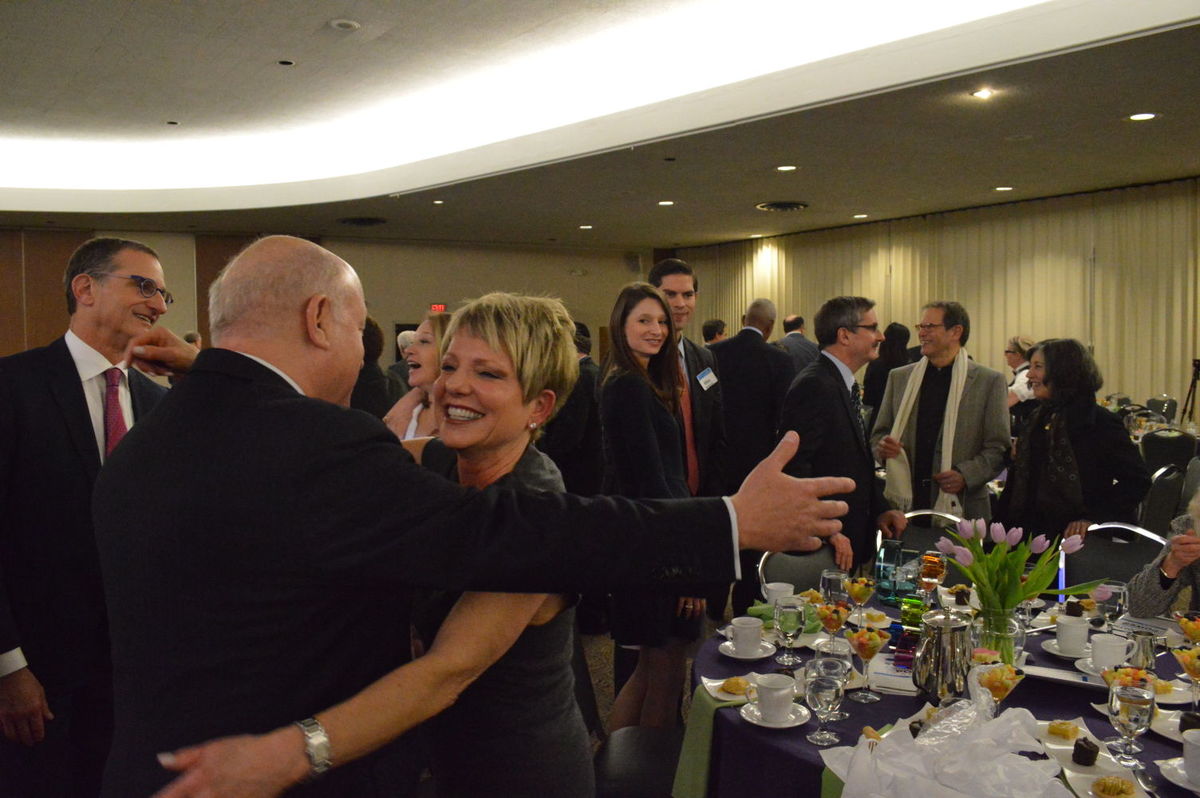 Article reprinted with permission from Cleveland Jewish News.
by Ed Wittenberg
The Rev. Otis Moss Jr. and Reneé Chelm both received standing ovations from a crowd of more than 300 people when they were recognized at the Jewish Federation of Cleveland's 112th annual meeting April 12 at Park Synagogue Main in Cleveland Heights.
Moss, pastor emeritus of Olivet Institutional Baptist Church in Cleveland, received the Charles Eisenman Award for exceptional civic contributions. It is the Federation's highest civic honor, said Albert Ratner, co-chairman emeritus of Forest City Realty Trust, who presented the award to Moss.
"He is a true living legend, a beacon to society," Ratner said of Moss. "He has dedicated his life to so many different causes."
Chelm was honored as the outgoing Federation board chair. She will conclude her three-year term April 14.
Charles Ratner, chairman of the boards of the Jewish Agency for Israel and Forest City Realty Trust, presented Chelm with a handcrafted glass menorah created by artist Faye Miller.
"Reneé, this is so appropriate," Ratner said. "The miracle of light, just as you have brought light and clear vision and unique insight to the challenges and opportunity that our community faces."
Gary Gross, who has been a Federation board vice chair the past three years, will succeed Chelm as board chair. He will be elected to that position at the board's next meeting April 14.
Other new officers to be elected April 14 are vice chairs Bruce Goodman, Richard Horvitz, Randall Korach, Idelle Wolf and Sandra Wuliger; treasurer Dan Zelman and associate treasurer Beth Wain Brandon.
Norma Lerner was recognized as a life trustee by Stephen H. Hoffman, Federation president.
David Adler, general chair of the 2017 Campaign for Jewish Needs, gave a campaign report.
A nominating committee report was given by Timothy Wuliger, a committee member and past board chair.
Rabbi Joshua Hoffer Skoff, senior rabbi of Park Synagogue in Cleveland Heights and Pepper Pike, delivered the invocation.
Renny Wolfson served as chair of the event.
---
Related Items