08/09/2018
My JFNA Cabinet Retreat Experience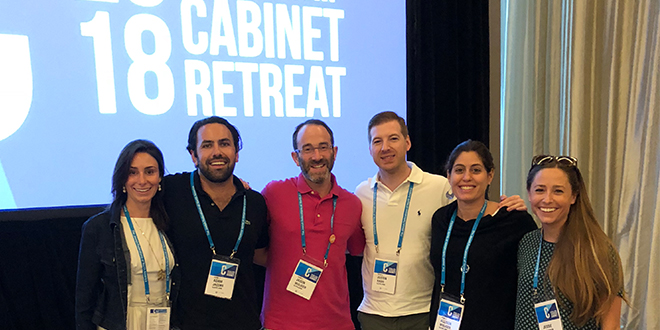 YLD Jewish Cleveland's National Young Leadership Cabinet members recently attended Jewish Federation of North America's (JFNA) Cabinet Retreat. Cleveland attendees included Jay Chernikoff, Margaret Richards Frankel, Michelle Hirsch, Adam Jacobs, Justin Kadis, Allison Wuliger. Elissa Wuliger, and Jason Wuliger. A special welcome to new members Jay Chernikoff and Adam Jacobs, and congratulations to Michelle Hirsch who is the outgoing Co-Chair of National Young Leadership Cabinet.
Read about the group's experience here!
by Justin Kadis
I recently traveled down to Fort Lauderdale for an inspiring week at JFNA's National Young Leadership Cabinet Retreat. For some background, NYL Cabinet is a philanthropic program designed for men and women, ages 30 to 45, from across the U.S. and Canada who are deeply committed to building a strong, vibrant future for the Jewish people. There are roughly 350 members in Cabinet.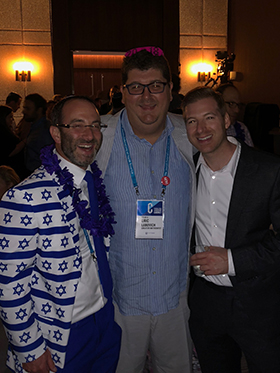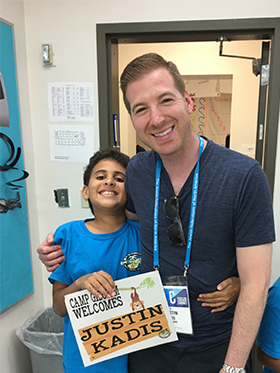 As is always the case, we had a strong group of Clevelanders: seven cabinet members, including myself and one who currently lives in Arizona, and Jessie Bruder from our Federation.
I was blown away by the caliber of people at my first Retreat last year. So much so, that in the past year I've participated in a Shabbaton at the JFNA General Assembly, on the Cabinet overseas mission to Morocco and Spain, and at Chicago Federation's YLD Big Event.
As part of her mission as co-chair for all of Cabinet, Michelle Hirsch, improved the experience last year, and made changes to provide more learning opportunities for me to develop my leadership skills. Rae Ringel was the scholar-in-residence for my class. Having heard her speak at a Jewish Federation of Cleveland event, and again during last year's overseas mission, I knew we were in for a treat. She did not fail to deliver. In the first session, we looked at how language can be used to lead – the way we use it to listen, present, and inspire. In the second session, we explored how leadership presence increases our ability to influence, motivate, and show up with authenticity even during challenging situations.
JFNA unveiled that Cabinet will travel to St. Petersburg, Russia and Tbilisi, Georgia in 2019. Just a few weeks ago I visited our sister city, St. Petersburg. My friends and I met with members of the Lehava work group – a leadership program for young Jewish adults. Just prior to the Retreat, the Lehava group visited Cleveland and I had the opportunity to catch up with my new friends. I'm looking forward to staying in touch and visiting these passionate individuals again next year. As part of the programming at Retreat, I attended a breakout session with leaders from JFNA's overseas partner agencies – World ORT, the Jewish Agency for Israel (JAFI), and the American Jewish Joint Distribution Committee (JDC) to better understand the history of the Jewish communities in Russia and Georgia.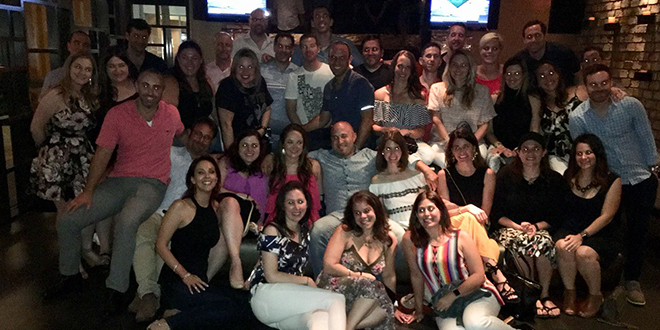 My favorite activity of the Cabinet Retreat was the day of service. Half of us visited the Broward JCC where we played with campers from Camp Giborim, a special needs summer camp for individuals aged 6-38. I was paired with a great kid named Ryan. Together we played musical chairs, drew pictures, flew paper airplanes, and danced. It felt amazing to bring a smile to both of our faces.
Cabinet has been a wonderful experience so far. Together with my new lifelong friends, I've seen incredible programs domestically and abroad where our Federation dollars are put to work, volunteered on local service projects, and participated in leadership development programs critical to my future philanthropy and career. I can't wait for the next opportunity to get together.
---
Related Items