11/14/2017
New, Old Memories Abound at JFNA in LA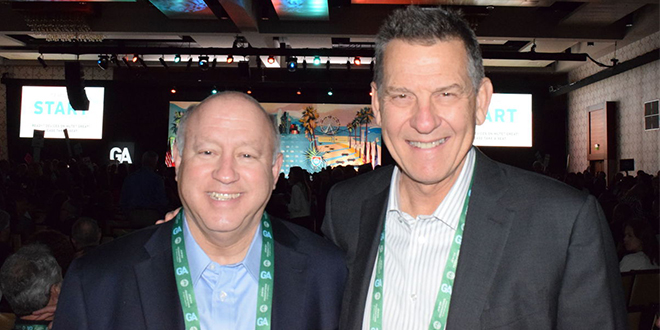 Article reprinted with permission from Cleveland Jewish News.
By Bob Jacob
LOS ANGELES – The 2017 Jewish Federations of North America General Assembly has special memories for Stephen H. Hoffman, president of the Jewish Federation of Cleveland, and Jennifer Korach, chair of the Women's Philanthropy Division of JFNA and the Federation.
Hoffman remembers the last time the GA was held here. It was 1996 and Israel was in battle – again.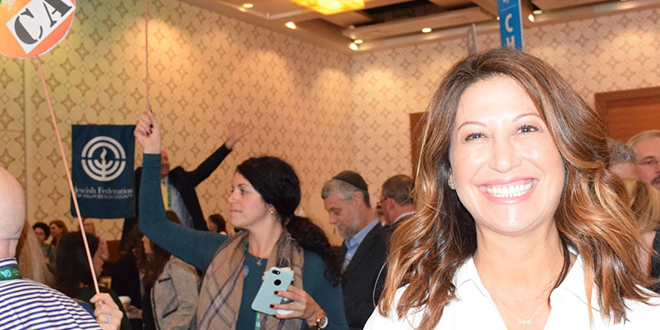 "It was right after when Israel was covered in missiles across the north. (It was) very emotional," he recalled prior to beginning day two at the JW Marriott Los Angeles LA LIVE. "The prime minister came and thanked the American-Jewish community for all its financial assistance, but more importantly, for the solidarity when Israel was under attack. It was an unusual GA."
Jennifer Korach is the Women's Philanthropy Campaign chair for JFNA and the Jewish Federation of Cleveland. Korach, of Shaker Heights, said she has been to too many GAs to count, but this one has a movie star feel.
"This has a more Hollywood feel to it," she said. "The breakout plenary last night with the three young people in the (film) industry certainly is something I have not been a part of before. I think they're trying to reach out to a broader section of the United States by bringing it to the West Coast and making it more accessible to people who live (in the western) United States."
Hoffman, who has been to dozens of GAs in his more than 30 years with the Federation, always looks forward to one the largest annual gatherings of Jews in North America. He said he expects about 3,000 to attend the three-day event, which has a theme of "venture together."
Matt Nosanchuk, former White House Jewish liaison in the President Barack Obama administration and a cousin of Senior Rabbi Robert A. Nosanchuk of Anshe Chesed Fairmont Temple in Beachwood, was on a panel that discussed "Philanthropy, Politics and Federation."
"They never get old because you're constantly seeing the Jewish community coming together from across the country and you realize, hey they're like us," he said. "You get to realize they're all doing the same thing, trying to make a better life for the Jews – here in their own community or across the world. That's very invigorating, actually, to think you're not alone. You're part of a big Jewish family."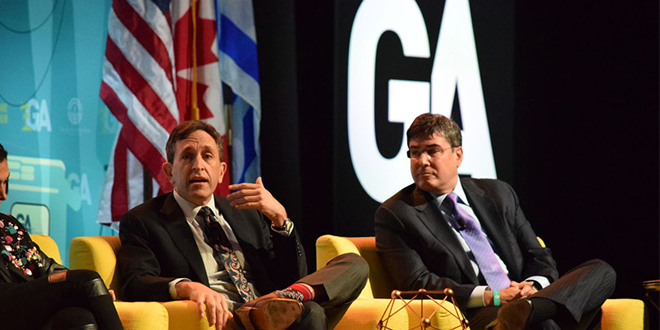 Hoffman noted more volunteers than professional staff are attending this year.
"The ratio of volunteers to professionals is higher than in the past," he said. "It means that (fewer) professionals were sent by their communities, probably a cost factor, but more volunteers chose to come. It means more volunteers chose to come, which is a good thing. At the end of the day, the system is about the strength of the volunteers."
Korach said the GA provides an environment for learning from others and exchanging ideas.
"It's always an opportunity to get a shot in the arm, to connect with other people from across the country to see what they're doing in their federations and to see how we can improve our own Federation," she said.
"As women's philanthropy chair in Cleveland, I'm always interested in reaching out to see what other innovative programming other communities are doing, trying to leverage speakers, listen to dialogue and (for) things we can bring back home to improve our campaign, to improve our outreach and to improve our engagement of people across a wide spectrum of those who we try to reach out to."
IN THE SPOTLIGHT: In addition to Michelle Hirsch and Hedy Milgrom from the Jewish Federation of Cleveland, other speakers during the GA have ties to Ohio.
Rabbi Michael Uram, executive director and campus rabbi at Penn Hillel, was a panelist for "PART 2: The Millennial Factor: How a Generation Grows into Our Movement Room."
Uram grew up in Cleveland and his mother is a past president of Temple Emanu El in Orange.
Matt Nosanchuk, a cousin to Senior Rabbi Robert A. Nosanchuk of Anshe Chesed Fairmont Temple in Beachwood, discussed "Philanthropy, Politics and Federation."
He is the former White House Jewish liaison in the President Barack Obama administration. He held multiple roles from 2009 to 2017. In 2015, he gave members of the American Jewish Press Association a high-level briefing just hours after Netanyahu and Obama met when the JFNA GA was in Washington, D.C.
Joy Sisiky, chief philanthropy officer of the Jewish Federation of Cincinnati was a panelist on "Getting to the Core: Putting Values First with Donors."
BLISS IN THE AIR: Joe Kanfer of Richfield, a former chair of the board of trustees of the United Jewish Communities (now JFNA), was excited to discuss the Honeymoon Israel program, which he helped to launch.
"We held our honeymooners reward meeting here and we've now taken almost 1,000 couples to Israel in the first 2 ½ years," he said. "We'll be taking another 600 this year, and it's exciting and being adopted by federations all over the country, supporting the honeymooners program."
OHIO STRONG: Federations represented here include Cleveland, Columbus, Cincinnati and Dayton.
DAY THREE: Israeli Prime Minister Benjamin Netanyahu will address the General Assembly by satellite at the closing plenary Nov. 14.
---
Related Items