12/02/2015
Partner Agency Wages Penny Challenge
Thank you to students at the Joseph and Florence Mandel Jewish Day School, a Federation partner, for raising over $1,400 for our 2016 Campaign for Jewish Needs! Dollars (and cents) raised during their one-week "Penny Challenge" will change and save lives in Cleveland, Israel, and 70 countries around the globe.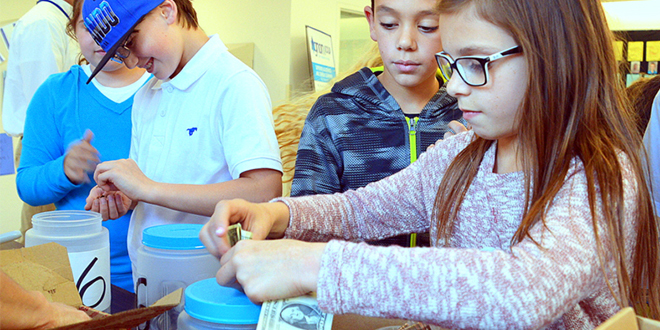 Mandel Jewish Day School Students Wage Penny Challenge for Charity
BEACHWOOD, OHIO – Students at Joseph and Florence Mandel Jewish Day School (formerly The Agnon School) recently raised $1,427.06 by waging a one week charity Penny Challenge by grade to support the Jewish Federation of Cleveland's Annual Campaign for Jewish Needs. This amount represents an increase from last year's donation. The Federation will use this money to address the diverse needs of the Jewish community, both locally and worldwide.
An important part of the curriculum at Mandel Jewish Day School (Mandel JDS) teaches students to engage in acts of tzedakah – righteousness in Hebrew – through charitable giving and volunteer work. As one of the school's core values, this instills within the students a sense of responsibility for each other and for the larger world in which they live. This core value is put into action each year during the school's annual Penny Challenge. In addition to learning about fundraising, Mandel JDS students discover that they can also contribute to a better future by helping others.
The object of the Penny Challenge fundraiser is to collect the most points. At the start of the challenge, each grade receives a collection jar. Then, students enthusiastically place pennies in their own grade's jar to increase their chances of winning, while strategically depositing money greater than a penny into the jars of competing grades.
When the Penny Challenge was over and the money was counted, first place in the Kindergarten – 5th Grade Division went to 1st grade students, who will celebrate their triumph with an ice cream party. The 6th grade won in the Middle School Division and will enjoy a homework-free day.
"This is a classic example of living by example," noted Jerry Isaak-Shapiro, Mandel JDS Head of School. "As small as pennies are, together they can make a difference – just as the acts of very young children contribute to the overall strength of our community."
All proceeds from every grade went to the Jewish Federation of Cleveland. Head of School Jerry Isaak-Shapiro proudly presented a check at a school assembly to Abby Levin, VP of the Jewish Federation of Cleveland, on behalf of all the students.
Adding to the mitzvah (good deed), Mandel JDS partnered with Jewish Family Service's YouthAbility program members who helped sort and count $1,200 in change. YouthAbility serves disabled and at-risk youth by engaging them in volunteer service, vocational activities and social enrichment.
Founded in 1969, Mandel JDS is Cleveland's first Jewish day school accredited for educational excellence by the Independent Schools Association of the Central States (ISACS). The school also exceeds Ohio education standards for all core curricular subjects. Originally known as The Agnon School, the name changed in August 2015 to Joseph and Florence Mandel Jewish Day School in appreciation of a $17,050,000 grant. While the name is new, blending superior general academics and Jewish studies remains central to the school's mission. Mandel JDS is open to the entire Jewish community and enrolls more than 350 students (18 months – 8th grade) from diverse Jewish backgrounds.
---
Related Items