11/02/2015
Ratner Receives Gries Award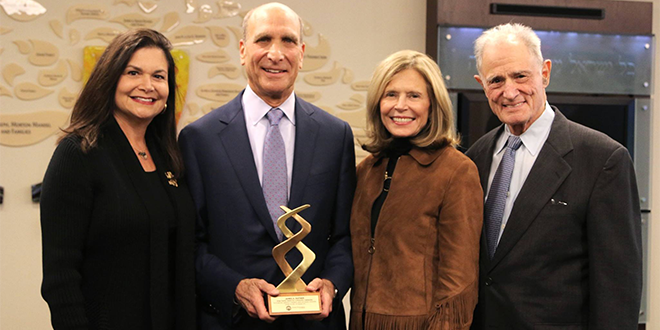 James A. Ratner Receives 2015 Gries Family Award
Award recognizes individual's impact on Cleveland communities
CLEVELAND– James A. Ratner of Shaker Heights has been named the 2015 recipient of the Gries Family Award for Community Leadership as he has made a lasting impact on Cleveland's Jewish and general communities. Ratner was presented the award at the Jewish Federation of Cleveland Board of Trustees meeting on October 30.
"I am grateful to the Federation for honoring me with this award that recognizes the importance of a link between the Jewish and the general communities, and knows that when you enrich one you enrich the other," said Ratner. "I'm proud to be part of a history and a chain of people who have created and embodied this link."
Ratner's involvement with the Federation has spanned more than 30 years as a visionary on 20 different committees. As a former co-chair of the Federation's Overseas Connections Committee (OCC), he was instrumental in the OCC's accomplishments both in Israel and St. Petersburg, Russia. He has also chaired the Human Resources Development committee and the annual Campaign for Jewish Needs.
Ratner has led the way for many prominent Cleveland organizations. He currently serves as the chairman of The Cleveland Foundation, as well as the Board Chair-elect of The Playhouse Square Foundation. He is also on the board and executive committee at The Cleveland Museum of Art, and serves on the boards of the Urban Land Institute and NACCO Industries.
"It's an honor to present this award to Jimmy, a leader who greets every challenge with a smile," said Stanley E. Wertheim, chair of the 2015 Gries Family Award Committee. "He not only embraces an organization's mission with passion but he also enables each of the professional and lay leaders he works with to know that he values and appreciates what they do."
James A. Ratner is an Executive Vice President of Forest City Enterprises, Inc., and Chairman and CEO of Forest City Commercial Group, the commercial real estate development and management division of Forest City. Ratner holds a Bachelor's degree from Columbia University and an MBA from Harvard University.
The Gries family was one of the first Jewish families to settle in Cleveland. The Gries Family Award includes a donation to a charitable cause chosen by the recipient. James Ratner designated a donation to the Federation's Holocaust Survivors' Fund and to InMotion, a Cleveland-based nonprofit, helping improve the lives of individuals with Parkinson's disease.
---
Related Items