04/12/2016
Security Training Takes Place in Beachwood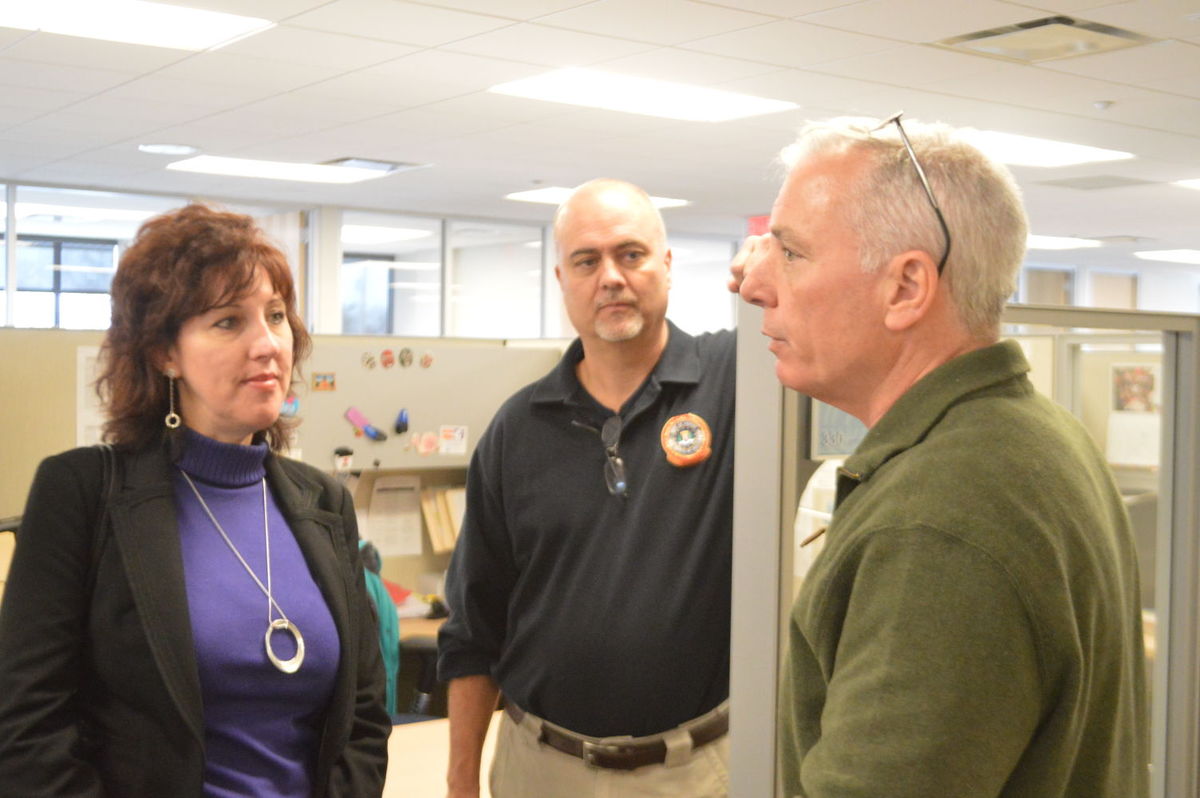 Through your support of the Campaign for Jewish Needs, the Federation's security team protects our community and keeps us safe. Donate Now at https://www.jewishcleveland.org/give/donate/.
Article reprinted with permission from Cleveland Jewish News
By Jonah L. Rosenblum
It wasn't your ordinary day at Jewish Federation of Cleveland headquarters.
At 9:47 in the morning April 10, (fake) gunfire went off as an assortment of local and federal law enforcement practiced their response to a hypothetical attack.
In so doing, the Jewish Federation of Cleveland became the first faith-based organization to participate in such a training program, according to organizers.
Bart Bookatz, chair of the security committee at Federation, said such training is requisite in the contemporary world.
"We all know the climate around the world and the country is changing," Bookatz said.
"I think the leadership in this community, including the law enforcement agencies and mayors, they all understood that the world's changed out there," said Jim Hartnett, the Federation's director of security. "All we have to do is look at the morning paper to see there's an active shooter somewhere in the United States."
For Mark Dowd, director of community security at the Jewish Federation of Cincinnati, such training is particularly critical at a Jewish institution.
"There is an existential threat to the Jewish community," Dowd said.
That Federation stressed, however, that April 10's simulation did not tie into any actual threats.
"It's not ever to scare people or make people paranoid about what's happening, but it's to be educated and informed," said Brenda Moxley, director of community security at the Greater Miami Jewish Federation. "You always should have a plan of knowing how do I react."
As for how it went, Beachwood Mayor Merle S. Gorden was beaming at event's end.
"We're very fortunate to have everyone work well together and with a common goal," Gorden said. "This went without a hitch."
0947 – Shots Fired
It's just past 8 in the morning on a freezing cold Sunday in Beachwood.
Hundreds mill around the basement of the Federation, sipping coffee and grabbing a quick bite.
About 8:30, the crowd gathers around Department of Homeland Security senior exercise specialist Jeff O'Konek, who explains the hypothetical scenario they will be dealing with that day, reminding everyone, to hearty laughter, that "we don't even want anyone skinning a knee" and that there was to be no "beating the crap out of anybody."
The situation they dealt with was someone using a dump truck to ram into the Federation building and three "bad guys" jumping out of the truck, with two taking hostages inside the building and one fleeing in the woods toward the nearby Mandel Jewish Community Center. The complex exercise allowed law enforcement to practice a number of different scenarios – active shooter, hostage negotiation and defusing a bomb. Federation employees even got training on how to run to a safe room in the event of an active shooter.
"We wanted to prepare for the unthinkable – hopefully never happening," Hartnett said. "At the same time, it would be irresponsible to say it could never happen."
A steady hum of chatter took over the command room until 9:38 a.m., when Dowd began explaining to simulation observers what would take place that day. He reminded people that the training would likely not be perfect and to some extent that's part of the point – to give law enforcement agencies the opportunity to see what went well, what could have gone better and then to actually get better.
"Nobody's going to be perfect; that's why you train," Dowd said.
"What they say is practice makes permanent, not perfect," Moxley said.
At 9:47, 10-12 "bullets" sounded by the Federation's main entrance, and over the radio the announcement came: "We are under attack. We have shots fired. Immediately go into lockdown."
At 9:49, "reports" rang in from other nearby Jewish institutions – including the Jack and Florence Mandel Jewish Day School, Gross Schechter Day School, B'nai Jeshurun Congregation – that were also going into lockdown.
By 9:50, one of the "bad guys" had run into the woods, leaving a backpack behind in the parking lot.
A minute later, Beachwood police could be seen entering the Federation building, mock guns drawn.
At 9:59, the report came in that one of the four "bad guys" was dead, two had taken hostages and one had fled.
The scene was set for local law enforcement as well as specialty units such as bomb squads and the heavily uniformed SWAT team. They spent hours in the building, with SWAT arriving at roughly 11:30 and the "scene" not ending until 1:30, with all the good guys alive and all the bad guys taken care of. That was important, but O'Konek stressed the exercise was also about how agencies worked together.
Benefits beyond simulation
The chance to simulate law enforcement response to a major act of violence was obviously one of the main perks of the exercise. It was yet another chance to be proactive, not reactive.
"I'm trying to focus our effort now on what we do before (an emergency)," said Avi Ram, COO at the Jewish Federation of Cincinnati.
It wasn't the only one, however.
Throughout the six-plus hour exercise, law enforcement and security officials got to huddle and exchange ideas. In that sense, while April 10 was about a simulation, it was also akin to a networking conference.
Hartnett cited an old saying from his time in the FBI: "You don't want to be exchanging business cards and meeting for the first time when the smoke is coming out of the ground."
The training encompassed numerous East Side suburbs, including the Beachwood police and fire departments, the Cleveland Heights bomb squad, the Orange Police Department and the Pepper Pike police and fire departments, along with a number of county and federal organizations, including EDGE SWAT team, SPAN bomb team, FBI, Department of Homeland Security and Secure Community Network.
The Federation, however, benefitted just as strongly – if not more.
After all, in the event of any violence at the building – no threats have been made – 12-plus law enforcement agencies now know their way in and around the structure.
"They're familiar with our leadership and our institutions," Hartnett said.
A longtime push
Planning April 10's massive event took about a year. The Federation's push to expand security, at its own building but also throughout Jewish Cleveland, has been going on much longer.
Oren Baratz, vice president of external affairs for the Federation, said the Federation began "enhancing the whole security approach" three years ago. One of the areas Baratz and his team identified as a priority was increasing opportunities to practice and that's exactly what April 10 represented.
"I think it begins with the fact that exactly in March three years ago, we hired a full staff person dedicated to security and since then we haven't stopped every day investigating security," Baratz said.
Hartnett, referencing his background as a FBI crisis management coordinator, said he always wanted to bring the simulation exercises he experienced at the FBI to the Federation.
"We need to do something like this to prepare our community along with getting law enforcement to learn how to work with us to keep us safe from a potentially dangerous situation," Hartnett recalled thinking.
To that end, Hartnett contacted the Department of Homeland Security's national exercise team and discovered that it was willing to invest both the funding and time into the April 10 event. Hartnett said that the event required particularly careful planning in order to ensure that all of the agencies involved got something out of it. It wasn't enough to merely make the Federation safer. It was critical that all of the local and federal law enforcement agencies involved extracted something from it as well.
A national model
The fact that the Jewish Federation of Cleveland was the nation's first faith-based institution to hold a Department of Homeland Security simulation exercise established it as a potential model.
Sure enough, security officials from the Jewish federations of Cincinnati, Detroit and Miami were present to witness the simulation, engage in the conversations and networking that ensued, and in Cincinnati's case, study for its own simulation exercise, expected to occur in the fall.
"Cleveland is definitely on the forefront of security nationally," Dowd said. "It will help set a standard."
Dowd said he took his position at the Jewish Federation of Cincinnati shortly after Hartnett took his at the Jewish Federation of Cleveland. The two hit it off immediately.
"He just basically opened his arms and welcomed me," Dowd said.
Something the Federation officials emphasized over and over was the need for community members to be vigilant, echoing New York's "See Something, Say Something" campaign following the Sept. 11 terrorist attacks.
Indeed, the Federation's SAFE Cincinnati program provides a place for people to report suspicious activity. For example, a parent who notices that a Jewish day school's front door is unlocked or otherwise insecure might not want to call 911, since no crime is in progress, but might instead submit a report online via SAFE Cincinnati.
"You don't have to rely only on security guards," Ram said.
---
Related Items