06/08/2018
10th Annual Summer Soirée: #JewishCleveland Knows How to Party!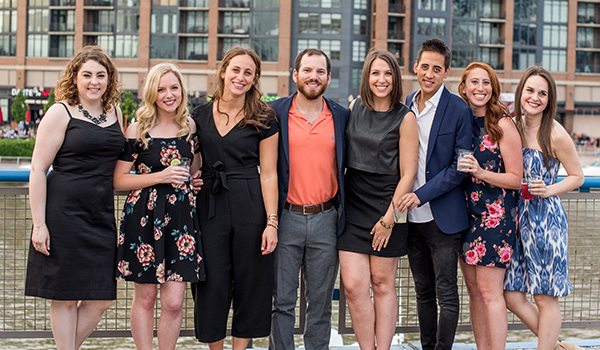 A perfect way to kick off the summer! Thank you to the 300+ Jewish Cleveland young adults who joined us for the social event of the season: the 10th Annual Summer Soirée.
We took the party downtown for the very first time to Music Box Supper Club, complete with scenic views and great company. We had the time of our lives mingling with friends old and new, sipping on summer cocktails, noshing on delicious food, dancing to live music, snapping pics in the photo booth, sitting for caricatures, and winning awesome swag from the raffle. Plus, members of our Ben-Gurion Society* got the party started with private patio reception before the Summer Soirée.
We couldn't have done it without the help from our Event Co-Chairs Ben Milgrom, Matt Morris, Rachel Newman, and Leslie Shvets, and our awesome Planning and Host Committees. Special thanks to JCLE for co-hosting this event and JStyle for presenting the photo booth. And thank you to all of our guests for joining us – it was a night we'll never forget!
Check out photos from the event >>
*Ben-Gurion Society recognizes donors who contribute $1,000 or more to the Campaign for Jewish Needs.
The Jewish Federation of Cleveland is grateful for the sponsorship of Benesch.
---
Related Items