10/26/2015
Super Sunday Mitzvah Minutes
Mitzvah Minutes are a Super Sunday favorite, where volunteers take a one minute break to hear messages from local rabbis and community leaders throughout the day.
Check out all the memorable and inspiring Mitzvah Minutes from this year's event: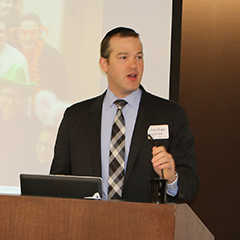 Rabbi Pinchas Landis, Partners in Torah
"Today, we are all acting as guarantors for the Jewish people. Make that call not only as if we are working for another Jew, but as if we are working for our brothers and sisters around the world."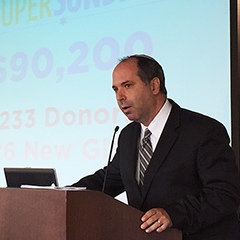 Rabbi Robert Nosanchuk, Anshe Chesed Fairmount Temple
"There's no place like Jewish Cleveland to be your refuge when the wind starts to blow."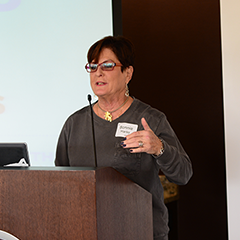 Bonnie Marks, IMPACT Chair
"We need your help," said Bonnie Marks to a room full of Super Sunday volunteers. Bonnie is the Chair of IMPACT, a new Baby Boomer initiative through the Federation's Jewish Volunteer Network (JVN). Launching in January 2016, IMPACT invites all Jewish Cleveland Baby Boomers to perform a mitzvah through hands-on volunteer experiences in our Jewish and general communities. When we work together, none of us are alone.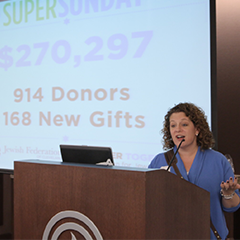 Rabbi Allison Vann, Suburban Temple-Kol Ami
"Every gift we receive on Super Sunday, whether it's $18, $180, or $1,800 is given in pure generosity."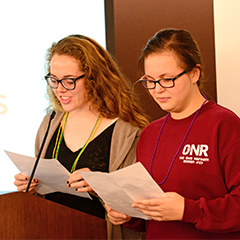 Sophie Ruttenberg & Julia Saltzman, Saltzman Youth Panel
"Being a leader in the High School Division of the Campaign for Jewish Needs and a member of the Saltzman Youth Panel are giving me the opportunity [to give back] and I am so happy to be able to impact the community that has shaped me so much…"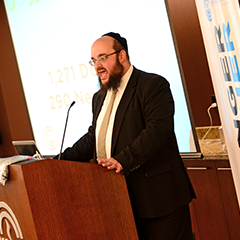 Rabbi Raphael Davidovich, Heights Jewish Center Synagogue
"We should be just as open to giving as we are to winning."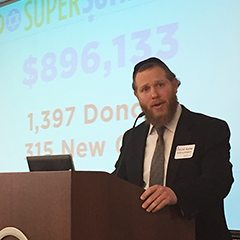 Rabbi Dovid Schnurman, Mosdos Ohr Hatorah
"The greater the act of charity that a person gives, the greater the person."
---
Related Items