08/10/2016
Support Cemetery Preservation Campaign
Beachwood man urges support for Jewish Federation of Cleveland's Cemetery Preservation Campaign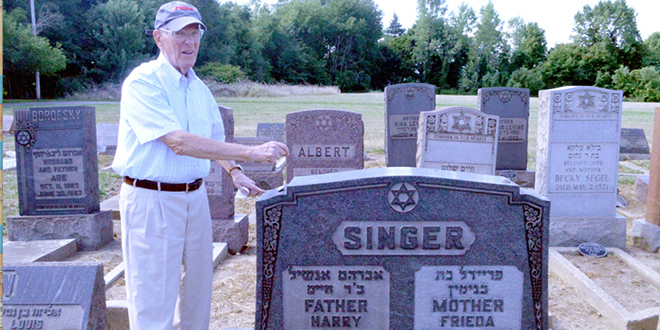 Article reprinted with permission from Cleveland Jewish News.
By Ed Wittenberg
Ed Singer has a strong emotional attachment to Lansing Cemetery, in Cleveland's Slavic Village, as he has about 16 relatives buried there – including his parents and both sets of grandparents.
Singer, 86, travels from his Beachwood home three or four times a year to visit the graves of his loved ones at the cemetery, and he said he has seen dramatic improvement in its condition during the past year.
Lansing Cemetery is one of six Jewish cemeteries in Greater Cleveland for which the Jewish Federation of Cleveland's Commission on Cemetery Preservation became responsible for the upkeep last year.
"I am thrilled with how the cemetery looks since Brett Cochran (the Federation's cemetery manager) and the COCP took over the management last year," Singer said. "Before, the grass was 18 inches high, and many of the headstones were askew, including my parents' headstone, which was leaning to the right.
"But repairs to that headstone and many others have been made. The place looks in good condition now."
In just over a year, the Federation has raised nearly $2.8 million for its Cemetery Preservation Campaign, which increases the endowment for the COCP to a level at which it will be able to sustain the annual maintenance costs for the Jewish cemeteries under its management in perpetuity. That leaves it $700,000 short of its $3.5 million goal to preserve Cleveland's older Jewish cemeteries.
The Federation has less than three weeks to achieve that fundraising goal before the campaign closes to make way for the launch of its annual Campaign for Jewish Needs Aug. 30. That annual campaign, which ensures the community's vitality in the year ahead, is separate from the Cemetery Preservation Campaign.
"This is a prime example of how the Federation focuses on our communal needs and addresses issues that affect us from birth to death, and in this case, actually beyond," Reneé Chelm, who joined Harley I. Gross this year as co-chairs of the Cemetery Preservation Campaign, said in a press release.
Chelm and Gross are both former Federation board chairs.
In addition to having many relatives buried at Lansing Cemetery, Singer is a former president of the COCP – a foundation, launched by the Federation in 1993, made up of lay leaders with a mission to ensure the dignified maintenance, sustainability and perpetuity of Greater Cleveland's Jewish cemeteries – so he has taken a strong interest in this campaign. His wife, Naomi, also has a grandmother buried there.
"We participated in the first round of fundraising many years ago, and I applaud Reneé Chelm and Harley Gross for leading the current round of fundraising, and we have participated in this one as well," he said. "I appreciate Brett Cochran's work on behalf of COPC – a job well done."
Singer recently visited the graves of his parents – Harry Singer, who died in 1953, and Frieda Singer, who died in 1992 – as well as his grandparents – Dina and Chaim Singer and Celia and Benjamin Friedman.
"At one time, Lansing was the cemetery of choice for the Singer and Friedman families," he said. "My grandfather, Chaim Singer, was a scribe and belonged to (an Orthodox) congregation called Shomre Shabbos (in Cleveland Heights), which has a section in Lansing."
Lansing Cemetery, founded in 1890, is also affiliated with four other Orthodox synagogues: Taylor Road-Oheb Zedek in Cleveland Heights, Oheb Zedek-Cedar Sinai in Lyndhurst, Green Road Synagogue in Beachwood and Heights Jewish Center in University Heights.
Singer, a Cleveland native, and Naomi are members of The Temple-Tifereth Israel, a Reform temple in Beachwood and Cleveland. He said they will be buried at Mayfield Cemetery, another Jewish cemetery in Cleveland Heights but not among those for which the COCP is responsible for upkeep.
"We are very fortunate to be living in Cleveland, as are our (three) children and a few grandchildren," Naomi Singer said. "Our deceased family members, buried in Cleveland Jewish cemeteries, are visited, and their tombstones are taken care of.
"I feel very strongly that it is a duty and responsibility of the Jewish Federation and the Jewish community to fund taking proper care of these cemeteries and tombstones."
There are about 69,000 graves in 16 Jewish cemeteries and three general cemeteries with Jewish sections in the Cleveland area. Many were plagued with overgrown trees and grass, broken or missing fences and overturned headstones.
Historically, congregations and benevolent associations held primary responsibility for the upkeep of their cemeteries, but not all have the resources needed to carry out these duties on a long-term basis.
Last year the COCP, chaired by David Orlean, became responsible for the upkeep of 14,060 graves with jurisdiction over six Jewish cemeteries. In addition to Lansing Cemetery, the others are Baxter Cemetery, Fir Street Cemetery and Harvard Cemetery, all in Cleveland; Chesed Shel Emeth Cemetery in Brooklyn and the Workmen's Circle section of Lincoln Cemetery in Parma. Another West Side cemetery is expected to be added soon.
Cochran, who was hired as the Federation's full-time cemetery manager in January 2015, has overseen the improvement process, which has included tree removal, stone resetting and landscaping. Cochran works with an oversight committee to design and implement appropriate maintenance plans that ensure ongoing care of the cemeteries.
"I urge everyone who has friends or relatives at one of the cemeteries to participate in the campaign, to enhance the endowment, so that we can maintain these cemeteries," Singer said.
For more information or to make a contribution, contact Elizabeth Klein at 216-593-2835 or eklein@jcfcleve.org or visit jewishcleveland.org/cemetery.
---
Fall Cemetery Cleanup set for Sept. 18
The Jewish Federation of Cleveland's annual Fall Cemetery Cleanup, a volunteering event for people of all ages, is set for 9:30 to 11:30 a.m. Sept. 18 at Chesed Shel Emeth Cemetery, 3740 Ridge Road in Brooklyn.
Shaimos – holy writings, words of Torah and holy objects – will be collected at the cleanup and buried at the cemetery as a sign of reverence and respect, according to Jewish law.
Those who volunteer should bring their own weed trimmers, shovels, clippers, hedgers, gloves and other gardening tools.
The event is co-sponsored by the Commission on Cemetery Preservation and the Jewish Volunteer Network.
For more information or to register, visit jewishcleveland.org, email volunteer@jcfcleve.org or call 216-593-2900, ext. 572.
Related Items